Truth endures. No matter how you try to cover it up with lies, it will come out and give scheming, bitter liars like Senator Panfilo Lacson a thousand resounding bitch slaps.
I don't know how Lacson can ever recover from making a huge fool of himself for singling out and accusing House Speaker Gloria Macapagal Arroyo as well as House Majority Leader Rolando Andaya as the biggest "pork" hoarders in the House of Representatives.
Or maybe Lacson can blame his Bicolano buddy Congressman Lray Villafuerte for feeding him a dud of an exposé and realize Villafuerte ain't really his buddy after all.
Huh? What is the connection, you say?
Here's the lowdown… A friend pointed out that Lacson's accusation against SGMA and Majority Leader Andaya stems from a grudge against former President now House Speaker Macapagal Arroyo for cutting short his stint as PNP Chief and beating him in the 2004 elections. Villafuerte, on the other hand, is perhaps so threatened by Andaya's bid to grab the gubernatorial seat of Camarines Sur from his son Migz that he has resorted to desperate measures — which includes throwing his buddy Ping under the bus just to get a couple of headlines out to vilify Andaya.
Here's where they made their mistake:
The thing with lying about finding anomalous discoveries in the 2019 National Budget is that its formulation and approval is extremely well documented every single step of the way. No one single person gets to write the budget or can tamper it without anyone finding out. So much so that lies about how the national budget has been portioned out can easily be refuted and accountability for any revision at any step can be exacted.
Could we expect any less from a former President and her former budget secretary? Of course not! And Lacson as well as Villafuerte were fools for even trying this stunt.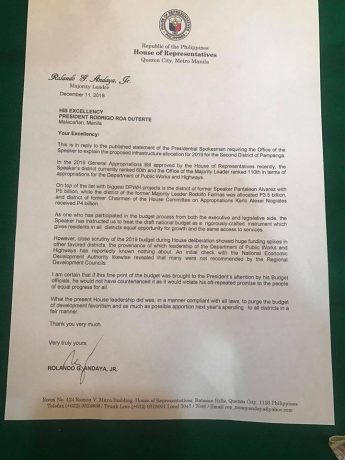 As it turns out, and contrary to claims made by Lacson, the districts of House Speaker Macapagal Arroyo and House Majority Leader Andaya did not get the biggest budget allocation for her district.
In a letter to President Rodrigo Roa Duterte, Andaya informs the president that:
"In the 2019 General Appropriations Bill approved by the House of Representatives recently, the Speaker's district currently ranked 60th and the Office of the Majority Leader ranked 110th in terms of appropriations for the Department of Public Works and Highways.
"On top of the list with biggest DPWH projects is the district of former Speaker Pantaleon Alvarez with P5 billion, while the district of former Majority Leader Rodolfo Fariñas was allocated P3.5 billion, and district of former Chairman of the House Committee on Appropriations Karlo Alexei Nograles received P4 billion. (Note: Emphasis is mine.)
"As one who has participated in the budget process from both the executive and legislative side, the Speaker has instructed us to treat the draft national budget as a rigorously-crafted instrument which gives residents in all districts equal opportunity for growth and the same access to services.
"However, close scrutiny of the 2019 budget during the House deliberation showed huge funding spikes in other favored districts, the provenance of which leadership of the Department of Public Works and Highways has reportedly known nothing about. An initial check with the National Economic Development Authority likewise revealed that many were not recommended by the Regional Development Councils.
"I am certain that if this fine print of the budget was brought to the President's attention by his Budget officials, he would not have countenanced it as it would violate his oft-repeated promises to the people of equal progress for all.
"What the present House leadership did was, in a manner compliant with all laws, to purge the budget of development favoritism and as much as possible apportion next year's spending to all districts in a fair manner"
House Speaker Arroyo  has every right to feel that she and her district in Pampanga were being singled for the baseless allegations that they got the biggest budget allocation in the 2019 budget.
In an interview, she said, "All I know is that I am not the biggest recipient of any budget. I'm like maybe between no. 60 to no. 80 and all I know is it's not true that only my allies go bigger than me. Several of those who were there before and are not there anymore still have bigger shares than me, than my district. It's not me, it's district to district.".
The way Lacson said it, it was as if Speaker Macapagal Arroyo had written the budget all by herself.
It pains me to have to see Lacson lectured by Speaker Macapagal Arroyo and hear her point out that she was not the one who prepared the budget and the Majority Leader Rolando Andaya and the Appropriations Committee are the ones who know the details.
If what SGMA said above didn't twit Lacson enough, perhaps what she said further on would be the twist of the knife.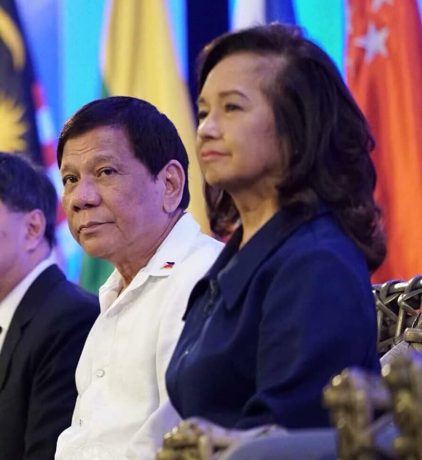 "…even if I'm speaker I think Nonoy Andaya and many congressmen will attest to that, that I don't dictate. I don't dictate on the details. Remember even in the Charter Change, the only thing I put in was the mechanism for a federal statement only because it was not moving forward when they were using their own formulas. All the others that were added like tax measures, all of them are depending on the committee. I only recommend something just to make it move forward because my job as a speaker is to shepherd legislation to make it happen and not to discuss the contents and that the same attitude I have with respect to the budget."