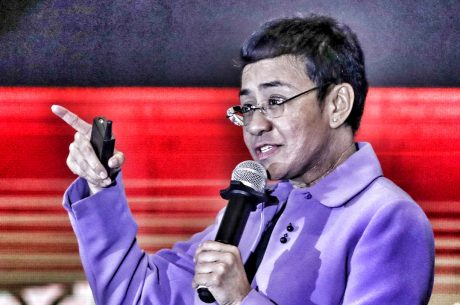 After calling Get Real Post writer @Ilda_talk a "minor minor blogger" and copping a bit of flak out of that major major lapse in judgement, the CEO of Rappler Maria Ressa has decided that she's had enough of the healthy dose of dissent she's been attracting.
This is coming from a person who fancies herself God's Gift to ALL Philippine Journalism and one lauded by a clique of gullible foreign "journalists" as some sort of beacon of "press freedom". Indeed, in a recent tweet, no less than CNN Chief White House Correspondent Jim Acosta described Ressa as "a brave reporter" — as if Ressa holds a monopoly on "braveness" over and above all Filipino journalists.
It seems, however, that Ressa herself cannot handle dissent when it is directed at her. Following an avalanche of challenge to her dubious claim that "press freedom" in the Philippines is "under attack" and that it is the Philippine government under the leadership of President Rodrigo Duterte who is perpetrating this attack, Ressa has started blocking people much the same way her pal and Yellowtard senatorial candidate Florin "Pilo" Hilbay gained his fame as a serial blocker on Twitter.
In a rather hilarious twist Ressa had recently blocked @ilda_talk on Twitter too.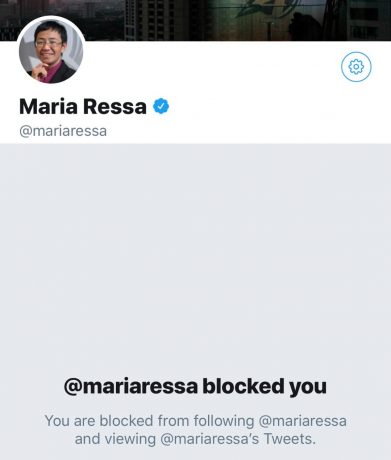 Now that's being not very sportsman like, is it?
There's a lot to be said about how the Yellowtard-led Opposition and and its ecosystem of "activists" disguised as "journalists" are conducting their affairs. But it cannot be said that they apply consistency to their cause and "advocacies". This is the reason they have lost the trust of the Filipino people. Ressa, in particular, could be credited for single-handedly giving Philippine Corporate News Media a bad name. It's time she be called out by her peers in an industry that desperately needs to step up and refashion itself into a community that upholds competitive but responsible business enterprise. Sadly, Rappler, thanks to the dysfunctional leadership of its CEO, is severely setting back this effort to aspire for excellence in media delivery.
benign0 is the Webmaster of GetRealPhilippines.com.