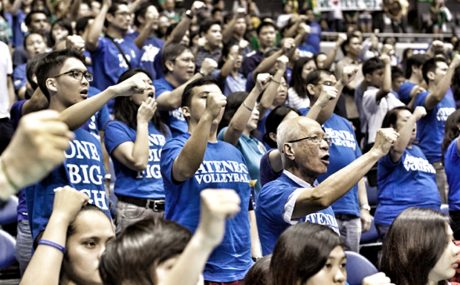 While we're in the business of calling out the misogyny, elitism, homphobia, and racism in the leaked group chats allegedly originating from the "brods" of the illustrious Upsilon Sigma Phi fraternity, perhaps we should step even further back and regard the full landscape of the deep nature of this "fraternity" culture. In his recent Inquirer column, "Fraternity rites and wrongs", Gideon Lasco points out that…
[…] fraternities should be mindful of how they — like all male-only organizations — can perpetuate atavistic ideals such as misogyny, homophobia, racism and the pernicious notion that might makes right.
Indeed, this is a call to action that extends way beyond elite mono-gender "fraternities" like Upsilon to the other breeding grounds of these social "diseases" that Lasco highlights and that the current crop of Filipino "feminists" and millennial social justice warriors (SJWs) turn into their shrill fashion statements of late.
SUPPORT INDEPENDENT SOCIAL COMMENTARY!
Subscribe to our Substack community GRP Insider to receive by email our in-depth free weekly newsletter. Opt into a paid subscription and you'll get premium insider briefs and insights from us daily.
Subscribe to our Substack newsletter, GRP Insider!
Learn more
In the hierarchy of real elite ecosystems, the environment within Upsilon ranks a distant third to the rarefied cloisters within private all-boys schools like the ultra chi-chi Ateneo de Manila de Katipunan and La Salle Greenhills (respective emphasis on the Katipunan and Greenhills qualifiers). If we are to trace the true roots of the purported "ills" that all-male communities supposedly contribute to society, one can argue that the Ateneo de Katipunan and La Salle Greenhills grade schools and high schools are the cradles of that "masculine toxicity" that feminism had brought to the fore. Within these schools both social and gender selection are at their most acute. The stratospheric school fees and the institutionalised exclusion of females at these primary and secondary schools conspire to breed alumni that, statistically, represent a demographic most likely to become everything feminists and SJWs rail about.
Add to this the fact that both schools are run by the inherently misogynistic imperial Roman Catholic Church and we can easily put up a strong argument that this quaint Upsilon circus is but the tip of a social iceberg that few "activists" truly grasp. Horrors, right?
But the community of shrill traditional Filipino "activists" are anything but horrified. Indeed, most of them are actually from these schools and are at the moment (as I write this) focused on being fans of the equally chi chi University Athletic Association of the Philippines (UAAP) basketball games — in solidarity with products of the very culture that forges the brotherhoods of the Ateneo, La Salle and, yes, the Upsilon Sigma Phi fraternity.
It is interesting to note that even within the Upsilon lives a sub social hierarchy where, sitting at the apex of this little pyramid are, you guessed it, alumni of the Ateneo and La Salle gradeschools and highschools. Indeed, unbeknownst to most, not all Upsilon "brods" are created equal either. The common denominator in this elitism is all-boys ultra-expensive private school grads. Me being, myself, a product of this system (full-disclosure ticked right there), will be the first to say that there is nothing inherently wrong with being a grad of the Hill. Rather, what we need to highlight is the banal inconsistency and, worse, deliberate selectiveness in the "activism" that many in our chi chi circles lead.
The elitism of Upsilon is no more than a diluted verion of the infinitessimally elite community of Filipinos who are alumni of the Ateneo and La Salle grade schools and high schools. Yet this diluted elitism is disproportionately accused of creating the toxic culture that is now on exhibit for all mainstreamdom in the media and "activist" communities to feast on. What hasn't been highlighted is the far more elite potential cradles of social and gender elitism. On that, perhaps it is high time more scrutiny be applied to evaluating what sorts of Filipinos the Ateneo and La Salle systems actually produce. For that matter, there is something to be said about the Philippines' overall education landscape which is anything but the true egalitarian systems that characterise truly progressive and truly liberal societies that can be found in the First World.
benign0 is the Webmaster of GetRealPhilippines.com.