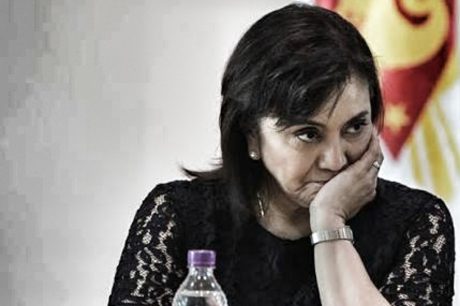 Where there's smoke, there's fire. Speculation that Philippine President Rodrigo Duterte is sick had been the buzz for many months now. The latest news that Duterte had been to Cardinal Santos Hospital on a "midweek day-off" has brought to fore the reality that Duterte may not complete the full term of his presidency.
Of his health condition, presumably in light of whatever procedure he underwent in hospital, Duterte had this to say, "If it's cancer, it's cancer. And if it's third stage, no more treatment. I will not prolong my agony in this office or anywhere."
So now all eyes are on presumptive "vice president" Leni Robredo. Her moment is coming. Is she prepared?
That remains to be seen. Talk has so far come cheap with Robredo and walking her talk will be the true test of her chops as a "leader". The more interesting point would be whether she still enjoys the backing of the broader Opposition. For one thing, the Liberal Party (a.k.a. the Yellowtards) that presume to lead it are a spent force. The last remaining Aquino in office, erstwhile Ninoy-lookalike Bam, is seemingly making moves to distance himself from the Yellowtard narrative. The Opposition community has also latched on to one after the next hoped-for leader over the two years of the Duterte administration, demonstrating a fickle desperation for a personality to rally their sheep-like flock around.
If Duterte steps down, he will likely leave a huge power vacuum and Robredo, the supposed "vice president", will likely be trampled upon in the ensuing rush to fill the void. It does not help Robredo and her Yellowtard cause that her claim to the office is challenged on two issues: (1) charges of electoral fraud and (2) non-compliance of her party to a 2016 election rule.
Beyond Robredo, the Yellowtards find no other viable alternative. They have no strong leader and no compelling alternative narrative to the "Laban" and "people power" belief systems they had been so comfy with over the last several decades. As king-makers, their traditional propaganda arms in Big Corporate Media and the Roman Catholic Church have long been largely discredited.
As with the aftermath of the recent resignation of former Assistant Secretary Mocha Uson, the Yellowtards will likely be celebrating on the streets when Duterte steps down. But true to their form of lacking any ability to think beyond the next circus, they likely come unprepared to answer the obvious next question: What next?
benign0 is the Webmaster of GetRealPhilippines.com.