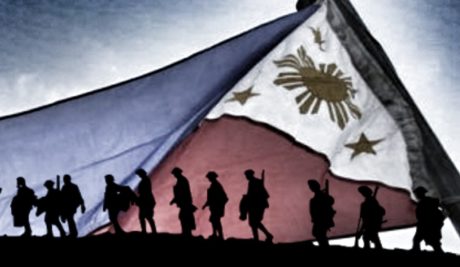 "Buy one, take one", "Study now, pay later", and "No pain, No gain" are slogans/mottos you've likely heard before (on top of the Zaxxun Creed collection), but have you ever heard of "rebels of today, heroes of tomorrow"? Well… welcome to the Philippines, a supposedly modern vibrant "democracy" that's still unfortunately trapped in a middle-ages mindset. Let's take a moment of national self-reflection and dig deeper into why rebellion remains a nagging staple element of the Filipino story to this very day and age.
Probably it was just "love at FIRST sight" the SECOND two delusional incompetents  BS Aquino the THIRD and A Trillanes the FOURTH realized their common treasonous interests; but granting amnesties so liberally sends a completely wrong message out to all would-be aspiring rebels. In the Philippines, staging a rebellion is not something you even have to think thrice on anymore knowing that a failed uprising/mutiny/coup d'etat would only translate to a short tax-payer-paid vacation in detention during the incumbent's term of office. Not only does it mean rebels can just so easily get off the hook, it means rebellion is extremely politically rewarding, especially considering the amount of media mileage (free election campaign marketing) these enemies of the state get.
There are many tried and proven paths to political prominence in the Philippines, such as necro-political or dynastic name games and gaining TV/sports celebrity status; then there's also the gun-toting rebel hero role/image, brandished by the likes of Ramos, Enrile and Honasan at the onset of the Yellow years, with failed-mutineer Trillanes following his idols' footsteps.
Filipinos have probably had too much of Star Wars, Hunger Games, Matrix, and Robin Hood opium to actually fail to distinguish real from reel reality. They just can't get over their national infatuation with childish fairy tale fantasies of the ruggedly handsome rebel savior on horseback swooping in to save the damsel in distress.
Compare the Philippines with genuinely functional democracies like Japan, Korea, and Taiwan which operate authentic train systems! Ask yourself why there are hardly any armed rebel groups fighting for freedom or other causes in these peaceful northern neighbors of ours. Rebel groups (left, right and every flavor between) are far more rampant in our version of "democracy". We should start to wonder what we are feeding this animal called rebellion. Could it be that the very idea/hope of amnesty is one of its choicest fattening delicacies?
Are Filipinos so bored and in itching need of constant entertainment that they welcome just about anything that would rock the boat? It's as if we quickly lose interest in reading news if it doesn't contain some form of chaos-fueling event, disaster or character. Mainstream media / news outlets gorge on the likes of Trillanes like some obese grease-addicted glutton digging his own grave with a spoon and a fork.
The Filipino's big mistake is glorifying rebels rather than lining them up where they really belong – a firing squad. Rebels get public sympathy rather than hard and swift condemnation; the simple mind trick they use to dupe the public is to just paint the government as an "evil empire". Filipinos spend taxes building "rebel-hero" statues and monuments, immortalize smiling troublemakers on legal tender, and rename airports, parks and roads after these traitors to peace, development and public order.
Filipinos need to grow up. They need to be weaned off of fantasizing that Ninoy-inspired rebellion/treason is something to be looked up to. A symbolic gesture of this coming of age would be the simple act of ditching the jinx name that's been stuck to the edifice of Manila's premier international gateway for three long decades now. But why is it taking Congress so long to act?
Did you enjoy Ninoy Aquino Day recently? Did you commemorate his assassination with your ass on the couch watching TV on that work-free holiday, or did you celebrate the fact a flying projectile had gotten rid of an overly ambitious asshole who was instrumental to laying the foundations of one of the nation's longest running headaches – the NPA armed insurgency?
Will Trillanes be the last of his kind? Only time will tell if Filipinos have finally learned their big headache-inducing lesson already. Hopefully, the huge airport complex to be built in Bulacan by San Miguel Corp. will not be named after another sham "hero" someday.
Let's keep the rebels in fiction novels, fantasy video games, and movie theaters shall we? Life, inflation, sweltering heat and horrendous traffic in "more fun" land are already difficult enough; we no longer need the perpetual reminder and glorification of Ninoy and those gun-toting rebels who ushered in the nation's sad state of socioeconomic despondency.
You can remove the incentive to kidnapping by making it a state policy to not pay the ransom (sacrificing the first few victims will actually save hundreds of potential ones down the line). In like manner, you can begin to stop fanning the flames of rebellion by
ditching the idea of amnesties and
not rewarding rebels of today with rich political careers or buildings/roads named after them.
Bring common sense and sound logical reasoning back into the national psyche. Support the growing anti-rebel-glorification movement…
Gadon wants NAIA renamed back as MIA
PAPALITAN na ang NAIA to Manila Int'l Airport (MIA)
The Aquinos are traitors: Time to remove their faces from the 500 peso bill
Zealous revolutionary advocate of bringing back common sense for the common good in a land of dysfunctional and delusional zombies.