I am not sure if CamSur Second District Representative Lray Villafuerte had tears in his eyes as he was plaintively crying that he was bullied during plenary debates on the proposed 2019 budget. But if he had torrents of snot running down his fat face, I wouldn't be surprised.
An observer at the plenary hall of the House of Representatives told me that he wasn't really upset over the talk he had with fellow Bicolano and First District Representative Nonoy Andaya Jr.. But, rather, Lray was incensed over the discovery of his P1 Billion "hidden" pork barrel and Speaker Gloria Macapagal Arroyo's decision to distribute this more equitably.
After all, what good would it do to give Lray (granting it were actually LEGAL) control over P 1 billion in "pork" if decades of his clan's rule in Camarines Sur has resulted in MORE poverty?
I wonder how he deals with the thought of his starving province-mates?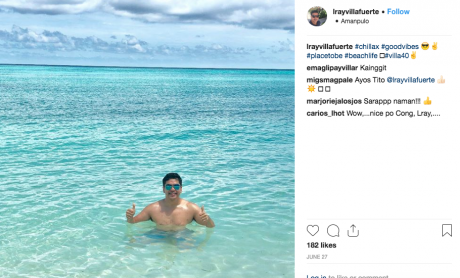 Perhaps the sands and sea of a luxurious Amanpulo resort is more than enough to wash away the sordid vision and stench of unwashed Bicolano masses begging his son, Gov. Migz Villafuerte to sell them NFA rice at P55 per kilo.
In a news report, it appears Lray — also known as a tourism congressman for his frequent and lavish trips outside his home province — attempted to lead 40 to 50 congressmen to oust Speaker Gloria Macapagal Arroyo and replace her with Marinduque lone district representative Lord Alan Velasco.
A highly placed source said this is coming from the group that is insisting on keeping some P55 billion worth of projects in the 2019 budget. The source claimed Arroyo wanted the money distributed equitably to all congressmen.

The source said Arroyo might be replaced with Marinduque Rep. Lord Alan Velasco but the proposal is not gaining traction now.

Another source said the projects in question affect 40-50 congressmen and were prepared under the previous House Speakership.

A source who claims to have seen a list said about P4.7 billion went to a congressman from North Luzon, P3 billion in projects for a congressman from the Visayas, and P1 billion for a Congressman from Bicol.

Source: https://news.abs-cbn.com/news/09/17/18/speaker-arroyo-faces-tug-of-war-over-funds-sources
Revealing how much of a pulpolitiko Lray is, is his insistence that he was bullied at the plenary session and turning the focus on himself, instead of the budget matters on hand.
I guess that's something to be expected from Lray, who, a couple of months ago claimed he was harassed by residents of Pili after he dumped tons of soil on the road leading to their farms and effectively deprived them of their land. 
If that hints at his Pinoy dysfunction, perhaps pointing out that congressman Lray is the RICHEST Bicolano congressman in the POOREST Bicol province will leave no doubt of the terminal sickness plagues Bicol Politics.
(In my next blog post, I'll tell you how prostitution has risen  in CamSur as a result the Villafuerte clan's poor governance at the provincial level.)