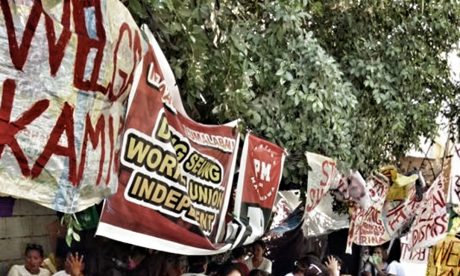 Filipinos would like to think they are "pro-poor" and "pro-worker". Yet, this is a society where many of its most vocal "influencers" maintain lifestyles propped up by cheap labour. And why is labour cheap in the Philippines? Well, it is not because their employers are "evil" as communist "activists" would like us to believe. In fact, it is really nothing personal. It's just free market economics — specifically that inconvenient law that is its pillar: the Law of Supply and Demand.
Indeed, most Filipino households middle-class and above are kept humming on the back of a team of very "affordable" household help. After all, why invest in good labour-saving household devices when you can simply pay servants peanuts to clean after you? Indeed, poverty is what keeps wages low. And wages are low because, for every worker kicked out of the payroll for demanding too many "rights", there will be at least a hundred odd applicants making a beeline for the newly-vacated job.
You wonder then whether these labour "activists" are actually doing the average Filipino worker a real service. Considering that many of these "activists" are students in the Philippines' top universities, it is worth questioning how much real skin in the game these rabblerousers actually have. It is likely that, in the aftermath of the the next labour-vs-management negotiation they inflame with their Cold War-era rhetoric, workers will lose jobs while these "activists" simply go back to their respective schools or, worse, move on to the next "activist" circus.
One should actually step back and examine whether demanding more "workers' rights" is really the solution to so-called workers' "issues". For one thing, Filipino workers are easily replaceable. The Philippine islands is essentially an enormous pile of able-bodied workers that can be thrown into any labour-added-value industry by the shovelload. And the Philippines', for that matter, is primarily a labour-added-value economy which, in a way, is good news for these hordes of workers wearing down their roasaries everyday praying to the Almighty for jobs. Capital, on the other hand, is not as replaceable. Indeed, the Philippines is forever begging for capital, no thanks to its renowned inability to create and grow it indigenously at scales that modern global economies demand.
So between the "plight" of workers and the flight of capital, the bigger risk to which the Philippine economy is exposed to, in the bigger scheme of things, is quite clear. What is really concerning is that the big fact at work in the Third World is that "more rights" will not solve workers' issues. It is more employers that will ultimately solve the supply-to-demand imbalance that allows employers to treat their workers like carabaos.
In short, Filipino-style "labour activism" is more likely to be poisoning the Filipino worker's cause than actually enriching it. The Philippine economy is perennially starved of capital which, any "economist" worth their salt will tell you, is what ultimately creates employment. Most important of all, Big "bad" corporations have deep pockets. Many can weather those quaint labour spectacles these communists incite every now and then as well as those even more quaint "boycott" campaigns Manila's Titas "trend" on Twitter as they sip their lattes at the corner Starbucks. Big "Bad" Corporate will weather a strike and likely live to fight another day. The average Filipino worker likely won't. Most tragic of all, once tainted with the stench of commie-originated unrest, veterans of strikes are likely to be marked for life — and doomed to a lifetime of impoverishment. That is, unless they can reinvent themselves as "professional activists" and make a career out of organising those strike-and-run "activist" spectacles we see on TV today.
benign0 is the Webmaster of GetRealPhilippines.com.