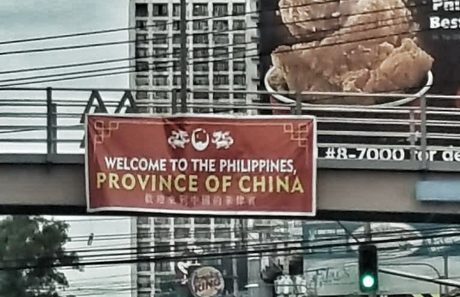 After all, many Filipinos regret demanding — and gaining — independence from the United States back in 1946. Now they live with the reality that had eventuated from the prescience of the late Manuel L. Quezon, first President of the Philippine Commonwealth when he said: "I would rather have a Philippines run like hell by Filipinos than a Philippines run like heaven by the Americans". Today, a group of bozos are putting up tarpaulins all over Manila with the words "Welcome to the Philippines, Province of China". For me that sounds a lot more like wishful thinking than the tongue-in-cheek call-out its instigators likely wished to convey.
It's not as if Filipinos have ever actually been "independent" in the real sense of the term. Everything that underpins any semblance of modernity in the Philippines is made possible only by foreign capital. Major brands are foreign, funding of new infrastructure is foreign, and all those precious factories and BPO centres that soak up unemployed Filipinos are made possible only by foreign-originated technology and demand. The Philippines' style or form of government itself is straight-out-of-the-box foreign in origin with negligible local thinking-added-value input into its crafting and implementation. From leftist "activism" (which traces its ideological roots to a German and the local flavour to a Chinese), to liberalism (Western European), Filipinos practically owe all of the veneer that is their "modern" identity to foreign colonial powers. Even the state religion — Roman Catholicism — is not only a foreign religion that was originally a tool for subjugation of the colonies, it is a channel through which a foreign government — the Vatican City — continues to govern the Filipino flock even today.
The one centre of power that is domestic is the Philippine government — which further highlights just how prescient Quezon's words turned out to be. And even on that, the Philippine Opposition are combatting it using foreign intellectual capital (liberalism and communism and the quaint artifacts of these ideologies: "human rights", "feminism", and "equality").
So what then of the idea that the Philippines is in some sort of danger of being a "Province of China" as some shrill activists presume to scare Filipinos into believing? It's not as if another colonial master will matter in the bigger scheme of things. Long before the Duterte presidency, Filipinos already consumed tonnes of imported Chinese food and enjoy a throwaway culture on a diet of cheap imported Chinese garments and trinkets among other things on top of all that foreign-originated stuff.
Indeed, the more confronting reality at work here is the fact that Filipinos had only their rustbucket navy to defend themselves with as China started building stuff on disputed territory in the South China Sea. The state of that navy attests to how "serious" Filipinos actually are about defending what they assert is "theirs" to keep. Indeed, nearby Indonesia could simply decide tomorrow to do the same and there would be not much Filipinos could do about it other than issue another set of re-worded template "activist" slogans.
For many of the dime-a-dozen "activists" that now infest the Philippines' political discourse, being "cause-oriented" doesn't go much further than wearing a shirt — or declaring some form of "protest" on social media. This is because being seen to be aware of "social justice" issues and parroting a slogan in support of the popular position on an issue earns social brownie points. It's called virtue signalling — a term that has come to be associated with the easy space in the discourse where "polite conversation" dominates.
Thing is, when someone says "I DISSENT" always ask "Then what?" Perhaps, to be fair, it is a bit concerning that many Filipinos now think that the Philippines is "destined" to be a "province of China". So they are encouraged by their so-called "thought leaders" to protest loudly or hang these quaint banners with their supposedly tongue-in-cheek message to express their passive-aggressive "outrage". But no matter how loud the shrill voices or how big and expensive the banners are, the question Filipinos will ultimately need to confront remains simple: And then what?
benign0 is the Webmaster of GetRealPhilippines.com.