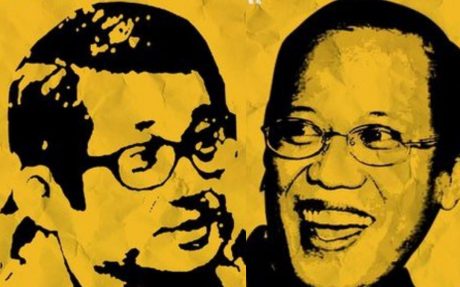 Genetic regression in the Philippines is a reality. When parents look more handsome or prettier than their kids, it's kind of sad to see those good chromosomes disappearing from the gene pool of the Philippine's next generation. Noynoy/PNoy could have looked better or at least more presentable had Ninoy chosen to tie the knot with Imelda Romualdez. Instead, for some strategic (yet genetically tragic) political advantage, he ended up marrying the hacienda heiress: Corazon Cojuanco.
The lesson here is – consider how your children will turn out to look when choosing a mate, especially if you have political ambitions. Had PNoy looked a bit more like his dad, people wouldn't have been bullying him with all these condescending labels: Panot (receding hairline) and Abnoy (abnormal). In fairness, PNoy has not been rabid in fighting off all the negative comments and name-calling that he's bombarded with – despite the fact that it was not really his choice to become a baldy or a "special child".
As a president, you need to project and emit and aura of confidence. You are "the face" of your people, representing them in the international arena. It's possible PNoy goofed up a lot during his term (esp. in geopolitics) simply for lack of confidence. Recall how difficult it was to watch him slouching inside his big chair during his interview by Vice Ganda; a posture so unbecoming of an executive (royalty). Just do a mental juxtaposition of George Clooney and Noynoy for a second and you'll get what I mean.
By contrast, we see Rodrigo Duterte and Ferdinand Marcos Sr. generating a succeeding generation of politicians that can weather the harsh political landscape of needing to look pleasing to the Filipino critical "galing man-lait" eyes. These are the real political strategists that have left no stone (including the gene factor) unturned.
The sad fact is: To be a politician in the Philippines requires popularity, with the need to have your face flashed on headline news on an almost daily basis. It will take much longer for Filipinos to see the merits of becoming a meritocracy. For the time being, as we still need to grow up from our overly entertainment-centric points of view, wanna-be politicos need to have the looks.
Ninoy seems to have made many wrong moves. Becoming a celebrated "hero" for being in the right place at the right time (in the path of a kinetic projectile) may have served his family's political dreams well. But the genes passed on to his son were not something Noynoy could really be grateful for. (This could be a clue to why Noynoy does not have a son.)
Those early days just after Yolanda with Mar exploding with those painful words "You are a Romualdez and the president is an Aquino" would not have been that so politically charged and more lives could have been saved if only Ninoy married Imelda. Well that's the butterfly effect. So choose your mate carefully, even scientifically (weighing all the pros and cons in a table).
It's probably time for Pinoys to stop jumping into a relationship just because of emotional highs or potential financial benefits, but rather with a good sense of genetic foresight included in the equation.
By the way, why wasn't Noynoy present in the recent Mactan-Cebu International Airport Terminal 2 inauguration (a project his admin was  a part of). Is he too ashamed to show his face in public already? What a huge fall for a man who used to be the most powerful official in the land.
Zealous revolutionary advocate of bringing back common sense for the common good in a land of dysfunctional and delusional zombies.