"MASAHOL PA SA ILLEGAL RECRUITER AT HUMAN TRAFFICKER SI REY JOSEPH NIETO AKA THINKING PINOY. DAPAT DIYAN TAKALAN AT PILAHAN NG MGA RAPIST NA MAY STD SA BILANGUAN ARAW ARAW HANGGANG MAMATAY!" (English translation: "Rey Joseph Nieto aka Thinking Pinoy is worse than an illegal recruiter and human trafficker. He should be beaten up and gang raped by criminals with STD everyday until he dies.")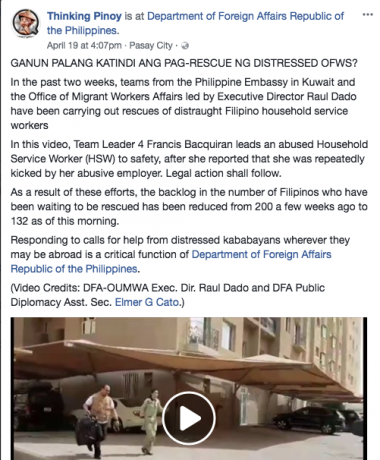 That is what a friend and long time Duterte supporter said to me upon reading various posts on social media about how Thinking Pinoy RJ Nieto's act of uploading and sharing a video of an OFW being rescued in Kuwait doomed thousands of Filipinos who are still in Kuwait.
Nieto's uploading and sharing of the video was the spark which eventually led to the Kuwaiti government to declare Philippine Ambassador to Kuwait Renato Villa persona non grata and to recall the Kuwait Ambassador to the Philippines.
In the statement issued by the Kuwaiti government, it was said:
The foreign ministry cited the Philippines' "flagrant and grave breach of rules and regulations that govern diplomatic action, where staff helped Filipina house helpers run away."
Philippine officials had sent "reinforcements to the embassy in Kuwait; comprised of seven teams affiliated with the foreign undersecretary for labor in immigration at pretext of rescuing female housemaids in Kuwait. The State of Kuwait Government affirms that such acts and statements constitute explicit breach of international principles and covenants," the ministry said.
The report cited violations of the 1961 Vienna Convention on Diplomatic Relations, namely Provision 41 that bars infringement on individuals' prerogatives and immunities, respecting states' laws and non-intervening in their local affairs.
Source: https://www.philstar.com/headlines/2018/04/25/1809616/philippine-ambassador-kuwait-declared-persona-non-grata#hD0T6G6XUYym7rjv.99
Because of the diplomatic row instigated by Nieto's uploading and sharing of the rescue video, Filipinos working in Kuwait now face a greater risk of being abused, beaten, or killed.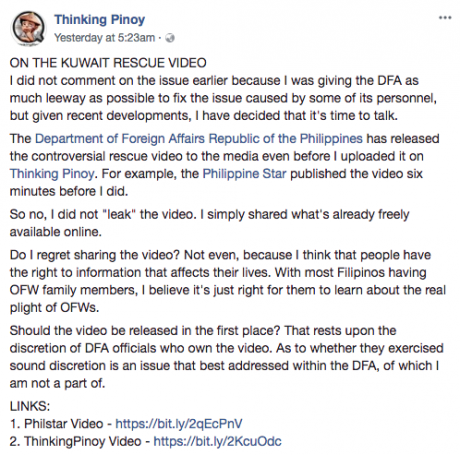 As expected, Nieto demonstrates his inability to show some balls and own up to sparking a diplomatic row.
In a post, Nieto fixes the blame on DFA personnel and falsely claims that he did not cause the DFA to release the rescue video.
In his sick and perverted mind, Nieto deludes himself by thinking that not being the first to upload and post the rescue video absolves him of any liability.
I'm no lawyer, but that's just like Nieto saying that he shot someone only after seeing that the person had already been stabbed.
An international lawyer who chatted me up regarding Nieto's criminal blunder said that he could be charged for violating Revised Penal Code Article 118 which says:
Inciting to war or giving motives for reprisals. — The penalty of reclusion temporal shall be imposed upon any public officer or employee, and that of prision mayor upon any private individual, who, by unlawful or unauthorized acts provokes or gives occasion for a war involving or liable to involve the Philippine Islands or exposes Filipino citizens to reprisals on their persons or property.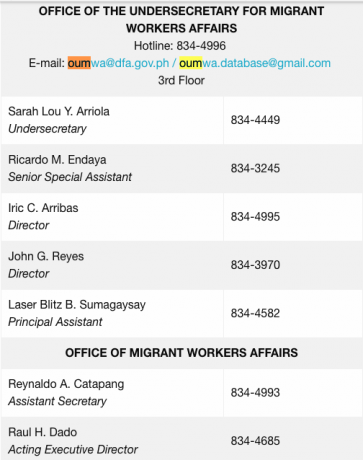 In addition to Nieto, people at the DFA also stand to be charged with violation of RPC Article 118.
In a news report, it is said that Acting DFA Assistant Secretary for Public Diplomacy Elmer Cato posted at least two videos in the official Viber group of reporters who cover the DFA. Whenever the DFA posts photos, videos, or information through this Viber group, it means reporters can use these.
Following this, a post on Facebook surfaced where Drei Natabio, an assistant of DFA OUMWA Usec Sara Lou Y. Arriola, was said to have posted the rescue video.
I am not exactly sure how DFA-OUMWA Exec. Dir. Raul Dado fits in to the whole thing, but Nieto credits him for the video.
The next one to share the video was Philippine Star, after which, Nieto uploaded and shared the rescue video.
It must be noted that Philippine Star's video was marked with the Philippine Star logo on the right corner and Nieto's video didn't have any markings, which leads me to assume that he had gotten his video from the DFA.
The thing is Usec. Sara Lou Y. Arriola is said to provide Nieto with a hefty allowance in exchange for his services.  One wonders if Arriola is willing to take the cudgels for Nieto and accept any liability for his actions?
At some point, Nieto was said to have billed the rescue video as "DFA in action" and from the looks of it, was attempting to make DFA look good to the OFW community.
If at all Arriola ordered Nieto to share the video, she should have known that releasing the video would be tantamount to providing the Kuwaiti government with evidence that agents of the Philippine government were engaged in violating its laws.
Arriola should have known that this had the potential to spark an international row and also prove embarrassing to Foreign Secretary Alan Peter Cayetano.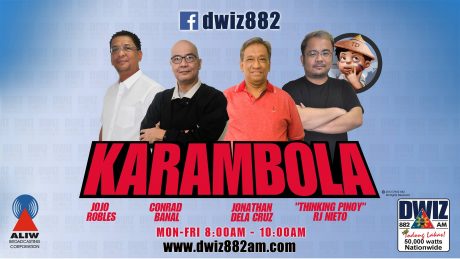 Someone observing the whole fiasco asked me if this was in anyway connected to a series of "blind items" unleashed by DWIZ Karambola radio talk show host Jojo Robles, whom RJ Nieto shares air time with.
People said the the series of "blind items" alluded to Cayetano and how his act of conceding the Vice Presidential race to Leni Robredo had allowed her to win.
This led the observer to ask, "Were Nieto, Arriola, Dado, and Cato really trying to make the DFA-OUMWA look good? Or are they playing a part in a smear campaign against Secretary Cayetano?"