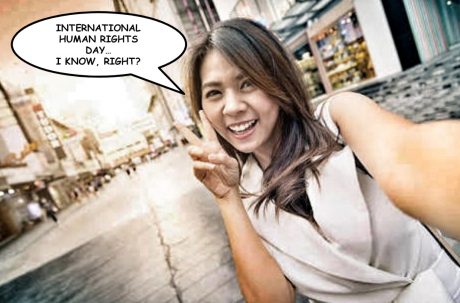 Western liberal democracies are celebrating "International Human Rights Day" today. And Filipino liberals and its Leftist elements are, of course, celebrating as well — which is ironic in the case of the latter because commies aren't exactly big fans of "human rights".
Indeed, re-emergent China is fast taking steps to regain its role as the Far East's top hegemon. It is achieving this feat using a hybrid system. Still an avowed communist country, China is seemingly showing the West what real capitalism is all about. Money talks just as eyeballs made Silicon Valley rich (sadly turning it into a bastion of bleeding-heart pretenders). China is going for where the money begins — building empires. Unfortunately the gentrification of the West seems to be pointing the mightiest civilisations on the other side of the world towards a self-destructive direction.
Pope Francis, in fact, leads the West in preaching about people's entitlement to a fair share on the basis of the notion that everyone has "something to contribute", big or small. Ultimately, however, money is the final score-keeper when it comes to who or what contributes the most value and who is entitled to be handsomely rewarded for that contribution.
Without such a system that rewards humanity's cleverest problem solvers, there wouldn't be all this social media goodness we enjoy in the 21st Century and upon which all the blaring contradictions of new age liberals are broadcast.
Indeed, it is easy to see how China has served as an example of an apporach to economic expansion that is alternative to Western notions of how the world ought to behave. But, really, there are ample examples of how the same approach has already yielded the same celebrated results closer to home.
Singapore is southeast Asia's most famous example of a society that thumbed its nose at an empire that abandoned a former colony to its independent devices. But unlike some countries that spent the rest of its subsequent history whining about it, Singapore just got on with the job of becoming a global success story. And they did it their way. Indeed, Singapore under Lee Kuan Yew is proof that the Philippines did it all wrong.
Filipinos like to think that freedom is a pre-requisite for prosperity. LKY's Singapore disproved that long before it was even turned into a brand by Filipino activists. LKY ran Singapore with an iron fist. There was no "revolution" to break that tight grip. The only revolutionary thing that happened in Singapore was economic. Whereas Filipinos celebrate a political "revolution", Singapore quietly achieved an economic one.

Indeed, the best revenge is success. Singapore now dominates the region. The economic output of one Singaporean dwarfs that of a Filipino and his family of eight by a factor of ten. To the Philippines' ability to "secure" an outlying territory by beaching a World War II era ship, Singapore, a country of just several million, can project hundreds of times the firepower many miles beyond its territory. It also keeps a significant chunk of the Philippines' work force employed.
Would Singapore be prosperous today if it wallowed in a habit of blaming all its troubles on a former imperial master, a lack of "freedom", a failure to appreciate its people's "human rights", and a restricted ability to practice "free speech"?
This is perhaps the better question to reflect upon whenever "human rights" and all the sugar and spice and everything nice that Filipino "activists" use to broadcast their virtue signals become "trending" topics on social media. Rather than merely follow Filipinos should learn to be innovators and visionaries possessing of the cultural chops needed to prosper in today's competitive world.
benign0 is the Webmaster of GetRealPhilippines.com.