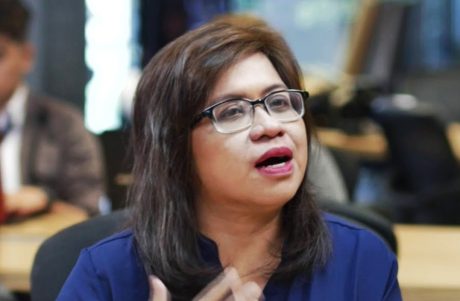 Jover Laurio, the blogger behind Pinoy Ako Blog has filed a libel suit against social media personality Franco Mabanta. How do I know this? Well, no less than Rappler Chief Executive Officer Maria Ressa tweeted an article published in her own site about it. That's right, folks. People like Ressa seem to think Laurio is "news worthy" and that the public needs to know what's happening in her life.
Who the hell is Laurio and why do we need to be updated about her life? Just a couple of months ago, she was anonymous until blogger RJ Nieto of Thinking Pinoy outed her. And then she was forced to admit she is the blogger posting nasty stuff about Philippine President Duterte, his allies and supporters. Since being outed, she has been crying persecution and claiming that Duterte's supporters want to silence her just because she is very critical of the President. It seems Ressa, who likewise accuses Duterte supporters of attacking her and Rappler has found a person to rally behind and use in her fight to "take the Internet back".
Apparently, Laurio is suing Mabanta for his Facebook posts where he made fun of her appearance. Mabanta referred to Laurio as an "Ogre Lady" and "profoundly disgusting". While I do not condone personal attacks especially those that mock someone's physical appearance, Laurio is guilty of doing exactly that before her identity was made known. She quite often made fun of Duterte's appearance and that of his die hard supporters. One of them is former Assistant Secretary for Department of Social Welfare and Development Lorraine Badoy. Laurio accused Badoy of having undergone facial enhancement and said that Badoy wasn't pretty before she had it done. But after photos of Laurio were exposed, it had become evident that she herself could not stand criticism from other people who comment about her physical appearance.
Until today, I had no idea a person can be sued for commenting on another person's looks or physical appearance. I always thought that calling someone "ugly" and "hideous" fell under the "opinion" category. Personally, I think that if someone thinks you are not easy on the eyes, it would be hard to convince that person otherwise. As they say, beauty is in the eye of the beholder. You can simply take his opinion with the grain of salt. At least that is what I would expect from someone who has breeding. There is something to be said about people who think those who comment on their physical appearance should be taken seriously. The terms "full of herself" and "delusional" come to mind.
I am very curious to see what the outcome of Laurio's lawsuit will be and how the court will deal with this. How can her lawyer – no less than the former Solicitor General Florin Hilbay – prove that an opinion can cause damage to a person? It would be interesting to see HIlbay use his skills to convince the judge that Mabanta's posts were false considering it is his own belief.
Laurio should also be careful about the way people like Ressa and Hilbay are coming to her defense. They could be using her to get back at Duterte's supporters. Or perhaps it should be Ressa and Hilbay who should be careful. Laurio could be using them to get back at Duterte's supporters who criticized her. People like me who are mere spectators of this "sport" can already tell these characters are just using each other to advance their own personal agendas. Meanwhile, we all have to bear with the lack of substance in Philippine news and current affairs courtesy of sites like Rappler.
In life, things are not always what they seem.