So, a friend from Facebook I have only seen in person twice (once when she interviewed me for her thesis and the other when I was interviewing her for a job) chatted me up out of the blue and asked if I wanted to test drive the Ford Ecosport.
As with all offers on the internet promising a new gadget, a luxury car car, millions of dollars or help for some poor soul if I liked or shared the post, I easily overcame my mild skepticism (beating it with a imaginary steel pipe) and said "Yes, please." (Uhm, the actual words were, "Yes, please… you can take both my kidneys.")
Not that I knew anything about the Ford Ecosport enough to be excited about it. The only thing that I went by at that point was a picture I found on my phone's web browser and it looked like one of those small cars — which I thought would be fun to drive, just like a go-kart.
But, even if it were a midget sized car, what was going for it at that point was that it was going to be a new car and almost every new car I had ridden in or drove around in was a great ride.
So, waiting for the car to arrive at my place was excruciating. The sort of anxiety I went through, I imagined, would have been close to that of waiting for Amanda Cerny to show up for a date.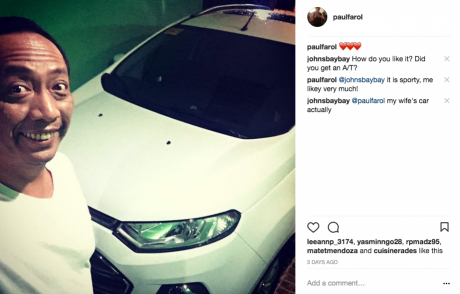 When the car finally showed up… I was ecstatic.
Sitting inside of this new Ford Ecosport for the first time simply cannot compare with the feeling of unboxing a new smartphone or entering a new condo unit.
The smell of the interior, the feel of the wheel and pedal, the seat wrapping around your back like the arm of an old friend, and the instrumentation lights gleaming like gems.
It felt like I belonged, like I was born to wield it. Haha!
I'm no Jeremy Clarkson, but I had it in my head to put the car through its paces by driving up to Baguio and documenting the whole experience.
But you know what? I almost completely forgot about it and just drove… and drove… and drove…
Driving the Ford Ecosport through NLEX, SCTEX and TPLEX felt effortless. It was cutting almost too quietly through the air and I don't think I could hear the engine straining at all.
And you know how your car moves left or right when a bus or truck passes you? That never happened even once.
On the way up Baguio's winding roads, the Ford Ecosport's handling was surefooted and nimble. Didn't feel it roll at all even when taking corners at 60 kph and above… uphill — something I could never do with my decades old Toyota Revo. Haha!
Upon arriving in Baguio City, I decided to take it up Mt. Sto. Tomas to see how it would handle the steeper gradients approaching the Radar site. But alas! It seems the ruckus I raised over the destruction of the Mt. Sto. Tomas Watershed had shut it down to tourist traffic.
Mt. Sto. Tomas is where the fictional La Presa was shot. (If you remember that LizQuen teleserye.)
But as far up Mt. Sto. Tomas I had taken it, the Ford Ecosport climbed it as if it were just any level road. More of the silent performance of the engine and precise handling that took corners with ease.
A friend that I met at Hill Station after I descended Mt. Sto. Tomas suggested that I take the Ford Ecosport as far as Atok (the highest point in the Philippine Highway system). I would have done that if I had one more day with the car and didn't have to attend to work on Monday.
Alas!
I guess the suckiest part of this story is when the Ford Global's driver came to take the Ford Ecosport back home and the fact that, for the life of me, I couldn't figure out how to make Spotify come through the car's audio system.