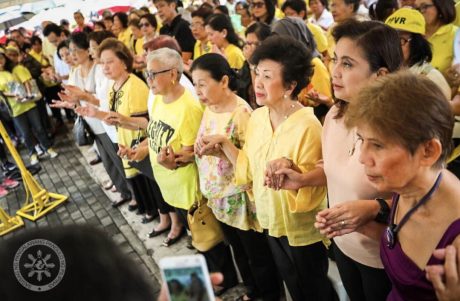 Filipinos are being pulled in different directions nowadays as various political blocs battle one another for dominance in a landscape characterised by turmoil and unrest. Looking just a short time back, the mid-2000s was the same. It was also a time of frequent street rallies and accusations of "human rights violations" among others being thrown about.
What is emerging is a common denominator that characterises the Philippines' most turbulent times in the last several decades. These troubled times seem to be times when the Yellowtards (political blocs and their supporters most closely allied with the Aquino-Cojuangco feudal clans) were in the Opposition. This is not surprising considering that Yellowtards are in control of the biggest corporate mass media organisations in the country as well as enjoy the backing of the Roman Catholic Church. Yellowtards, though they deny it, also have close ties with the Communist Party of the Philippines (CPP) who, themselves, pack an instrument of unrest that still remains lethal albeit diminished — the terrorist New People's Army (NPA) which continue to terrorise the country's hinterlands.
These "assets" give the Yellowtards an unmatched capability for inciting unrest and sustaining destabilisation campaigns against governments they do not like.
Lack of stability is never good for a country and it is quite amazing that the Philippine economy remains quite resilient and exhibits healthy growth despite the prevailing turmoil today. As such, it is quite evident that the political "activism" of Yellowtards is not really meant to further the national interest (of which stability is an important thing) and, instead, create an environment that provides fertile ground for their next power grab. These blocs, after all, are famous for their use of extrajudicial means of changing leadership (which they sugarcoat and package as "people power" movements). The goal of the Yellowtards, in short, is a return to power rather than contributing to national development.
Filipinos need to see through this fake patriotism and understand what the Yellowtards are really up to. The ideology and political platform of the Yellowtards, quite simply, do not add up. They claim to be aligned with Western liberalism but remain a superstitious and "prayerful" lot who believe the edicts of medieval institutions. They espouse diversity in lifestyle and inclusiveness in points of view yet remain within the embrace of a de facto state religion opposed to divorce, reproductive choice, and homosexual marriage.
Filipinos should step up their critical scrutiny into the belief systems of the Yellowtards. Only in doing so will they appreciate the hopelessly intractable inconsistency in the thinking they define themselves with. Such inconsistency makes them incompatible for advancement in today's modern world.
benign0 is the Webmaster of GetRealPhilippines.com.