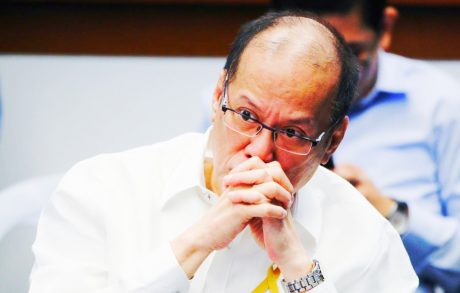 So former President Benigno Simeon 'BS' Aquino III gets a medal for mere effort after having shown up at the Senate inquiry into the Dengvaxia debacle. Seeing BS Aquino's face on TV again is quite the blast from the past. It reminds Filipinos of the culture of mediocrity that prevailed over the six years of his administration and, overall, the 30-year reign of Yellowtard thinking that blanketed Philippine society.
Under such a culture, presidents get elected because of a pedigree of martyrdom — something that binds Yellowtard leaders together: BS Aquino who campaigned on the back of the death of his mother, the late former President Cory Aquino, in 2009 who, in turn, was catapulted to power in 1986 on the back of a series of events following the death of her husband former Senator Benigno Aquino Jr in 1983. And not much else.
To be fair, it is right that Aquino himself face the music today. He is known to be a man who is used to getting his way and not comfortable with taking on board suggestions and considerations that run counter to what he wants. As such, Aquino is definitely accountable for how things turns out. As president, the buck stops at his office. As a character who is averse to having his views challenged, he bears sole responsibility for his decisions. Indeed, as Manila Standard columnist Jojo Robles points out;
If he had not developed a culture where his officials were so afraid of opposing him while he was president, Noynoy would have heard the opposition to his Dengvaxia program – and it would certainly have given him pause.

There certainly was opposition enough, and from very credible, apolitical sources. But the World Health Organization and the various local public health specialists who advised caution before the rollout never had a chance.
Herein lies the trouble with this perverse form of hero-worship Filipinos have been made addicts of over the last 30 years. "Heroes" can do no harm in the eyes of those who worship them. Worse, they don't even need to achieve anything to be worthy of their adulation. There are many smart people who did the right things that, at the least, prevented disaster and, at best, laid the foundations for success. Unfortunately it is the "heroes" who seemingly swoop in to rescue people from perceived threats that become stuff of legend.
Dictionary.com defines "legend" as…
a nonhistorical or unverifiable story handed down by tradition from earlier times and popularly accepted as historical.
Yellowtard "heroes" such as BS Aquino did not need to achieve anything. They only need a narrative — a legend — based on a manufactured "villain" upon which their legacy could be pre-built.
benign0 is the Webmaster of GetRealPhilippines.com.