In the days after the declaration of Martial Law, merely criticizing former President Ferdinand Marcos could get one picked up and there are claims that many of those picked up simply disappeared.
Fear of speaking against Marcos back then was such that a friend's mother (a college professor at a state university) buried several books on Communism and other literature that could be considered subversive in her backyard.
Contrast this to Duterte's administration where Senator Antonio Trillanes continues to roam free after reportedly called on soldiers to kill the President:
According to Paras, Trillanes in his Oct. 3 speech virtually encouraged the military to assassinate the President because of that part in his speech where he supposedly said: "Naku, kung makikita ito ng mga sundalo, M-60 machine guns ang gagamitin sayo [wow, if the soldiers would see all this wealth, they'd use their M-60 machine guns on you]. . . " meaning, said Paras, encouraging them to train their fire on the President, on whom the senator allegedly predicted soldiers would use "marami marami" [a lot of] bullets for the purpose.
Another point of contrast is a growing movement on Facebook calling for the declaration of RevGov or a revolutionary government.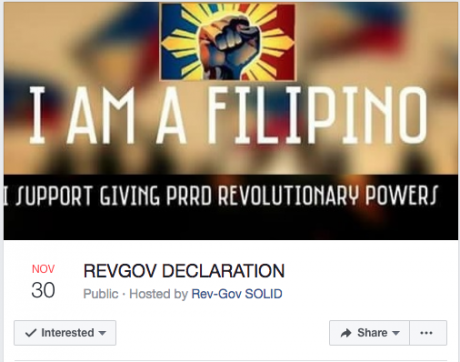 Despite pronouncements from President Duterte squelching talks of RevGov, calls for him to declare one as a means of fast tracking his administration's reform agenda continue.
Apart from the President, one of the larger organizations who supported his candidacy announced that it would not be joining the November 30 RevGov Rally.
The group that calls itself the Mayor Rodrigo R. Duterte National Executive Coordinating Committee (MRRD-NECC) will not join the nationwide assembly called for Nov. 30, 2017 by pro-Duterte groups seeking to persuade him to declare a revolutionary government.

Martin Diño, MRRD-NECC secretary general, said their group believes that Duterte can ably steer the country through many challenges without having to declare a revolutionary government.
But if calling for the President's assassination or revolt isn't convincing enough, the Committee to Protect Journalists — is an American independent non-profit, non-governmental organization, based in New York City, New York — cited that journalists in the Philippines were safer under the Duterte Administration.

The Philippines dropped to 5th from 4th place last year in the Committee to Protect Journalists 10th Annual Global Impunity Index.

According to the 2017 CPJ Impunity Index, "Progress: The Philippines dropped one place in the index from last year. In October 2016, President Rodrigo Duterte formed the Presidential Task Force on Media Security, which includes a designated team of investigators and prosecutors for the speedy probe of new cases of media killings."

The PTFoMS counts three cases under Administrative Order 1. The bulk of journalist killings cited in the CPJ report are comprised of the victims of the  2009 Maguindanao Massacre.
While former President Noynoy Aquino says his mother restored "freedom", it was only in Duterte's administration that an organization was set up to actively protect journalists.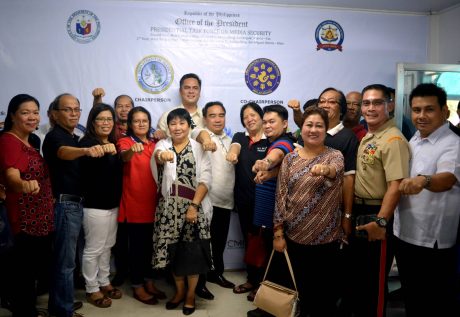 The Presidential Task Force on Media Security (PTFOMS), created by Administrative Order 1 (AO1), is armed with law enforcers from the Philippine National Police and the National Bureau of Investigation as well as prosecutors from the National Prosecution Service.
The creation of the task force was spearheaded by PCO Secretary Martin Andanar along with Usec. Joel Sy Egco and co-chaired by Justice Secretary Vitaliano Aguirre.
While the President has been criticized for making threats against corrupt media, what really defines the character of his presidency is his the creation of PTFOMS which protects journalists who may be imperiled by exposing crime and corruption.
Duterte's PTFOMS has in fact been lauded by delegates from the member states of the Association of Southeast Asian Nations (ASEAN).
According to Dr. Pham Manh Lam, consultant on Media Information and Development based in Vietnam, the PTFoMS is a very useful tool for the government to ensure the safety of journalists.

"The Philippine task force is a very good example that other ASEAN countries should learn from," said Dr. Lam as he lamented the unabated culture of impunity, not just in Southeast Asia, but in the rest of the world.

—

Dr. Jeong Tae Nam, South Korean adviser on social network, said the PTFoMS must be the best way to respond dynamically to the urgent situation and aged-old problem on impunity.

"Despite the severity of the situation, I believe that there could be big improvement soon through the task force, said Dr. Nam expressing high hopes that PTFoMS will be able to fulfill its mission.

For Mohammad Anthoni, of the Antara News Agency – Indonesia, the PTFoMS is an impressive development considering that the Philippines ranks 1st in the ASEAN as far as the record of impunity from 2014 to 2016 is concerned.

"I have read and got information that there are journalists killed in the Philippines. It seems to me there is no protection for journalists working there. If there is any, the security for them does not work well. However, learning that there is a task force on media security is a very impressive development," Mohammad said. "It is a good effort taken by the government to set up the PTFoMS. I can say it is a very good lesson for countries having similar problems."
The main difference between the freedom of the press during former President Noynoy Aquino's time and now is that almost every single incident involving threats as well as violence against media workers is immediately investigated by law enforcers.