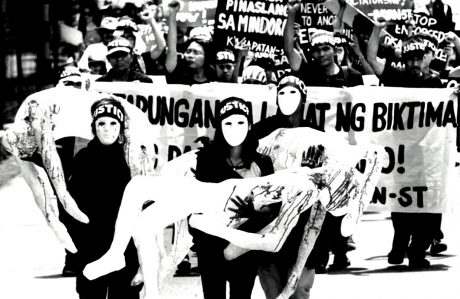 It is quite laughable the way Inquirer columnist Rina Jimenez-David in her opinion piece today trumpets the role of the Catholic Bishops' Conference of the Philippines (CBCP) in "leading" yet another political stunt (disguised as a religious "mourning" ritual) in the lead up to the Day of the Dead this November. She writes referring to "the veil of silence and indifference" to "those killed as part of the government's war on drugs" that "seems to be lifting"…
[…] just as a priest is looked on as the "lead mourner" in our personal rituals, the Catholic Church is taking the lead in getting the nation to finally pay attention to the terrible losses we have endured and are still enduring.
Jimenez-David then goes onto the whole point of her piece — to plug the CBCP's latest planned circus:
SUPPORT INDEPENDENT SOCIAL COMMENTARY!
Subscribe to our Substack community GRP Insider to receive by email our in-depth free weekly newsletter. Opt into a paid subscription and you'll get premium insider briefs and insights from us daily.
Subscribe to our Substack newsletter, GRP Insider!
Learn more
The Catholic Bishops' Conference of the Philippines has marked out the period between Aug. 23 and Nov. 1 for these 40 days, which have been marked by the daily tolling of church bells. But on the last nine days leading up to Nov. 1, beginning today, civil society groups are calling on everyone to observe a special novena of remembrance. Called "Padasal para sa mga Pinaslang, Undas ng Kababaihan" (Prayers for all those Killed, Women in Mourning), the coalition EveryWoman is also launching several activities to mark these nine days.
Here's a reality check for these quaint men-in-robes and the contrived piety in Jimenez-David's writing.
The socio-political standing to the Church is no different to the that of the Yellowtards. It is an institution that grandstood to no end on how "pro-poor" its ideology is and how "close" to its impoverished flock its initiatives took them. Yet the "souls" these presumed choir of saints would like to think their movements "saved" remain amongst the most undisciplined, unethical, and "immoral" in the world. The extent to which Filipinos remain unhinged from properly socialised behaviour is starkly evident on the ground — in the way Filipino motorists disrespect one another on the road, in the banal thievery at every level in public service, in the almost routine doubletalk and doublecrossing that permeates every Filipino business venture and transaction.
Worse, the virtue of "giving" packaged by this bleeding-hearts clique as a unique Catholic "virtue" of the Filipino people has actually been perverted beyond recognition. It now manifests itself in the renowned padrino (patronage) that pervades Philippine politics and the mendicant culture of relying on dole-outs from the rich world and foreign-employed citizens that has kept the Philippine economy perennially starved for foreign capital thanks to a stunted capability for creating and growing capital indigenously from domestic activities.
It seems these CBCP stunts and the old Medieval trickery it employs to escape accountability — its incessant screeching about "fake news" bogeymen, its opaque stonewalling to attempts to critically scrutinise its doctrine, the pompousness in the way it herds its flock of lemmings produced by the tony institutions of learning it lords over — continues to find potency within a society that prefers to remain beholden to idolised "thought leaders" rather than commit to the hard work of thinking critically. People like Jimenez-David propagate this culture of superstition, deference to celebrity, and cognitive laziness that hobbles Filipinos' march to progress in a modern world where an ability to compete and innovate is paramount.
At the end of her piece, Jimenez-David reminds her flock of sheeple: "Attendees are encouraged to dress as their most hated oppressor-oppression." Go figure. Miss Rina makes no secret of the political agenda underlying this CBCP stunt:
To break the grimness of these rituals, EveryWoman will hold a "Gabi ng Lagim sa Panahon ni Duterte" (A Night of Horror during Duterte's Time), described as a "protest party" and fund-raising activity "that will raise a mirror to the faces of those who continue to wreck our country."
Happy Halloween!
benign0 is the Webmaster of GetRealPhilippines.com.