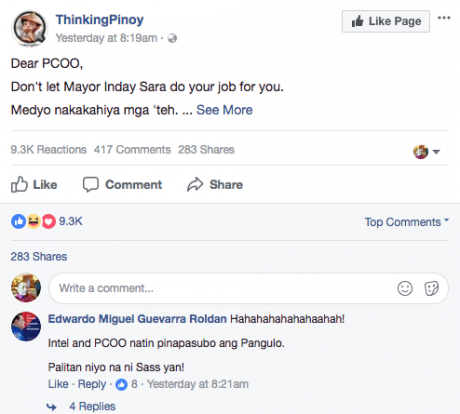 After seeing him and his fan on GRP repeatedly brag about the size of their social media reach and engagement, it's high time for President Rodrigo Duterte to seriously consider replacing Martin Andanar with RJ Nieto.
What would make Nieto think he is better than Andanar?
Apart from his social media influence, he insinuates that he is close enough to President Duterte and his family to know what they know and don't know.
Even more, he seems to suggest that he is aware of every issue concerning the Presidency enough to say that the Presidential Communication Operations Office is not doing anything.
And here's the kicker, Nieto makes it appear that he knows exactly what the PCOO has planned and not planned for.
Nieto writes, "Dear PCOO, Don't let Mayor Inday Sara do your job for you. Medyo nakakahiya mga 'teh. Socmed lang niyo ang may comms plan, for one. Love, TP"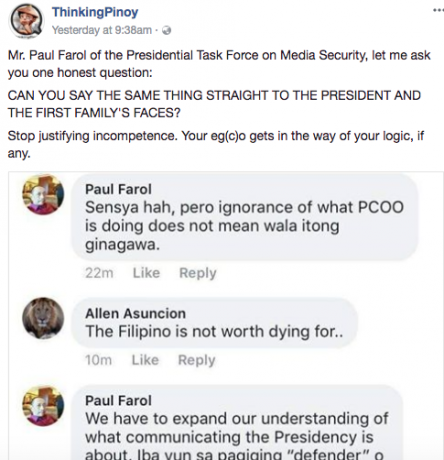 Based on Nieto's recent post where I was mentioned, Nieto seems to be saying that the President isn't aware of what his PCOO is doing for him.
(Thing is, I wasn't even commenting directly on ThinkingPinoy/RJ Nieto's post addressed to the PCOO, but on a share of that post on GRP's Facebook group. So, I wasn't really trying to catch his attention at all but exchanging views with someone in the group. Then again, is Nieto so self absorbed that he'd go out of his way to have a say on a conversation that doesn't even involve him?)
But, I find unbelievable that the President would not know about what PCOO is doing because like every government agency, everything it does is documented and reported. These reports are submitted or are available upon request.
Heck, President Duterte himself can call up Andanar directly if he thinks he and the PCOO isn't doing anything at all.
I don't think it is even necessary for me to tell the President or any member of his family to inform themselves about what PCOO is doing. It just isn't me to call attention to myself.
If I had to tell the President anything about the PCOO, I guess it would be limited to the Presidential Task Force on Media Security where I volunteered to help out around September 2016 and where I was eventually given a contract of services around May this year.
All in all, I got paid two months salary though I think I'm entitled to about three months of pay which i haven't collected. (Disclosure: I resigned from PTFOMS just recently.)
But here's the thing I really want to say about Nieto and this is where I get really serious… speaking as an ordinary citizen and not for the PCOO or the PTFOMS.
While I cannot claim to know everything about what the PCOO should be doing, I can tell you guys that the job of communicating for the Presidency as well as leading this organization takes a lot more than reading one's social media news feed and churning out a few sentences or doing a live video or even a blog post on whatever issue seems to be important.
I know this for sure because I worked at the Office of the Press Secretary (the pre-cursor of the PCOO) during the Ramos Administration and a year into the Estrada administration.
More than writing skills and the ability to fiddle with one's smart phone, the job of leading the PCOO to effectively carry the President's message involves working with the press. Apart from being able to organize and present information that the press asks for, it is also necessary to have good working relations with members of the press and the management of their press organizations.
Because of his antagonism towards the press, I will wager Nieto wouldn't last a day without getting lambasted by the Malacanang Press Corps and everyone else in the small community of journalists in Metro Manila.
He'll have to rely on his social media reach and engagement as well as those of his minions to spread the President's message. (And if you think the Malacanang Press corps can't stop putting out news about the President, let me remind you of the time that it boycotted former President Joseph Estrada.)
The job of communicating for the Presidency isn't just about reacting to whatever issue is out there, it is also about speaking through concrete action in the form of administrative orders that protect and promote greater freedom of expression.
To the credit of Duterte and Andanar, this is the only administration that has taken seriously the protection of media workers from harassment and violence (Administrative Order 1) and greater transparency through its Freedom of Information Executive Order (Executive Order 2).
Both measures are forward looking because it heads off any attempt to portray the Duterte Presidency as an oppressive regime. These two measures will outlast any issue that crops up on social media.
Beyond these two measures, the Duterte administration's PCOO is rehabilitating the government's own network of radio and TV broadcast outfits as well as the Philippine News Agency — a vital node in the national government's communications array which links it directly to other government news agencies around the world. The rehabilitation of government radio and television networks is crucial to keeping the public informed about the government's programs and increasing the government's share of voice in various media.
I wouldn't venture to assume that Nieto really knows much about how it is to run a government organization, but I guess as far as he is concerned it isn't necessary to know anything about how government agencies work in order to come out with a blanket criticism against it.
As one of his minions put it, "We don't care about what they're doing or how they do it, we're just looking at the results."
But is Nieto someone that the President should trust to communicate with his supporters?
It seems Nieto is playing up to a very narrow audience and as much as he makes it seem that he is speaking for all of Duterte's supporters, he isn't. I was told by a member of a group that supported Duterte from the very inception of his candidacy that they are all pissed off by Nieto's self-absorbed antics.
One of them messaged me after seeing my post calling out Nieto and told me, "We've never seen Nieto in a single Duterte rally. In fact, we knew he was a supporter of the previous administration but switched sides when it became clear that Duterte would win the elections. We don't think he is really pro-Duterte and he's just using the President to prop his own reputation as well as finances up after being booted from Sunstar. He clearly has his own agenda or is being used by someone for their own agenda.
"If he is really pro-Duterte, he should not be shooting down the appointees of the President because it only weakens the President.
"You don't attack DU30 people who do good for him. That defines a true DU30 supporter. TP is showing his true colors. Walang kwentang tao yan. He gives the other side an opportunity to attack Digong. Sumama siya sa rally. Dare him and be with the people. The D and E classes. D majority of the people."