Proving himself to be a critical but fair and independent ally of the Duterte Administration, Senator Richard Gordon successfully shepherded the passage of Senate Bill (SB) 1584 which postpones the barangay and SK elections to October 2018.
Unlike the other version of the bill which grants President Rodrigo Duterte the power to appoint barangay officials, Gordon's version allows current barangay officials to continue exercising their functions in a holdover capacity.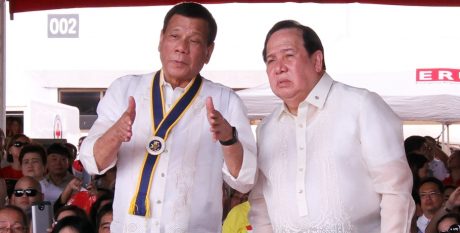 The postponement of the barangay elections will allow law enforcement to continue their crackdown on barangay officials whom they suspect of being involved in the illegal drugs trade. This will also allow the military ample time to end the Marawi siege.
Likewise, the passage of SB 1584 frees the senate attend to the passage of other important pieces of legislation and tackle vital political issues.
In his sponsorship speech, Gordon said "The immediate passage of the bill will allow us to concentrate on other bills right away. Sabi ko nga madami pang mga bagyong parating hindi lamang iyong mga national disasters tulad ng baha ngunit iyong political disasters, na pati iyong ating Chief Justice ngayon ay nililitis sa Lower House. So, kaliwa't kanan, droga, budget, lahat ng klaseng issue dumadating sa atin. Kailangan po natin ng focus. And, in my life I have always said five F's–focus, fast, friendly, flexible, forward looking,"
It was just too bad that most of Philippine news media chose to focus on the non-event dubbed a "national day of protest" instead of highlighting that our senate is hard at work demonstrating that democracy is alive and well.
It concerns me a bit that members of the left who allied themselves with the administration have joined the wailing chorus of yellowtards over an imagined return of a Marcosian tyrannical rule.
Gordon, who was the youngest delegate of the 1971 constitution, touched on the idea of the return of martial law in his sponsorship speech, "Mayroon pang nagsasabi ng Martial Law, hindi dapat ituloy iyan. They must perish that thought. In the first place, wala nang ngipin ang Martial Law. Pero sa kaliwang panig, nandiyan ang NPA na pumapatay ng mga pulis natin, kumi-kidnap ng mga pulis natin, sumusunog ng mga negosyanteng hindi nagbabayad sa kanilang tinatawag na revolutionary taxes na hinahabol ng kapulisan.
As I have said before, Marcos' tyranny cannot be repeated ever again for a number of obvious reasons.
First is that the political realities of the late 1960's which enabled Marcos to launch his tyrannical rule no longer exists in the same way it did.
Second is that the 1987 Cory Aquino constitution guarantees that that Martial Law will not lead to a Marcosian tyranny.
Third and most important, Duterte is not the same political genius that former president Ferdinand Marcos was.
Clearly, the high drama over the "national day of protest" is a poor attempt at framing or creating a context in which Yellowtards and their tactical allies will have some semblance of relevance.