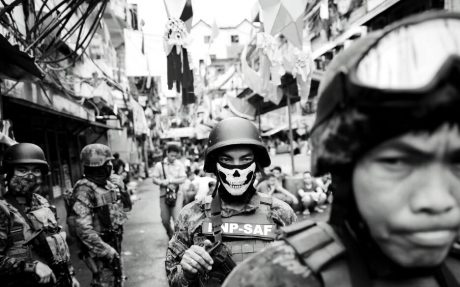 Peaceful solutions don't usually work in the Philippines. Take squatting for example.
The land owner kindly asks the squatter to leave (while even dangling some P30K pocket money).
The squatter shows the land owner the finger and cries out against the violation of his rights.
CHR comes in to remind the land owner that the 1987 Yellowtard Constitution guarantees the squatter can stay as long as no housing on a silver platter elsewhere is provided.
The land owner is now pissed off, while the squatter and media add insult to injury by demonizing the land owner labeling him as a greedy anti-poor bully who has no compassion or consideration for fellow humans. Meanwhile politicians side with the squatter because they are easy votes needed for election day.
The land owner is forced to take plan B: VIOLENCE. Armed men in black hoods then come into the picture to terrorize the squatter with arson or outright use of lethal force.
It seems violence is the only language Pinoys will respond to. Any threat that falls short of spilling blood is simply shrugged off as just a minor nuisance. Jaywalkers just won't quit – not until we station snipers at overpasses as a check on misbehaving chaos-contributing pedestrians.
The war on drugs is likely a natural phenomenon for the survival of Pinoykind. When a species overbreeds to the point that is no longer healthy for its ecosystem, then a natural culling mechanism kicks in to bring the population back to levels conducive for quality living to exist. The first to die off are the least essential to the community: namely, the trouble makers.
What is CHR and CBCP's solution to traffic congestion? They just cry out like a madman against the killing of criminals and encourage the poor to make more babies: Stop the killings and multiply like rabbits. When precious commodities such as fresh air, living space, drainage, justice, transport and communications become scarce, the mob will turn violent and survival of the fittest will be the name of the game.
Duterte's iron hand is but the answer to the cry of Filipinos who have grown weary of all the corruption, crime and drugs that have gripped the nation. It's a natural human reaction to go on a killing spree when you see roaches, rats and flies infesting your house. Don't tell me you'll just allow these critters to breathe all for the sake of animal rights.
Animal rights are only for dogs, cats and dolphins. You never wave the "animal rights" card to defend cockroaches. So why is CHR and these activist groups crying out "human rights" when drug lords, rebels, terrorists and criminals are being culled and gunned down on the streets? Where's the logic?
Zealous revolutionary advocate of bringing back common sense for the common good in a land of dysfunctional and delusional zombies.