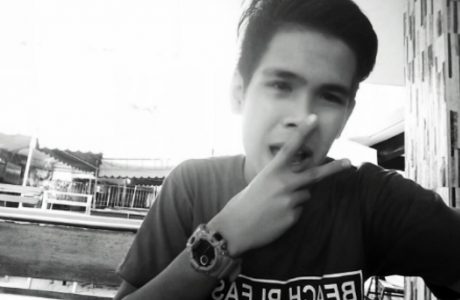 The way things are looking, seventeen year-old Kian Loyd Delos Santos, who was killed in a police operation last week, could become the latest rallying artifact of the Philippine Opposition. The key principle that underlies this latching onto Delos Santos are the ideas that (1) he was killed in a police anti-drug operation (2) amidst an on-going "war on drugs" that is (3) being spurred by Philippine President Rodrigo Duterte.
So, as the thinking goes, via a three-link logical chain that ties Delos Santos to Duterte, certain activist camps have concluded that it is Duterte's fault that Delos Santos is dead today. This is the flag and the rallying cry they will presumably be waving and chanting in the various street rallies they will likely be organising in the coming weeks.
– Justice for Kian
– End the killings
– Impeach Duterte
To be fair, the way Duterte has conducted himself on stage since his ascent to power in 2016 has made it easy for the Opposition not just to (a) dumb the issue down to this level of simplicity but also to (b) pitch this way of thinking as the only way to think. This is because Duterte has made (and continues to make) categorical statements in support of killing suspected drug personalities. This sort of talk won him the presidency. Unfortunately, as a sitting president, it is doing him and his government a disservice.
What Duterte and his supporters don't understand is that the nature of public relations (PR) during an election campaign is fundamentally different from PR management while in power. On a platform of "change" during an election campaign, you want to be seen as someone with radical and fearless solutions. In hindsight, Duterte's violent rhetoric was successful. It tapped into the deep-seated disillusionment Filipinos felt for the status quo that had come to be represented by the ironic Laban ("fight") rhetoric of what was then the powers-that-be (now, as the dominant clique of the current Opposition, a pale shadow of its former glory).
The anarchist stance of the Duterte campaign was no different to that of the Opposition during their heyday. Duterte, as a candidate, championed shortcuts to achieving his end of stamping out the drug trade just as the Yellow camp of yore championed extra-constitutional means to achieve their end of "removing" bad government officials. The difference is that the Yellows successfully institutionalised their rhetoric. Duterte, on the other hand, has so far failed to turn anarchy into something as biblical as the 1987 Yellowtard Constitution.
In short, Duterte had two options: (1) build a buffer of plausible deniability between Malacanang and the allegedly violent shortcuts taken by state forces in his "war on drugs", or (2) come up with an equivalent piece of paper to legitimise those shortcuts. Actually, the two are not mutually-exclusive options as both can be worked on in parallel. Unfortunately, Duterte does not seem to be working on either.
Ironically, the easiest foundation to lay upon which to wage a bloody "war on drugs" will have been Number (1). Lip service to "rule of law" issued by a chief executive does not necessarily have to match the way field operatives conduct themselves on the ground. This is the stuff of many Hollywood film plots. In the TV and movie franchise Mission Impossible, for example, operatives who are under orders to achieve an objective by any means deemed necessarily are expected to carry out their mission covertly with no document trail that leads up to their government. They expect to be disavowed by their government in the event their mission fails, are captured alive, the operation exposed, or any combination of the three.
The administration of former president Benigno Simeon 'BS' Aquino III pretty much carried out this operating model with finely-polished administrative sleight-of-hand. The Aquino administration passed off a demonisation campaign against a sitting Chief Justice as a legitimate law-based "trial". It doled out largesse via sneakily-worded accounting trickery such as "Disbursement Acceleration Programs" even as it pretended to prosecute pork barrel personalities. Its flowery rhetoric trumpetted "inclusiveness" while, at the same time, kept its thumb pressed down on the wings of the Comprehensive Agrarian Reform Program (CARP) and favoured one terrorist group over the others in its efforts to make "peace" in Muslim Mindanao.
If there is something Duterte needs to learn from the past administration, it is that, in the Philippines, words carry a lot more weight than actions. Or, more to the point, words omitted from the rhetoric is where the real game really is. If only Duterte had made a successful switchover of his rhetoric from campaign mode to incumbent mode he will likely have had more latitude to spin the Delos Santos circus using the ol' tried-and-tested good-cop-bad-cop act of (1) holding up a patsy or scapegoat from middle management on whom all fault for the tragedy could be pinned and then (2) convincingly presenting himself as the good cop before the cameras mouthing the usual "justice will prevail" and "due process shall be followed" scripts. And, yes, doing all that the way Aquino would have expertly done it.
The idea that Duterte could keep his political capital secure by continuing his approach of taking the matching of in-your-face rhetoric with in-your-face-practice to extreme lengths from the campaign trail far into his presidency is starting to fray at the edges. Whilst the appeal of Duterte's "what I say" is "what you get" — literally — remains strong among his followers, it has proven less effective at converting the skeptical and the staunchly oppositionist. Trouble will begin for Duterte when it starts causing a change of heart within his massive support base.
Indeed, the latter is also a lesson from the Yellowtard experience — how a once-massively appealing narrative turned kamote. To their credit, it took 30 years for that to happen. But this is the age of social media, viral memes, and commoditised mass comunication. Duterte's mass appeal may not enjoy the same sort of barnacle-like stickiness that characterised the Yellow narrative at its zenith.
benign0 is the Webmaster of GetRealPhilippines.com.