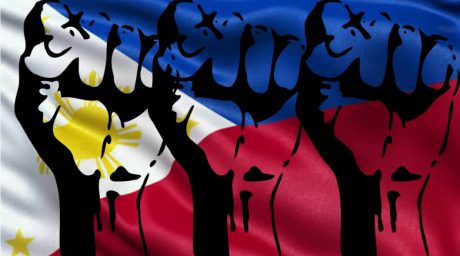 Democracy stands for freedom. So essentially, "freedom from democracy" entails liberation from the clutches of freedom. Now why has freedom become fetters that keep the Philippines a struggling third-rate dirt-poor country amidst economic tigers in the region? Well democracy is actually a double-edged sword. While it gives us the benefit of that cool ecstatic feeling of liberation and independence which our forefathers have struggled and fought for, it carries with it a huge responsibility, one which Filipinos have proven themselves to be incapable of handling.
Democracy (which the West has painted to be the be all and end all) has failed us. The fact that there is no publicly available train ride to the city center the moment you step out of the airport lobby is sufficient proof democracy in this country does not work to our advantage! Democracy only works for mature advanced societies. It is not a one-size-fits-all solution. You need to match it with the stage of evolution a given people are at. For a people who are in many ways a century behind in terms of basic common sense and moral fortitude, sad to say – Filipinos are simply not ready.
Now it may be just a matter of time that Duterte will reach the end of his tether and take Option B: set up a revolutionary government. Signs were very telling at the onset of his presidency that he was looking into the speedy option of overthrowing the current corrupt system to effect lasting change. He went all over the country visiting military detachments and seeking to win the hearts of our men-in-uniform first. The PNP and AFP are his tools to bringing about many bleeding-heart freedom-loving Filipinos' worst nightmare: rapid change through a totally new government. Note: Whoever gains the trust of the armed forces can practically do anything – even abolish Congress and the Supreme Court if he so wishes.
In the name of checks and balances, the current system is simply rigged and designed to hamper rapid progress. Just look at how the appointment of the efficient and effective head of DSWD was rejected by the CA. How can a country advance when we have power- and wealth-hungry politicians placing hurdles left and right? Congress' recent rejection of erstwhile DSWD secretary Judy Taguiwalo rings out as "strike three!" on this corrupt body's confidence on the president's ability to make wise choices. At this point, Duterte can simply turn the tables around and strike Congress out!
Alternatives to Liberal Democracy
Now that we know that the current brand of democracy is detrimental to Filipinos, what should we do? An alternative solution is not difficult to find (from Wiki)…
A benevolent dictatorship is a theoretical form of government in which an authoritarian leader exercises absolute political power over the state but does so for the benefit of the population as a whole. A benevolent dictator may allow for some economic liberalization or democratic decision-making to exist, such as through public referenda or elected representatives with limited power, and often makes preparations for a transition to genuine democracy during or after their term. It might be seen as a republican form of enlightened despotism.
Lee Kuan Yew (Singapore) was one of these so-called benevolent dictators.
Lee Kuan Yew: Known to be the man who transformed Singapore from a poor agrarian society into one of Asia's wealthiest nations, Lee Kuan Yew is often called a 'benevolent dictator.' As a leader who was in power for thirty-one years from 1959 until 1990, he implemented some laws that were deemed to be autocratic, and attempted to dismantle political opposition. Despite this, he is often looked upon favorably for his transformation of Singapore, and is considered by many to be one of the most successful political pragmatists.
Too scared of another Marcos? Now, power doesn't have to rest on just a single person, it can be vested upon a core body of leaders through one party.
A One-Party System
Choice is great. The fact that small insignificant members of society each have a hand at picking the next president or representatives in Congress sounds really cool. But we need to bite the bullet and accept the fact that this is not for us. Ordinary Filipinos can have the freedom to choose among which flavor of ice cream to buy, but not on deciding on something as important as a president. Filipinos are not known to choose the best for themselves (just look at where they spend their savings on). We should leave these kinds of critical choices to experts.
The reason behind China's meteoric rise to becoming the second largest economic behemoth in the world is for this very reason. Decision making has been confined to a core like-minded leadership with virtually zero external opposition. If they wanted to set up a trans-China bullet train or a space program which had a roadmap lasting 50 years into the future, the single party could give the stability and assurance to see it through irrespective of the specific personality at the helm.
That's in stark contrast to how Filipinos are handling mega-projects: one president of a given ruling party starts a mega-project only to be mothballed midway by the succeeding president whose party has a different priority or interest. No wonder we see low-quality half-finished roads all around with not even proper sidewalks and drainage.
What the Philippines Needs More is Vision, not Democracy
The freedom enshrined in democracy is also closely associated with chaos. Just look at the traffic in Metro Manila, how jeepneys and buses criss-cross lanes and load/unload in the middle of busy intersections. Is this the type of society and system we want for our children to inherit? We are now gripped by narco-politics. If you remove the pork barrel system in Congress, guess what. They will only look for something else even more hideous to bankroll their reelection.
In contrast, vision brings about focus and precision planning. The problem with the Philippines is the lack of a stable leadership core that can set up a vision and align all the country's resources and parameters toward that goal (family size vis-a-vis income, human settlement, internet bandwidth, mineral exploration, urban planning, and what not). Duterte is at the height of empowerment to be able to set up this one-party system in the Philippines, given the enormous public support and political capital he now wields.
For the first time in many decades, we have a man whom the vast majority can rely on to be incorrupt and competent. He is the closest thing to the embodiment of a genuine benevolent dictator like Lee Kuan Yew who transformed Singapore. We are confident this man is not in it for the money, and that he has the best interest of the country in mind. Under Duterte is the Philippine's one-in-a-million golden opportunity to take this leap away from the perpetually corrupt system we have today.
American-style democracy was given to Filipinos too early. Filipinos need to evolve further under the stewardship of a benevolent one-party governing body that has the mettle to see us through to become the next Singapore-like Zaxxun-class state. If the ruling body says "No squatters in Metro Manila! Everyone go back to your provinces!" – there will be no opposition, as the body knows it is for the best of our tourism-dependent country.
Why Companies are Not Run like Democracies
Ever wondered why the most successful companies in the world like Apple, Google, and Toyota do not ask their employees (from janitors to design engineers) to pick their next leader (CEO)? Normally, something like a core party at the very top makes that choice, because they are in the best position to make such a critical decision of choosing that man/woman who carries the company's culture/DNA and has the proven potential to bring their organization to the next level.
The Philippines should be run like a corporation. Why are there no squatters in the premises of Ayala's Malls? Because it's easy for top management to simply order their security personnel to eject would be invaders – No questions asked. Top management knows that a slum-like image is bad for business, and will not care even if most of their employees think otherwise.
Who among us will argue that gigantic companies like Facebook, Ford, and Samsung are not faring well? Ask their employees if they're happy not living under a corporate democracy. Results speak for themselves – you don't need to operate under a democracy to be happy and successful. Filipinos should grow up and shed off that mindset of always trying to emulate their past colonial master.
The Parable of the Eagles and the Maya Birds
Three Philippine eagles lived among three hundred little Maya birds. The eagles said "Let one of us eagles lead the flock because we can soar up above the stratosphere even beyond the clouds and are able to see from a higher vantage point. We are in the best position to lead you all." But the Maya birds said "Ah, we don't think you best represent us; we need someone who knows and feels our needs." Then there was a long debate over how to make the decision, until one bird said, "I heard there was this thing called democracy. Why don't we put it up for a vote?"
So elections were held through secret balloting, and every winged creature in the flock held their breath to hear the pronouncement…
Well let's just cut the story short there since we all know the outcome anyway. Now ask yourselves, do Filipinos need democracy?
Zealous revolutionary advocate of bringing back common sense for the common good in a land of dysfunctional and delusional zombies.