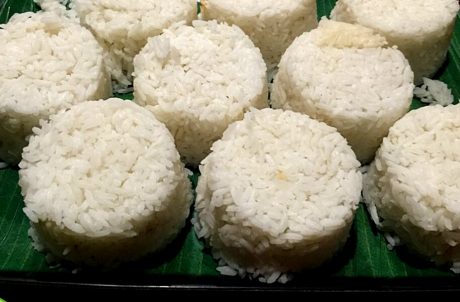 Philippine Senator Cynthia Villar drew some flak for suggesting that Filipinos limit their rice consumption. She thinks banning "unlimited rice" (or "unli-rice") offerings in restaurants would be a good start. It was a preposterous idea, some say. "Who is she to tell us how much rice we eat?", others asked in disgust. Then there were those who even pointed out the Villars' (the family is a well-known property developer) – own voracious appetite for turning agricultural land into subdivisions or housing projects. As usual, instead of tackling the issue head-on, some would rather rebut with a totally unrelated topic to what she was trying to point out.
Yes, in the eyes of many Filipinos, Villar committed sacrilege. After all, Filipinos, being Asians, have always eaten rice, view it as a staple in their meals, and would continue to do so despite strong evidence that overconsumption of the grain can lead to a lot of health problems. Villar pointed this out during a Senate session:
"You know, the findings in other countries, mas better ang diet nila. Hindi masyadong maraming rice, may vegetable. If you really ask doctors, that's a better diet," Villar said after a hearing on rice importation and related issues.

"So dapat i-train na rin nating mga Filipinos not to eat too much rice kasi nagiging diabetic. And you know, it's expensive to cure diabetes. Parang sinasabi sa ibang bansa kaya hindi sila nagiging self-sufficient, because they have a better diet. So makakatulong iyon, iyong sinasabi nilang unlimited rice, hindi maganda iyon sa diet natin," she added.
A lot of poor Filipinos eat large amounts of cooked rice with little meat or protein on the side. They are unaware of what eating too much carbohydrates, which is what rice is, does to their bodies. They think that having a tummy full of rice is better than an empty tummy.
To be fair to Villar, she was actually trying to raise a problem that most Filipinos are unaware of or have been ignoring for decades. First of all, the country's rice production will not meet the country's demand. Villar doesn't share the view that the Philippines will be rice sufficient by 2018 despite Agriculture Secretary Emmanuel Piñol's earlier statement that he aimed to end by 2018 the country's need to import rice. We recall that former President BS Aquino also promised that the Philippines would not be importing rice by 2013. That did not happen at all.
This year alone, projected consumption will far surpass projected domestic rice production:
"Iyon ang projection (2018) ni Secretary Piñol, kung makukuha niya. Kasi ang importation depends on production. If the production can meet the consumption, then no importation. Marami nang nag-project nang ganoon, hindi naman natupad," she said.

The senator based her position on the Agriculture department's report on rice production.

For 2017, the projected rice production is at 12 million metric tons against the overall projected consumption of 12.1 million metric tons of rice in the country.

The amount is aside from the 625,000 metric tons of rice that would serve as buffer stock for 15 days, Villar said.
Since the country's population keeps growing at a steady pace, these projections will likely be wrong especially since most Filipinos love eating the grain too much. It is high time for Filipinos to look at alternatives to rice. There are other healthier options like potatoes anyway. It's just a matter of reconditioning our minds to think that rice is not the only thing we can eat with our main meals.
Filipinos should not dismiss science. It is a fact that too much rice can lead to health problems like high blood pressure and diabetes. If they are worried about dying from hunger, well they will die of diseases instead if they don't control their rice consumption.
I can speak from experience. I used to eat large amounts of rice as well. I thought it was harmless since it has no sugar and no cholesterol. About a year ago, I probably indulged too much and gained excess weight. I could not get rid of it even when I was regularly going to body attack classes at the gym. I suppose you can say I was in denial until one day I accepted that it was my diet that was the culprit. I tried cutting down on eating rice and carbohydrates in general and saw the results in just one week. I was relieved to find out that just reducing rice intake could solve a lot of issues. I have become an advocate of responsible rice consumption. So I support Villar's push to reduce rice consumption in the country.
Rice readily converts to sugar during digestion – which is why it is addictive, fattening and puts one at risk of diabetes. Another problem with rice is that it only makes you feel full for a short time. In just a few hours, you will feel hungry again. Then you will end up eating snacks in between meals, which can contribute to weight gain.
Eating more protein will make us feel fuller for a longer period of time. Protein also give us the energy we need throughout the day. Now, eating the right amount of protein may not be an option for a lot of poor people in the Philippines, but it doesn't mean legislators like Villar should stop educating the public about health hazards of eating too much rice. It doesn't mean her critics are justified in vilifying her.
Some argue that individuals should decide for themselves and there is no need to legislate limiting of rice consumption. They have a point, but we all know that some people who are not properly informed nor educated will not have the right mental tools to decide what is best for their health and well-being. Besides, health problems will also ultimately become the government's problem specially if demand for hospital beds outstrip supply. So perhaps what our legislators can do in the meantime is to promote guidelines on healthy living for Filipinos.
Filipinos should be open to new ideas. We cannot keep doing something just because we have been doing it since forever. If an issue like rice consumption is already causing a lot of problems in Philippine society, we should not be afraid to talk about it so we can find alternative ways to eat and survive.
In life, things are not always what they seem.