According to the ANFLOCOR website, "the Tagum Agricultural Development Company (TADECO) is one of the highest yielding banana plantations in the world, is engaged in the production and export of fresh Cavendish bananas to Japan, Hong Kong, China, Korea, Middle East, Russia, Malaysia and Singapore under the Del Monte Brand name. It is the flagship company of the ANFLOCOR Group of Companies."
I have no idea right now how big this company's annual profits are, but I'll estimate it at several billions of pesos or certainly huge enough to make Congressman Tonyboy Floreindo's P75 million contribution to President Rodrigo Duterte's 2016 campaign seem like a drop in the bucket.
But all of this may come to naught in the coming months as House Speaker Bebot Alvarez' graft complaint against Cong. Floreindo makes its way through the Office of the Ombudsman.
In the complaint, House Speaker Alvarez alleged that Floreindo violated Section 3(h) of Republic Act No. 3019 or the Anti-Graft and Corrupt Practices Act which defines as a corrupt act "directly or indirectly having financing or pecuniary interest in any business, contract, or transaction in connection with which he intervenes or takes part in his official capacity, or in which he is prohibited by the Constitution or by any law from having any interest.
Floreindo's camp denied this saying that the congressman had divested himself as early as 1999 and it's rather strange that he is still listed as the Chairman of the Board of ANFLOCOR, which is TADECO's mother company.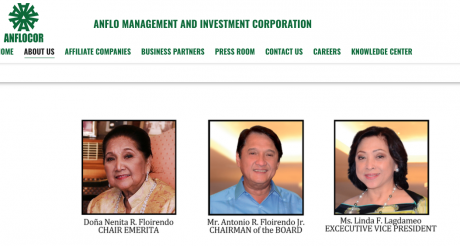 If the graft complaint against Floreindo progresses to the point where the Sandiganbayan convicts him, the congressman stands to lose everything.
RA 3019 ANTI-GRAFT AND CORRUPT PRACTICES ACT, Section 9 states that "Any public officer or private person committing any of the unlawful acts or omissions enumerated in Sections 3, 4, 5 and 6 of this Act shall be punished with imprisonment for not less than one year nor more than ten years, perpetual disqualification from public office, and confiscation or forfeiture in favor of the Government of any prohibited interest and unexplained wealth manifestly out of proportion to his salary and other lawful income."
I am not at all too sure if the Administration will pry open ANFLOCOR's financial records as well as the financial records of Floreindo to determine just how closely tied these are or if there is any basis for the government to pursue any claim over ANFLOCOR or TADECO.
But for sure, any move by the government to seize ANFLOCOR or TADECO may bode ill for the company, its stakeholders and the businesses it supplies with bananas.
At this point, I have no idea at all how this can even be connected to the fight over seats during the Masskara Festival a year ago between congressman Floreindo's live-in parther Cathy Binag and House Speaker Alvarez' alleged girlfriend Jennifer Maliwanag Vicencio.
If at all, Binag's statements as found in several news reports looks like an act of desperation.