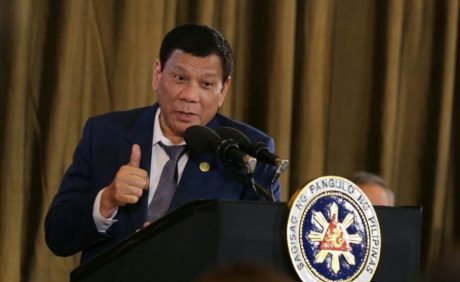 Filipinos are once again spam-voting a compatriot into the pages of a major Western media outlet. This follows the tradition of how Efren Penaflorida got on the CNN Heroes list and how the Palawan Underground River got listed as one of "the new seven wonders of nature". Filipinos have a vast resource in the form of the sheer number of warm bodies that inhabit the Net. And they use it primarily for this sort of thing.
Recently Filipino Netizens have turned their sights on TIME Magazine's 2017 100 "Most Influential" list and are campaigning to get current President Rodrigo Duterte on it and on top of it.
This is a bit ironic considering that Yellowtards led by Leni Robredo and Risa Hontiveros as well as the Philippines' entire industry of oligarch-controlled news media had been criticised for seeking leverage from foreign media to put their causes on the global map. And now we see the Duterte camp doing something similar in principle — looking to foreign media for validation and to serve as a platform for propping up a Filipino artefact.
What then when Duterte is crowned amongst (if not the) 100 Most Influential people of the world in 2017?
Get Real Post author Midway Haven describes the perverse psychology behind that "Pinoy Pride" underlying the recognition "awarded" to the Palawan Underground River in a similar exercise a few years ago…
Soon enough, when the provisional list was announced, the first responses were predictable, and they all had one hive-mind reply: "PROUD TO BE PINOY!" Seemingly, even the sense of topos was eliminated from the river: rather than it becoming a wonder of nature, its sense of natural grandeur was competely ignored for the sake of voters being "Pinoy." From now on, in the "Pinoy" worldview, the Puerto Princesa Underground River is a "Pinoy Wonder," a trophy to be brandished for nationalistic bragging rights. When other countries began wondering why their own nominations didn't make it to the list, the response was also of one mind: "It's your fault that you didn't vote hard enough." This is when I fully realized, disappointingly, that many Filipinos pride themselves on voting frenzy, using any and all virtual means to get any and all people and things "Pinoy" on the top spot, no matter what the cost and repercussions. When I gave my opinion as a status update on Facebook that the river didn't deserve to be on the list, I was greeted with menacing all-caps howls of me being "unpatriotic" and possessing "crab mentality." Indeed, to these people, "resistance is futile."
Indeed, these little polls invoke psyches that are microcosms of the macro national collective psyche that powers the Philippines' national elections. For that matter, it is the same psyche that drives appointments — the Kamaganak Inc syndrome that plagues every Philippine administration.
Perhaps this is a good opportunity for Filipinos — on either side of the political fence — to reflect on what "people power" means. Do we use our vast population to contribute to humanity's collective intellect? Or do we use it to debase it with our intellectually-bankrupt notions of "national pride"?
benign0 is the Webmaster of GetRealPhilippines.com.