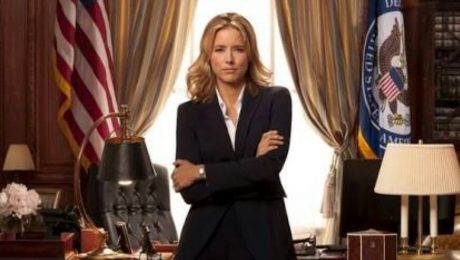 Filipinos have long been known for their inability to distinguish between real life and reel life. Theirs is a society, after all, that elects showbiz politicians to power on the basis of the achievements their fictional characters win on screen.
Thus it is hardly surprising that a diplomatic row would erupt over a recent fictional depiction of a Philippine president on the American TV show Madam Secretary…
In the next episode of the TV series "Madam Secretary," which airs on CBS on March 12, the fictional Philippine leader gets punched in the face by the fictional US secretary of state after he makes a pass at her during a foreign policy meeting.

[…]

The 20-second video teaser of the episode, titled "Break in Diplomacy," shows fictional Philippine President Datu Andrada, played by actor Joel de la Fuente, with a bloodied nose after a shocked US Secretary of State Elizabeth McCord, played by actress Téa Leoni, punched him in the face in a room that looks like the Office of the President in Malacañang.

A Philippine flag and the seal of the President of the Philippines are also seen in the background.

Before getting punched in the face, the Philippine leader is shown leering at McCord.
As expected, this latest circus has elicited all the wrong responses from both camps in the Philippines' political "war".
On the administration side, the government of President Rodrigo Duterte sent a letter oto CBS Corp to "strongly protest the highly negative depiction of a character purported to be the Philippine President."
On the anti-Duterte and Opposition camps, the usual online "activists" and members of various politically-passionate cliques are cheering the spectacle as evidence that Hollywood is somehow expressing solidarity with their cause.
But taking a higher vantage point to this latest outrage fad offers a more simple take on this latest spectacle: It's a TV show. Get a grip.
If (and this is a big IF) the producers of Madam Secretary actually did make a conscious attempt to take a swipe at Duterte, they weren't really doing anything that the Yellowtards in the Philippines haven't been doing over the last 12 months consistent with their lame efforts to chip away at the president's broad base of support. As such, the big high fives being presumptuously sent out by anti-Duterte Filipinos to their old colonial masters across the Pacific are really just another manifestation of the need for colonial validation that Filipinos remain addicted to.
On the part of the current administration, well, Jesus, you guys should have just let that one pass. It's just a TV show.
benign0 is the Webmaster of GetRealPhilippines.com.