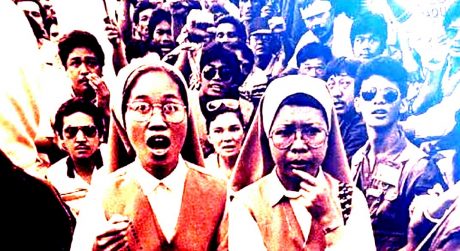 This year, the traditional self-appointed "owners" of the 1986 EDSA "people power revolution" — often referred to as the Yellowtards — again stood aghast as yet another anniversary celebration fizzled. The really surprising thing about this is that these folk were surprised to begin with, because, in truth, this erstwhile commemorated event has been following a trajectory of decline for some years now.
Some thought leaders at least acknowledge that this "revolution" that some still insist was the seminal event in which Filipinos "won back" their democracy needs a new narrative. Indeed, for the longest time, the key outcome of the EDSA "revolution" has always been made out to be a rebirth of freedom in the Philippines. But, echoing a tweet issued by Get Real Post author Paul Farol, a really important question has now come to light…
Have Filipinos used the freedom supposedly won in 1986 wisely?
For that matter, did Filipinos come to understand what that freedom entailed? Take Apo Hiking Society singer Jim Paredes, for example. In a video that has since gone viral, Paredes is seen severely berating an activist expressing support for Philippine President Rodrigo Duterte. It seems Paredes regarded the hallowed grounds of the EDSA memorial as off-limits to anyone not associated with his Yellow Camp. The prevailing mindset surrounding EDSA after all has long been around the notion that husband-and-wife "national heroes" Ninoy and Cory Aquino are the sole central figures around which the current EDSA narrative spins.
The Aquinos and the Yellow Camp political clique that surrounds them have, since 1986, been regarded as the owners of this revolution and its artefacts. Suffice to say, for 30 years, the Aquino-Cojuangco clan did not shrink from what started out as an organic distinction bestowed on them by Filipinos in the early days. They nurtured the notion and proceeded to secure their lofty place in the EDSA narrative to the point where their family names became virtually synonymous with it. Rather than uphold the EDSA "revolution" as a Filipino revolution, the Yellow Camp marketed it as Ninoy's and Cory's Revolution for three decades. They achieved this by employing the vast resources and network of businesses at the disposal of the Aquino and Cojuangco clans to mount an awesome messaging campaign spanning those decades to create the deeply-rooted mythology and cast of political deities that now surrounds EDSA.
It seems the Philippines is now in the midst of a collective effort to dismantle this traditional mythology of yellow ribbons and "L" hand gestures and take back EDSA to its rightful owners — the Filipino people. Long overdue of course, but, as the cliché goes, better late than never.
benign0 is the Webmaster of GetRealPhilippines.com.