Some people are saying 2016 was a horrible year. In the Philippines, they base this on Rodrigo Duterte being elected and the remains (or so it seems) of the dictator Ferdinand Marcos in the Libingan ng mga Bayani. On the world scene, Donald Trump was elected U.S. president, a mass shooting happened at a nightclub, and Britain voted to leave the European Union. Perhaps what really depressed most people was the number of famous people who died this year, ranging from David Bowie, to Prince, to Fidel Castro, to George Michael, to Carrie Fisher, to the gorilla Harambe. I keep hearing people say 2016 is the most horrible year to date.
Really, is 2016 so horrible?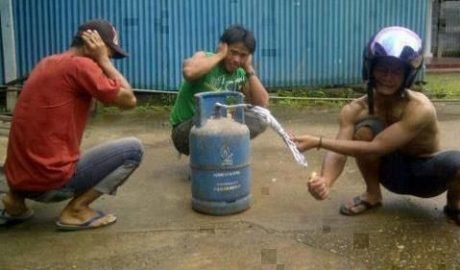 Worse things happened in other years. There's 9/11, Rwanda Massacre, the Holocaust of the World War 2 era, various massacres here and there, the Black Plague and more. I find declaring a certain year as terrible something that is mostly subjective. Of course, the basis would usually be one's own life. For me 2005 was horrible because of certain events in work and family. But after that, one begins to accept that things don't run smoothly as one wants in life, so we learn to adjust and keep running no matter how things go.
There would be people who hate it when others wouldn't feel the same way as them, such as others don't feel 2016 is a terrible year. And there are others who don't feel angered at the Marcos burial or Trump becoming president. These will be accused of being apathetic or fence-sitting. The basis of such is believing that being angered at these things means you "care about the world."
Oh, really? I doubt.
It's easy to pretend to care about something. Perhaps what's in the mind of some of them, such as those making the witty protest signs at the Marcos burial, is that they "look good" by protesting that way. "I'm not like those Dutertetards," is probably their thought. In the end, it becomes all about themselves, and little about the cause they claim to support.
I may be told that the reason I say this is because of apathy. No. It's good old common sense.
We all need to stop taking ourselves so seriously and just live on. I was never a person who stops by to smell the roses, because sometimes, this can downgrade into to smelling the street poop. You get so attuned to detecting sensations that you might even pick up the wrong ones. Your attention tends to be seized by anything that sparks your emotions, that when you pick up the negative cues, you get dragged into the roller coaster ride that could later send you spiraling into depression, anger or disappointment.
Detachment is often necessary to prevent ourselves being dragged down.
Some would say, if you look at only your life for judging the year, you're a selfish, apathetic asshole. Still wrong. You can only look at your life because that's the only thing you have control over. Not others' lives or the world. That said, some people may have personally experienced 2016 as a bad year, then that's valid. I hope things do become better for them.
2016 has been a year like any other. It's got ups and downs. 2017 or succeeding years won't be different. It's our mindsets that need to be different.
Happy New Year to all!
I believe, as my cohorts here do, that what Filipinos embrace as their culture is what actually pulls the country down. And those who seem to be anti-dictators, who may also believe themselves to be "heroes," are the real dictators.