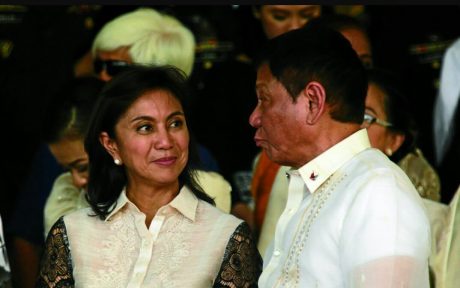 Current Vice President Leni Robredo has tendered her resignation from her position as chairperson of the Housing and Urban Development Coordinating Council (HUDCC). She cited many reasons for relieving herself from her duties but it seems it simply boils down to irreconcilable differences between her and President Rodrigo Duterte. This parting of ways was inevitable considering Robredo made her displeasure of some of Duterte's policies and quirks known to the public. For his part, Duterte has made his lack of respect for Leni known to the public as well especially when he makes her the butt of jokes during cabinet meetings.
I don't think a lot of people were surprised that the relationship between Duterte and Robredo went pear-shaped less than six months into their terms. This was very predictable. The problem with Leni is she doesn't know when to quit talking to the media. She actually loves to talk about how she disapproves of Duterte's policies. That's not very smart of her. Her relationship with Duterte hasn't even warmed up yet but she's already behaving like a backstabber – all smiles when she's facing Duterte, but then says a lot of negative things about him as soon as his back is turned. She would have gotten more respect if she had the guts to say what she wanted to say to his face.  
What did Leni expect Duterte to do when she openly attacks him in front of the media? Did she expect him to kiss her rear end?
As mentioned before, it's obvious that Duterte doesn't respect Robredo. It could be because Robredo doesn't come across as smart. She comes across as clueless. After all, she acts very clueless about why people think her win as vice president is fraudulent. Duterte probably knows that she had nothing to do with the alleged electoral fraud, but the fact that she believes without a doubt that she won the election and is quick to dismiss claims of cheating even after evidence and testimonies of irregularities in voting precincts were presented says a lot about her. For one, it is a sign that she has become delusional – all the praises she is getting from her supporters has gotten into her head. She must be thinking that she is actually more popular than former Senator Bongbong Marcos and that, of course, she won the election.
To a casual observer, Duterte seems to be simply humouring Robredo until the time the Supreme Court decides on Marcos's electoral protest. Duterte knows that Robredo speaks ill of him behind his back.
Robredo cited in her statement that the plot to steal the Vice Presidency from her is in motion. She insults the Supreme Court justices by implying that they will not even bother reviewing the merits of the electoral case filed by former Senator Bongbong Marcos and simply declare him the winner of the recent election. For someone who holds a high position in government, Robredo is suggesting that the justice system in the Philippines cannot be trusted to bring a fair outcome. I suppose that if the Supreme Court decision is favourable to her, she will call it "fair" and truthful. But when it favours the complainant, she will cry foul and say that her post was stolen.
Robredo is the one trying to cause division in Philippine society. She seems to be trying to rile her supporters to go out in the streets and rally behind her. I say bring it on! Let's see if Robredo really has 14 million supporters. It's about time to prove if she has that so-called Cory "magic" bullshit.
Robredo should focus more on the electoral case if she thinks that there are people out to steal her position rather than spend time posing for glamour magazines. With all the time she spends on public relations to boost her image, one would get the impression that she is doing an excellent job as chairman of the HUDCC. It's actually the opposite. It turns out, she has a lot of problems that she is only now telling the public. She claims that the budget for housing was cut and is not enough for key shelter agencies. She should blame former President BS Aquino for not giving priority to her agency. After all, Duterte administration did not come up with a budget for 2016.
Robredo also claims that "inaction on appointment recommendations and the executive order to make the HUDCC more effective" was cramping her job. Whoever will replace Leni as chairman of HUDCC will prove to us whether Leni is telling the truth or not about the "obstacles" in doing her job. She seems to be the only cabinet member who complains a lot. She can't even find ways to work around her problem without telling the media. She definitely reminds me of BS Aquino. The former President was full of lame excuses for not doing his job. No wonder they belong to the same political party. They have the same victim mentality and both suffer the same persecution complex.
Robredo may have been forced to resign after she reportedly received a text message from executive assistant Bong Go saying she is no longer welcome to attend cabinet meetings in the future. While that move was very insulting and shows lack of respect, there is something to be said about the fact that Robredo doesn't seem to command respect from the rest of the Cabinet members at all. They probably don't see her as their equal. It doesn't help that she is a member the opposition and is quite vocal about her opposition to a lot of things. In other words, she cannot be trusted with sensitive information during cabinet meetings.
Sending a text message that you are no longer welcome to meetings is equivalent to being given an office in the basement with no window to make you resign. It's good that Robredo got the message sooner rather than later. Although a lot of people would be happier if Robredo resigned from her VP post. Filipinos don't need someone so melodramatic like Leni in a very high government position. She's not very rational. She's vindictive like BS Aquino. Just imagine if she took over the Presidency. Six years would be spent just blaming the Marcoses.
Oh well, Robredo should look at the bright side. She will have more time to attend photo shoots for glamour magazines and make guest appearances in talk shows. Who knows? Maybe this could open the doors to her showbiz career. She seems to enjoy it more than her government post anyway.
In life, things are not always what they seem.