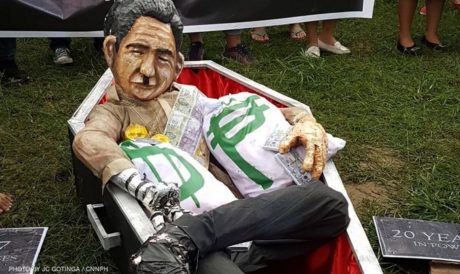 In a Facebook meme I saw today posted by a yellow partisan, Marcos was equated to Adolf Hitler to convey the message that Marcos (just like Hitler) should be made to be responsible for his crimes despite the fact that he was never convicted because he died, just like Hitler. The problem with this logic is that not only does it smack of several logical fallacies like false analogies and guilt by association, it also tells quite a bit about the intellectual weakness and dishonesty of the folks who subscribe to the thought. It is tantamount to saying that since a dog has four legs and a cat has four legs that fact makes dogs as cats! As funny (and ridiculous) as this may sound, the logic of the jaundiced partisans protesting the burial of the late president Ferdinand E. Marcos at the Libingan ng mga Bayani (LNMB) seems to embrace these kinds of logical fallacies quite well. While I do not fault the spinsters of the yellows who made the meme (I believe they are merely doing their job in spreading their propaganda), what I find unfortunate is how gullible their followers are.
To begin with, equating Marcos with Hitler to advance their point not only reveals their logical ineptitude it also reveals their ignorance of historical facts. Hitler's "Final Solution" was borne out of his 25-point Program he presented in February 24, 1920 (more than a couple of decades before the execution of his "Final Solution"). A couple of the points in his program stated:

So not only were Hitler's sentiments against the Jews already known many years before he became the Chancellor of Germany, the atrocities committed against the Jews under his leadership from 1941 to 1945 was also borne out of his policy. There is no evidence that Marcos has expressed his desire to commit the alleged murders and tortures being attributed to him before he became president and there also appears to be no factual basis that tortures and murders were public policy under his Martial rule.
Next, Hitler wrote in his (in)famous book, Mein Kampf, his political ideology and future plans for Germany. In that book not only did Hitler outline his plan to remove the Jewish people out of Germany, there was also evidence that his plan welcomed genocide.

Again, Marcos never had any published work that involved or promoted murders and tortures of political activists, opponents and innocent civilians as part of his plan for his New Society that will result from his proclamation of Martial law.
Thirdly, Hitler was charged, arrested and found guilty of treason for his leadership role in the Beer Hall Putsch, a failed coup attempt in November 1923 to overthrow the German Weimar Republic government. (Although he was later able to gain power when he was appointed Chancellor by president Paul von Hindenburg in 1932.) As far as Philippine history is concerned, Marcos never attempted to seize power through a coup. He was elected as president of the Philippines in 1965, 1969, 1981 and 1986. Although people may question the credibility of the results of the 1981 and 1986 elections, Marcos became president in all those elections through the ballot.
So it seems that historical facts do not support the jaundiced partisans' attempt to equate Marcos to Hitler. But it really won't amount to anything as it probably wouldn't even matter to these people. These self-proclaimed social justice warriors are just probably so intent on demonizing Marcos that they would shun logic, facts and sound arguments just to perpetuate the simplistic glib of the discredited yellow narrative. There may be a lot of things people can criticize Marcos for especially on policy and even the practice of crony capitalism. However, when anti-Marcos people start resorting to logical fallacies such as false analogy and forms of guilt by association like what has been dubbed as Reductio ad Hitlerum (attempt to invalidate someone else's position on the mere basis that the subject has a similar view, action or circumstance as Adolf Hitler) then discussions would be reduced to a mere meaningless banter. In the end, equating Marcos to Hitler says more about the accuser than the accused.
(Top picture taken from CNN Philippines)
Calling a spade, a spade…