When that picture of Ferdinand Marcos' grave at the Libingan ng Mga Bayani ciculated, I was struck by what they put on the tombstone. It just said "Filipino." It didn't have anything long or fancy, or anything like "Marcos was the greatest president." It just said that: "Filipino." A fitting epitaph.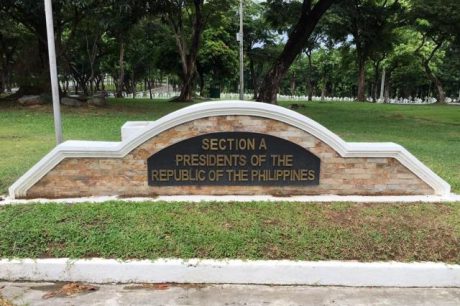 Of course, I see why people would be insulted by this epitaph. Some Filipinos are bound to say "I'm proud to be Filipino! So someone I see as evil should not be considered as Filipino!" It is basically saying, the Filipino is only capable of good, and can never be evil. But that is wrong. As a fellow blogger mentioned, it is basically handwashing oneself of responsibility.
When Rolando Mendoza took Chinese tourists hostage and killed some of them, I said that he represented us all in that event. Some people will be mad and say, "He is a murderer and does not deserve to be called Filipino!" No. Mendoza was a Filipino by birth. He stayed a Filipino and died a Filipino, even if he became a murderer at the end.
There are people who are Filipinos that we see doing bad things. Filipinos being undisciplined and defying rules. Filipinos killing people in road rage incidents, crimes and even just personal squabbles. Corrupt politicians, thieves, dugo-dugo gang and similar, scammers, gossipers, and more. Filipinos do these things… and are still Filipinos. We cannot disown them.
That is the attitude problem we need to have a good look at. Filipinos don't want to accept negative things about them, even if these are true. They are oversensitive to criticism. All they want is good words and flowery descriptions about them… even if they do wrong. This has been a common observation for a long time. Yet, Filipinos don't want to do anything about it or accept it.
But we must accept it. Filipinos are capable of evil and wrong. We are not special beings who are so good and great as to be exempted from accountability. We are people, and people do wrong.
Again, I'll use Hannah Arendt's Banality of Evil idea. It doesn't take special, unusual, unique, mutated or otherwise super-different people to do evil. Everyone, even the most saintly-looking or initially angelically-behaved of people, is capable of evil. All they need is one moment where they decide to do wrong, and it all falls apart.
Also, Marcos has been seen as a symbol of evil in the country, and some people believe that by cleansing the country of the Marcoses, it will be free of evil. That is still wrong. As I said in my Martial Law article, there are other evils aside from the Marcoses. Even if the Marcoses are gone, there will still be other evils to deal with, and they also keep the country from improving. Unwillingness to accept this is unwillingness to move forward.
Character is not permanent or predetermined. It is malleable and changeable. It can be brought upon by internal or external factors. It can be changed by our decisions. As I said in my article about it, it gives us hope. However, we must accept that we are fallible. Pretending to be infallible is what keeps us backward.
I believe, as my cohorts here do, that what Filipinos embrace as their culture is what actually pulls the country down. And those who seem to be anti-dictators, who may also believe themselves to be "heroes," are the real dictators.