See what I just did here? That is the same thing the Inquirer is doing in its 1st October 2016 front page. "Heil Digong?" is splashed in big bold print. But read the actual article and you will find the small clarification on the matter (italics mine for emphasis): "Duterte appeared to liken himself to Nazi dictator Adolf Hitler…" The front page also included a photo, evidently unrelated to the actual event where the supposedly offensive likening was made. The photo depicting Philippine President Rodrigo Duterte and what seem to be members of the military doing the Duterte fist salute was clearly meant to create a connection with the Nazi salute in readers' minds.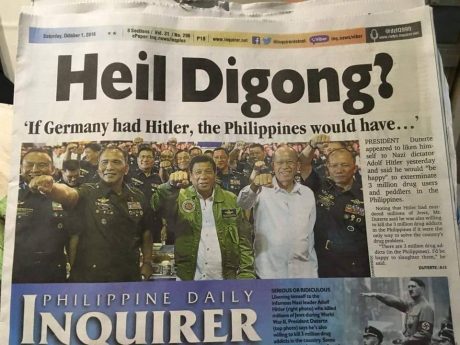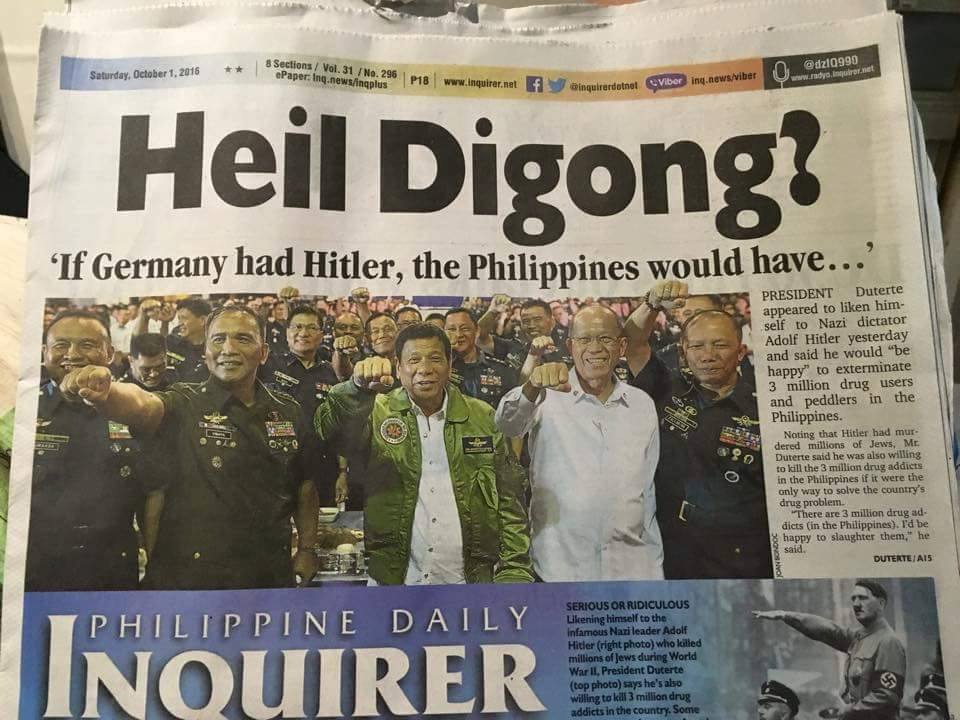 So is Duterte to the Philippines as Hitler was to Nazi Germany? The more interesting question is, is the Inquirer guilty of sedition on account of the way it laid out its Saturday front page? It could be argued that the Inquirer could be guilty of inciting sedition. According to Article 142 of the Philippines' Revised Penal Code…
SUPPORT INDEPENDENT SOCIAL COMMENTARY!
Subscribe to our Substack community GRP Insider where you can opt to receive by email our more comprehensive and in-depth free weekly newsletter GRP Mail. Consider also supporting our efforts to remain an independent channel for social commentary and insight by sponsoring us through a small donation or a monthly paid subscription.
Subscribe to our Substack newsletter, GRP Insider!
Learn more
The penalty of prision correctional in its maximum period and a fine not exceeding 2,000 pesos shall be imposed upon any person who, without taking any direct part in the crime of sedition, should incite others to the accomplishment of any of the acts which constitute sedition, by means of speeches, proclamations, writings, emblems, cartoons, banners, or other representations tending to the same end, or upon any person or persons who shall utter seditious words or speeches, write, publish, or circulate scurrilous libels against the Republic of the Philippines or any of the duly constituted authorities thereof, or which tend to disturb or obstruct any lawful officer in executing the functions of his office, or which tend to instigate others to cabal and meet together for unlawful purposes, or which suggest or incite people against the lawful authorities or to disturb the peace of the community, the safety and order of the Government, or who shall knowingly conceal such evil practices.
Being a newspaper, the Inquirer should be reporting facts. There seems to be no fact in its Saturday front page. What it does have is a mere question seemingly meant to incite a certain sentiment in its readers for the current administration. Suffice to say, there is lots of debate on whether or not Duterte really "likened" himself to the Führer. A commenter on Get Real Post, for his part, wrote that he is quite certain that Duterte did not say anything wrong.
By the same token, perhaps finding the editors of the Inquirer guilty of inciting sedition under Philippine Law may be a long shot. But a headline such as what I used above could, in the same way, have the effect of convincing our readers that the Inquirer actually is doing just that.
Tit for tat, right?
Trouble is Get Real Post ain't a newspaper. Our writers aren't journalists. And we never claim to be anything more than a bunch of Netizens begging to differ in opinion. We earn our readers' trust on the back of the skill we apply to our work. That's on us — and it is on us day in and day out as we pump out content.
The Inquirer, on the other hand, insists that it is a newspaper. It also claims that its writers are "journalists". In fairness to them, that is their prerogative — to plead credentials when their integrity is challenged. However, to be a newspaper and to be a journalist makes one subject to certain standards. Clearly, the Inquirer, in its Saturday, the 1st of October 2016, edition did not meet those standards. In so doing, it is now up to our readers to decide: Is the Inquirer guilty of sedition?
benign0 is the Webmaster of GetRealPhilippines.com.