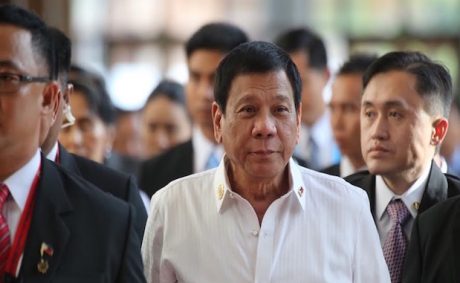 If there is one thing Filipinos learned so far about their country it is this: The Philippines is, it seems, an important country in global politics. Up until now, Filipinos have seen their country as some sort of diplomatic third wheel — one that is in a perpetual crisis of relevance; a mere afterthought. It was not until current President Rodrigo Duterte rose to power that Filipinos have had an opportunity to re-think their place in the world stage at a truly fundamental level.
That Duterte could brazenly antagonise (or be made out by the media to be antagonistic towards) not just the United States, but also the European Union, and even the Pope himself and not suffer any significant fallout proves that his is a country that cannot be readily marginalised. Indeed, Duterte's going against the Philippines' long diplomatic tradition of pandering to the West and then "pivoting" (the media's words) into the Chinese sphere of influence potentially putting at risk its "friendly" and "special" relationship with the U.S. has yielded an unexpected outcome. In his recently-concluded trip to China, he was welcomed with warm pomp and open arms. Following that, his trip to Japan — which itself has a standing dispute with China over territory in the East China Sea and is a close ally of the U.S. — exhibited no reservations in welcoming Duterte with equal warmth.
Indeed, the much-touted "legal victory" over China supposedly won in The Hague by Duterte's predecessor, former President Benigno Simeon 'BS' Aquino III, had chilled relationships with China and resulted in direct consequences to ordinary Filipinos — particularly those who make a living fishing in disputed waters. More importantly, a foreign policy hinged on capitalising on this ruling (and the expected backing of the Philippines' traditional "ally", the U.S.), offered little option or opportunity for China to save face. Perhaps this is the most valuable thing Duterte had, in the manner with which he approached repairing relations with China that had frayed under Aquino's watch, offered to China: a gracious way for both parties out of what would have been the intractable stalemate over the South China Sea on the back of the ruling "won" in The Hague.
If we are to believe reports emerging that China had, since Duterte's visit, stopped chasing Filipino fishing vessels from Scarborough Shoal, it could be said that Duterte's moves are bearing fruit. Observers theorise that there is headway being made in Duterte's steering the Philippines into new diplomatic avenues with China in reducing the latter's belligerence in the South China Sea. According to a TIME report, experts expect Beijing to, for now, desist in taking any further "game-changing moves" now that Duterte has taken a more "conciliatory" stand on behalf of the Philippines.
But Duterte scores his biggest wins in the domestic public relations front. Duterte's groundbreaking defiance of U.S. hegemony over the foreign, military, and economic affairs of its former colony have won hearts amongst a people who have for so long lived under the shadow of their ego-crushing colonial history. That plus the opening of Filipinos' minds to the, until now, counterintuitive notion of Duterte taking the Philippines back home to Asia has opened up a new well of renewed sense of identity and of national pride. Indeed, ordinary Filipinos can only regard their country's relationship with its former colonial master within the context of foreign economic and military aid. Duterte tables a more stringent, and more confronting, standard of true independence, freedom from foreign aid. So far, Filipinos' continued embrace of the new path is promising.
That is not to say this new path will be an easy one. Filipinos still overwhelmingly love America and there is much to consider in any change in whatever "special" relationship with the U.S.
Personal and cultural relations run deep, despite the terrible beginning based on American military repression. Over the years Washington has provided nearly ten times the development assistance as China. Last year Filipinos sent about $8 billion back home from America in remittances, ten times the amount from China, Hong Kong, and Macao combined.
Also, given Duterte's rather disturbing track record of back-pedalling on earlier off-the-hip public statements, there is still reason to remain cautious about embracing too much change. Duterte's government will have to demonstrate that it has a coherent framework on which to map out a long-term strategy to guide consistent delivery of results over the next six years.
As such, for now, it is business as usual for the ordinary Filipino…
Abangan ang susunod na kabanata.
benign0 is the Webmaster of GetRealPhilippines.com.