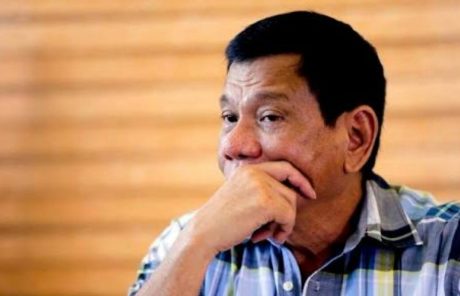 "Real fatherhood means love and commitment and sacrifice and a willingness to share responsibility and not walking away from one's children."
— William Bennett
On Fatherhood
In the last 100 days, my perception of the presidency has changed, from being a formal leader to a loving father who is at the same time tough, strict, stringent, and sometimes harsh. Some of us grew up with a father with these qualities, one with a heavy hand driven by a big heart. This is the President we have, a true father and leader of state that is on the way to becoming a nation.
A father protects us from the afflictions and disorders of family life. He insulates the innocent young from the problems of the older ones in the family. Take drug addiction, a common problem more and more families have to deal with. Rich or poor, urban or rural, famous or unknown, no family is spared from the scourging misery of having a drug-dependent at home.
A decisive father who wants to defend and restore his family that is being destroyed would act quickly, harshly even, in a tough but loving way for the greater good, to avoid reaching the tipping point of societal obliteration and, thus, restore social order.
A true father protects his family from atrocious, abusive, and dreadful neighbors, 24/7. He makes sure we get to where we want to go and make it back home, safe and sound. A father worries about his children's whereabouts, fearing they might be swamped by the temptations of modern life that do more harm than good. He understands youthful curiosity, crafting lifelong lessons out of brutal real world experiences. And a father warns strongly that using drugs is dangerous: to you and me, our family, and our country.
A father is a symbol of strength in a family. He provides stability, assurance, tenacity, and certainty. He gives his children with the moral courage to be strong in what is right. Members of the family race to him for support, encouragement, and advice even if they know they have done something wrong. They know that the father only wishes the best for his children: he believes in their capacity to learn from their mistakes.
Padre de Familia
A good father is a great provider. He is a breadwinner, concerned with the income of the family. He works hard to get us the money we need, ensuring it continues to flow. A large and growing family has large and growing needs. A good and wise father knows he could do better if he seeks the help of his neighbors, those who live on the same side of the world, rather than acting like a beggar stretching his arms halfway around the world.
The father who is now the President is very Asian in thinking and demeanor. This is difficult for western types (just look at our West-financed and -biased media) to grasp. After more than a century of dependence on the current world power, DU30 wants to change the game: let's work more seriously with our neighbors. After all, we belong to one great region, ASEAN, with a population of more than 622 million people, and a gross domestic product of 2.573 trillion US dollars per year.1
ASEAN is a huge emerging market that continues to attract foreign investors from East Asia, North America and Western Europe whose population growth is stagnating. And as icing on the cake, this huge market is just beside two of the largest-populated nations on earth: China and India.
From this perspective, we can better understand why our President is breaking away from our colonial past and reconnecting the country with our pre-colonial history. Centuries ago, the ASEAN nations (Singapore, Thailand, Vietnam, Brunei, Cambodia, Indonesia, Laos, Malaysia, Myanmar, and the Philippines)2 used to belong to a great empire called the "Majapahit".
Empire Strikes Back
The Majapahit Empire ruled this part of the world from 1293 to its eventual decline in 1527..3 This massive empire spanned 2,700,000 square kilometers. 4 During this period, the Philippines already started trade with China as early as 982 AD. 5 The Chinese were trading with no less than Kings, not just chieftains. During the same period, we were mining gold in Butuan, also known as the Rajahnate of Butuan. 6 Evidence of printing technology was supported with the discovery of the Laguna Copperplate inscription in 1987, an important archeological discovery, evidence that we were part of 10th century Southeast Asia.7
Many great things happened during the Majapahit Empire's rule. There was evidence of a modern civilized world with sophisticated forms of governance, legislation, justice, agriculture, mining, trade, and architecture that already existed. 3
Perhaps Duterte's instinct to reconnect and forge stronger alliances with our Malay neighbors is a strategic master plan for economic development, peace, and prosperity in the Philippines and the ASEAN region.
And, of course, our colonizers (until now, we are still heavily dependent on them) would not want that.
Lessons of History (from Prof. DU30)
Since the colonization of the Philippines, we never reconnected with our glorious past without our colonizers' permission. Mainland Southeast Asia, the Pacific Islanders and other archipelagic countries like the Philippines and Indonesia established strong connections with their colonial masters instead of establishing interdependence among neighboring Southeast Asian countries.
The western nations do not want us to grow stronger, be more independent and progressive. According to the economist and Nobel laureate Joseph Stiglitz:"… the United States (is) opposed to the creation of the Asian Infrastructure Bank, a new institution designed to finance their investment…One of the most successful groupings of countries is ASEAN both economically and politically. That part of the world has been doing very well." 8
Clearly, it is not the priority of western nations to help ASEAN countries unify themselves into one formidable grouping of nations.
Recent events
As DU30 steps up his rhetoric of expletives against the UN, the EU, and the US, I am led to believe that he is communicating, not only to the West and to us, but to the rest of Asia, his long-term vision: for countries to become nations, they need to cut their ties from their colonial masters and to establish strong partnerships of equals with our neighbors.
All nations, without exception, did the same, often with the untold brutality that pales in comparison with the verbal tirade (that our overly-sensitive media unrelentingly exaggerates) the father of our (soon-to-be) nation dishes out on a nightly basis.
Duterte's strong sense of "Fatherhood" should strengthen our resolve to help him achieve a better Philippines, as a father would who wants only the best for his children. We can achieve this, but only if we stay united as a people and desist from being swayed by the twisted logic implanted by every colonizer: we cannot survive without their help.
Let's follow DU30's example: it's time to throw the yoke off our backs.
Citations:
1. Ho, D..(2016, March 17). ASEAN: Market Profile. Retrieved from http://emerging-markets-research.hktdc.com/business-news/article/Asia/ASEAN-Market-Profile/mp/en/1/1X000000/1X09WKZD.htm
2. ASEAN infographics: population, market, economy. (2015, Feb.15). Retrieved from http://aseanup.com/asean-infographics-population-market-economy/
3. Majapahit. Wikipedia. Retrieved from https://en.wikipedia.org/wiki/Majapahit
4. How large was the Majapahit Empire at its greatest extent?. Find the Data. Retrieved from
http://empires.findthedata.com/q/60/2513/How-large-was-the-Majapahit-Empire-at-its-greatest-extent
5. Go, Bon Juan (2005). "Ma'l in Chinese Records – Mindoro or Bai? An Examination of a Historical Puzzle". Philippine Studies. Quezon City: Ateneo de Manila University. 53 (1): 119–138
6. Rajahnate of Butuan. Wikipedia. Retrieved from https://en.m.wikipedia.org/wiki/Rajahnate_of_Butuan
7. The Laguna Copperplate Inscription: An Ancient Text That Changed the Perception of the History of the Philippines. (2015, Nov.20). Ancient Origins. Retrieved from http://www.ancient-origins.net/artifacts-ancient-writings/laguna-copperplate-inscription-ancient-text-changed-perception-history-020630
8. Joseph Stiglitz – Can we make a globalization that works?. (2016, July 19). Retrieved from
https://www.weforum.org/videos/joseph-stiglitz-can-we-make-a-gobalization-that-works/
[Photo courtesy Metro.]
I am a marketing consultant, entrepreneur and executive director of an NGO. I have extensive experience in advertising, product management, media, and general management.
I love art, graphic design, philosophy, theology, and history. I continue to study these subjects to enjoy my intellectual and artistic pursuits.