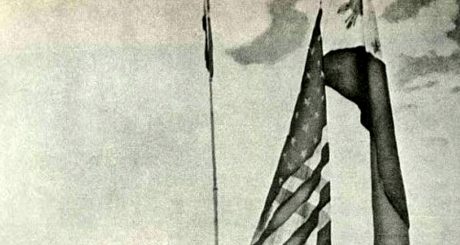 The recent bungled-journalism-ignited conflagration that almost led to a complete souring (if not severing) of ties between two close long-standing Pacific allies has brought up another piece of the mosaic that makes up the vision of radical change that President Duterte has in mind for his country. It was as if in one fell swoop, President Duterte with a flaming "PI"-expletive-laced outburst could have brought all the many decades of partnership, trust and good will between the US and the Philippines crashing down.
Yes, in theory that's how easy geopolitics can take a wild turn these days. As they say in this gladiatorial arena, there are no permanent friends, just permanent interests.
Intended or not, one thing is clear from the fallout of the recent circus. Duterte has greater regard for his own monkey-eating avian species than the high-flying American bald eagle, in stark contrast to all his predecessors.  This reminds me of the book by David Platt "Radical: Taking Back Your Faith from the American Dream" whose front cover has a picture of a house turned upside down.
As I mentioned in the past:
Common Sense is simple. What you see typical Filipinos doing – just do the opposite.
And that's exactly what think-out-of-the-box Duterte is doing. We have seen how the Yellow Cult has all these many decades been following after Americans like a star-struck dog on a colonial-mentality leash. Our new president dares to be different by moving towards cutting the invisible umbilical cord that we as a nation had been surviving on.
Action defines character
As the Creed of Winners states (line 4): action defines character. What you really are deep within will show through what you do. And all that you see in Duterte's behavior is but a reflection of the object of his allegiance. Duterte proves himself to be a true and bold nationalist, who is the least beholden to our erstwhile Aquiline-nosed colonizers.
Consistent with what Duterte has set in his heart to accomplish under his watch, he had planned from the onset to chart a new course for this country – one that has the training wheels fully detached from our precariously wobbling bicycle. The following outlines his intention back when he just took office:
Duterte to chart his own course on foreign policy, won't rely on US – May 31, 2016
"I will be charting a course on its own and will not be dependent on the United States," Mr. Duterte told a news conference after presenting his Cabinet.

His comments came hours after Chinese President Xi Jinping said that Beijing wants to deepen relations with Manila under the new Duterte administration, as both sides seek to reset bilateral ties strained by rising tensions over conflicting claims in the South China Sea.

"A friendly, stable and sound China-Philippines relationship is in the fundamental interests of the two countries and their people," said Mr. Xi in a congratulatory message to Mr. Duterte on Monday after his victory in the May 9 election was officially confirmed.

"We hope the two sides can work together to bring bilateral relations back on a healthy track," added Mr. Xi, according to a statement published on the website of China's Ministry of Foreign Affairs.

Mr. Xi's congratulatory message noted that the two countries had a long history of friendly exchanges and a deep traditional friendship.
What's the risk of losing America?
This daring new course could be a huge risk for our disaster-prone country with just token national defense capability that has depended like lazy junkies for so long on the US as an overgrown infant still not fully weaned off of its mother's milk. In a recent statement, Duterte says he is not a fan of the US, and vowed to steer an independent course and refrain from confronting territorial rival China.
Can the Philippines survive on its own in shark-infested waters?
Will distancing from the US (coming out of America's protective umbrella) and getting closer to China be a greater advantage for the country?
What do Filipinos have to lose on a future without Uncle Sam?
What's in it for America and the Philippines anyway?
The biggest fundamental question really is: why do we even have to stick with America? What does America get out of the Philippines, and vice versa:  a mutual defense treaty? – Do you really think Americans will risk their asses to defend Scarborough Shoal should the Chinese proceed to "invade Philippine-claimed territory" by turning it into another one of their artificial islands? We must be dreaming.
America's hegemony in the Pacific may appear to be a deterrent, but will it actually hold water in a real conflict that requires spilling American blood for Pinoy asses? Ask any American if a perceived stinking shithole like the Philippines is worth saving and you'll get a frank answer. Remember how the West abandoned Rwanda at the height of their genocide?
On the flip side, what can befriending China lead to? A removal of strain in the Spratlys with the building of new factories and railways across the nation, right? Like for a young man who realizes his next move after carefully studying the pros and cons table of all his prospects for a lifetime partner (maganda – check, mabait – check, matalino – check, mayaman – optional), the choice already appears to be glaringly obvious.
Maybe it's about time to get trained by our good ol' Chinese brothers.
Zealous revolutionary advocate of bringing back common sense for the common good in a land of dysfunctional and delusional zombies.