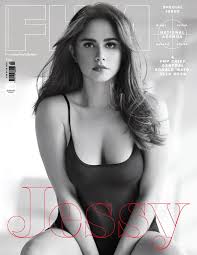 Running through the highlights for the month of September 2016 would seem incomplete without mentioning Jessy Mendiola's being on the cover of FHM (For Him Magazine) Philippines. It also looks like she'll be making the cover of Cosmpolitan PH for its October 2016 issue.
My colleague Ilda wrote about Jessy last July, in the context of her #1 ranking in FHM's most recent 100 Sexiest poll. She was already getting her share of bashing while the polls were still open. Her bashers mainly focused on her physical attributes: how could she be considered "sexy" given her features of that size?
Excerpts from an interview also appear in the FHM September 2016 edition. For one, she mentions that she wasn't rooting for herself to rise in the polls. It just happened that one of the pictures she posted of herself, in a swimsuit – which she does all the time, went viral. She also mentions that most of her haters happened to be women.; one of the particular criticisms lobbed on her was, "she isn't humble, because she openly acknowledged her self-worth and beauty."
It seems fairly obvious, to me at least, that an underlying issue here is that Filipinos have yet to be comfortable with women who are confident in their own skin. There are certain expected behaviors of women in Filipino society: they have to be "humble", they are submissive to men and have to compete with each other for their attention, and, most glaring of all, their self-worth needs to be defined by others around them.
The definition of "sexy" need not be limited to physical attributes. As Jessy Mendiola has so demonstrated, it can and should include self-confidence, irrespective of body size. I hear certain Filipinos scream all the time that people, including women, need to speak up, need to have more confidence in themselves, yet when they finally do assert themselves, the rest of the community acts to "put them in their place".
It is a sign of a society still struggling with its self-identity, and the type of values it seeks to impart and impose on its inhabitants. That it would take a celebrity from the entertainment industry to point it out for the rest of the Filipinos should make you go hmm…
I  guess following entertainment news does have its merits, after all.
А вы, друзья, как ни садитесь, все в музыканты не годитесь. – But you, my friends, however you sit, not all as musicians fit.