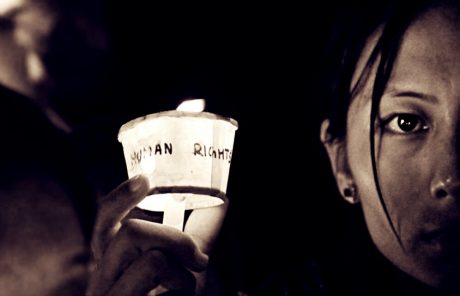 Human rights are universal, applying to all human beings, right?  Poor, rich, criminals, police, politicians, businessmen, shop owners, workers, students: everyone is entitled to the recognition and respect of his/her human rights.  Human rights law, and law enforcement, exist to protect all.
In the Philippines, the call to respect human rights is being used to impede President Duterte's war against drugs and criminality.  His critics accuse PDU30 of unleashing a national death squad with impunity.  Some wonder where civility has gone, when the madness will end, and why most Filipinos lustily cheer news of drug-related killings.  Perhaps, as a final blow to the traditional corrupt politicians whose job it was/is to address these same social problems (and, instead, profited from them in the past), most Filipinos see this as the final solution to end the prevalence of drug trafficking, drug-addiction, all sorts of heinous crimes and their umbilical cord to corrupt politicians, government officials, and members of the police, military, and the judiciary.
SUPPORT INDEPENDENT SOCIAL COMMENTARY!
Subscribe to our Substack community GRP Insider to receive by email our in-depth free weekly newsletter. Opt into a paid subscription and you'll get premium insider briefs and insights from us daily.
Subscribe to our Substack newsletter, GRP Insider!
Learn more
I used to dismiss the growing hysterical frenzy as the traditional reaction of sore losers, but after giving this more thought, I am now convinced that Duterte's detractors are behind the magnified allegations of human rights violations.  Excessively distorted in their intellectual bias, these detractors upon seeing their golden geese fleeing or dropping like flies began labeling each death as an extrajudicial killing, a misnomer that Senator Cayetano brilliantly clarified in a senate hearing through a "patient" reading of Administrative Order (AO) 35 series of 2012:
"Extra-Legal Killings (ELK) or Extra-Judicial Killings (EJK)—refer to killings wherein: a. The victim was either: i. A member of, or affiliated with an organization, to include political, environmental, agrarian, labor, or similar causes; or ii. An advocate of above-named causes; or iii. A media practitioner; or iv. Person(s) apparently mistaken or identified to be so. b. The victim was targeted and killed because of his/her actual or perceived membership, advocacy, or profession; c. The person/s responsible for the killing is a state agent or non-state agent; d. The method and circumstances of the attack reveal a deliberate intent to kill. Killings related to common criminals and/or the perpetration of their crimes shall be addressed by other appropriate mechanisms within the justice system."
Until a few months ago, these same killings were called murder, homicide, shootouts and riding-in-tandem hits.  Now, every death associated with police efforts in drug raids is labeled extrajudicial killings or EJK. Why the sudden change in terminology?
It's the media, stupid, showing once again their corrupt paid-for-hire roots.  We the people, who don't believe all the s… media oozes out, blame them for this, for using EJKs loosely to discredit the President's war against drugs and crimes.
PDU30's detractors continue to raise the flag of righteous indignation, hiring the services of human rights organization and advocates.
Who exactly are these people?
Media.
United Nations.
Commission on Human Rights.
Religious groups and church leaders.
Anti-Duterte supporters (or the sore losers of May 2016).
Influencing, persuading, and convincing these diverse interest groups to get their message across makes them nothing but "Human Rights for Hire".
Paid hacks with their own selfish agenda under the guise of protecting the common good.
How convenient it is to criticize Duterte despite the unbelievable feats achieved in his first 60 days as President.  Never in my lifetime have I seen such an intense and focused effort to eliminate drugs and criminality.  I am very surprised how gigantic is the illegal drug octopus in our country, and I never expected such a large-scale business actually existed, it's tentacles slithering into so many pockets (and orifices).  It is indeed a revelation for common people like me that this drug problem is a pandemic.
I tremble in fear knowing that the drug menace has been around for decades.  I tremble more in knowing that the drug lord and pushers are protected by the same people who are supposed to protect me and my family.  I piss-in-my-pants and tremble when authorities downplay the problem as a health issue that can be solved with rehabilitation.
OMG! They totally miss the point.
There can be no peace and order in our country if the police, politicians, judges, government officials are corrupt.  There can be no economic progress if scores of drug addicts continue to wreak havoc in our homes and our streets by killing, stealing and raping women and children.  There are close to four million drug addicts in this country.  Please give me at least one reason why our President's war against drugs is not good.
Don't I and my family also have human rights?
We have the right to a just and orderly society, a society built on the foundations of social justice and the common good.
Wait, that's not all.
During the election campaign, I asked my wife why the opponents of Presidential candidate Duterte were unusually mum about his anti-drug problem platform.  They were silent, which made me suspicious.  Nobody cared.  I theorized that, probably, most of the other candidates are connected to the drug-trade.  My gut feel was strong that the drug syndicate went all the way up to the highest officials of the land.
When President Duterte exposed the list of police, local government officials, and judges who are drug lord coddlers, I was not surprised.  I was ecstatic that the news confirmed my suspicions, and at long last, we now have a leader who can throw these corrupt people into a place where they rightly belong: jail.
The collective efforts of human rights-for-hire groups don't seem to get any traction.  I hope that one day, they realize the futility of their tricks, and that black propaganda does more harm than good in our fledging nation.
According to the great German writer and statesman Johann Wolfgang Goethe: "Things that matter most must never be at the mercy of things that matter least", a brilliant quote that best describes Duterte's sense of priorities.  What matters most is peace and stability in our country; what matters least are the criticisms and comments of the human rights-for-hire people.
Human rights are universal, for all humans including me, and this is my right to express my opinion.
You have this right too.  Claim it.  It's yours.  It's free.
Postscript: As I write this article, I received terrible news about the explosion in a Davao night market that killed 14 and injured many others.  The terrorist group Abu Sayyaf claimed responsibility.
As the President prepares to unleash hell, don't be surprised if the human rights-for-hire groups call for the protection of the human rights of the Abu Sayyaf terrorists.  And as for the ordinary Davaoeños who suffered from the terrorist act? I hope the human rights-for-hire groups don't say the poor victims had it coming..
I am a marketing consultant, entrepreneur and executive director of an NGO. I have extensive experience in advertising, product management, media, and general management.
I love art, graphic design, philosophy, theology, and history. I continue to study these subjects to enjoy my intellectual and artistic pursuits.