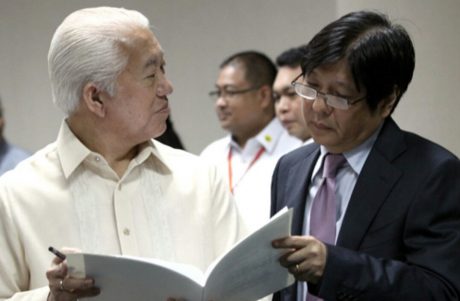 Things have gotten a little exciting in the Senate after Senator Leila De Lima was removed as chairperson of the Senate Committee on Justice and Human Rights. 16 Senators approved the motion by Senator Manny Pacquiao to remove De Lima as chair of the committee while 4 voted against it and 2 abstained. De Lima was then replaced by Senator Richard Gordon.
Apparently, this was after there were concerns about how De Lima handled the said committee. She was even accused of showing bias and partiality in her handling of the hearings on the alleged extrajudicial killings in the country, and that did not sit well with Senator Alan Peter Cayetano and other Senate members. If any body disagrees with how one of its members is handling a given task, it's only normal that they ask that member to step aside.
Of course, many of the new administration's critics (many of which are leftover supporters of ex-President BS Aquino III) whether politicians or social media warriors have voiced out concerns about De Lima's removal. Some have gone on to express fears that the Duterte government is turning into a dictatorship because an opposition senator has been removed from chairing a committee and that critics are being silenced.
But, when have critics been silenced? As far as I'm concerned, Senator De Lima is still free to voice out her opposition to the president, the same with the president's critics, they can still talk about it. Whether or not the general public would believe them is another story, but as far as I'm concerned, they can still talk and criticize. They just feel oppressed because nobody really believes their narrative, but such is a democratic society.
Another point is that the Senate voted democratically to remove De Lima. From the result of the vote, it revealed that 16 Senators (75% of the membership) disagreed with De Lima's handling of the committee. Of course, it's only practical that she be removed since her methods do not conform with what majority of the Senators believe. To keep her around would have disrupted their performance. "Picking up a rock only to drop it at one's own feet" as the old Chinese saying states.
Then, let me refresh your memories. In 2011, Rep. Hermilando Mandanas (LP-Batangas) was removed as chairman of the House Ways and Means Committee. Apparently, this was because Mandanas had policy disagreements with the Liberal Party leadership in the House. If you ask me, I think it was because Mandanas voted against the Corona impeachment, but that's another story. Speaker Sonny Belmonte removed Mandanas as committee chair because he had policy disagreements with the party.
What did President Aquino, then the LP's titular head, have to say about it? "Ayaw niyang sumang-ayon, eh 'di pasensyahan tayo. You do not own that position by virtue of being elected to Congress. You owe the position by virtue of the fact that you're part of the majority coalition that seeks to have chairmen who are representative of their views."
Again, as I said, it's normal to remove officials who you have policy disagreements with. If that was good for Mandanas, then it must be good for De Lima.
The same people calling out the Senate's move now didn't say anything when the LP did the same to Mandanas five years ago. These people are only complaining because now they're the ones getting the short end of the stick.