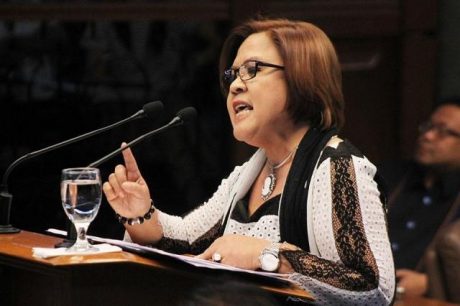 It is Day Two in the on-going Senate inquiry on drug-related "extrajudicial killings" headed by Senator Leila de Lima. So far, the circus has resulted only in the highlighting of the indifference and incompetence applied by the government of former President Benigno Simeon 'BS' Aquino III to combatting the drug problem. It has also made evident the insensitivity of de Lima to the plight of the Philippines' police force whose officers are at the front line of a never-ending campaign against criminality across the archipelago.
The last thing Filipinos need, now that we are getting better insight into the breadth and depth of the Philippines' drug problem, is a police force demoralised by incessant demonisation by its own leaders. Interestingly enough, it was a technical detail raised by Senator Alan Peter Cayetano today that undermines de Lima's case against President Rodrigo Duterte's "war on crime": that the term "extrajudicial killings" (EJK) while applicable to victims that are (or were, at the time leading to the killing, perceived to be) media practitioners or affiliated with cause-oriented groups, is not applicable to common criminals.
Indeed, this is made clear in a guideline issued by the Department of Justice (DOJ) in 2013 signed by then DOJ Secretary Leila de Lima herself. The guideline is part of Administrative Order No. 35 detailing operational guidelines applicable to the investigation of cases involving EJKs and "extra-legal killings" (ELKs).
For purposes of the focused mandate of AO No . 35, killings related to common criminals and/or the perpetration of their crimes shall be addressed by other appropriate, mechanisms within the justice system.
In short, the homicides being reported in the media which are supposedly drug-related and perpetrated allegedly by either state agents (such as police officers) or by vigilantes were inappropriately labelled as EJKs both by media producers and authors, human rights "activists", and critics of the Duterte government.
The habitual way these so-called "activists" issue uninformed conclusions and judgments is quite telling considering most of them are rabid supporters of the Aquino administration under which this administrative order was formulated.
Cayetano, consistent to de Lima's own guideline, thus points out that "critics of President Rodrigo Duterte's anti-drugs campaign are wrongfully branding drug-related casualties as extrajudicial killings."
"Are we [therefore] using the term 'extrajudicial killings' loosely to discredit the PNP and Duterte administration? I was hoping that we could educate the people more, para hindi sila ma-mislead na lahat ng patayan [ngayon] ay extrajudicial killings," Cayetano said in his opening statement during the Senate hearing.
[Tagalog excerpt translated: I was hoping that we could educate the people more so that they will not be misled into thinking that all the killings being reported today are extrajudicial killings…]
It even seems that AO No. 35 was crafted by de Lima to reduce — on a technicality — the number of homicides that could be reported as EJKs under the Aquino administration…
Of the 1,400 people killed during the Aquino administration, only 395 were categorized as extrajudicial killings, Cayetano said. Most killings involving common crimes were identified as "riding-in-tandem" cases.
This is likely a result of the Aquino government's own failed initiatives to curb rampant EJKs during his own term, preferring instead to focus the first two years of his presidency on persecuting enemies. According to a Human Rights Watch (HRW) report issued in 2012, "The Aquino government has not successfully prosecuted a single case of extrajudicial killing or enforced disappearance, including those committed during his presidency…"
Two years into the Aquino presidency, HRW remained unimpressed.
"President Aquino has not lived up to his promises to bring those responsible for serious abuses to justice," said Elaine Pearson, deputy Asia director at Human Rights Watch. "Concrete measures — rather than more promises — are needed now."
This is not surprising in light of how more than half of those 12 months were squandered by the BS Aquino administration impeaching the late former Chief Justice Renato Corona on trumped-up charges using illegally-acquired evidence, in what is now considered to be no more than a Kangaroo Court.
In its usual defensive — and often pompous — form Malacañang then issued a statement in response to the HRW report…
Presidential Spokesperson Edwin Lacierda called on Human Rights Watch based in New York City to provide any information on the perpetrators of extra-judicial killings, saying the government would not hesitate to bring these criminals to justice.

Lacierda stressed it was the State's responsibility to protect the lives and liberties of every Filipino from fear and oppression.

"We have always maintained that we frown upon extra-judicial killings. The government has a policy on going after the perpetrators of extra judicial killings, Lacierda said.
Yet Lacierda was also reportedly quick to wash the administration's hands of any responsibility for seeing through to resolution these human rights cases. Instead, he cited how "the ball is now with the judicial branch of government, with the courts themselves." Lacierda also cited the doctrine of "separation of powers" to highlight further how Malacañang should be considered off the hook as far as bringing justice to victims of human rights abuses. "I cannot understand why Human Rights Watch would be blaming the Aquino administration or the executive branch for the seemingly slow pace of judicial action. That is something that is within the purview of the judiciary," Lacierda said. Lacierda also added: "I do not necessarily agree with the position of Human Rights Watch" after citing statistical data that supposedly points to a decrease in some sort of crime "index".
Carlos Conde, researcher at the Asian Division of HRW begged to differ…
"Edwin Lacierda is uninformed at best, dishonest at worst. While it is true that conviction of cases lies with the courts, it is also true that only a small number of human-rights abuse cases are filed in court. Most of these cases do not make it to trial to begin with," [said Conde]
So there you go. Senator de Lima, a key figure in the Aquino government seems to be suffering from the usual selective amnesia in her campaign to discredit the Duterte administration. Unfortunately for de Lima, this little circus she kicked up continues to boomerang against her.
[Photo courtesy GMA News Online.]
benign0 is the Webmaster of GetRealPhilippines.com.