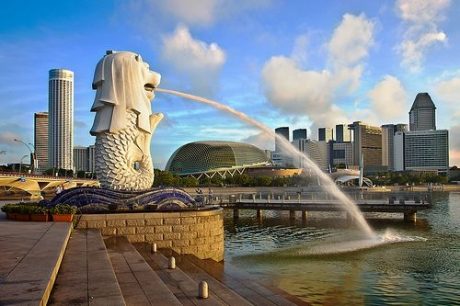 The year 2015 was both a significant marker in the history of our Southeast Asian neighbor Singapore. It was the year of both the fiftieth anniversary of its founding as a nation (August 9), and the year Lee Kuan Yew (LKY), widely considered its founding father, died (March 23).
Therefore, starting this year, 2016, Singapore is now on what is, hopefully, its next half-century and beyond of continuing prosperity and uninterrupted status as a developed nation.
In 2015, the book If the Philippines had a Lee Kuan Yew , by Jose Leviste Jr., came out. It is a collection of articles and discourses, about Singapore and LKY, from, as written, "some of the brightest in our country, the literati of our nation." Among the writers are familiar names like Carmen Pedrosa, Maria Ressa, Teddy Locsin Jr., Boo Chanco, Randy David, Ramon Farolan, etc.
A lot of them are journalists. Think about that for a second…
Leviste, in his prologue, cites his principal goal in the book as, "to initiate a discussion and a debate over the right way to lead and move forward a people in an archipelagic nation like the Philippines…". I have read the book and hoped to find some new insight into what made Singapore so successful. My take-away from it instead was the following:
Filipinos' supposedly brightest literati have little to no new insight whatsoever to add to what is already known about Singapore.
The overarching mood of the book is that the articles and discourses are generally retrospective in nature. Instead, the "what if" mind exercise that was supposed to be stimulated by the book has merely resulted in redundant information.
A fruitful and relevant discussion on what the Philippines needs to improve must necessarily begin with acknowledgement and acceptance of its current situation; the Philippines' wretchedness is not only in plain sight, it runs deep from our institutions, to the very core of our culture as a people. A good discussion, at the risk of oversimplifying things, is basically a gap analysis. You define a current state (state A), how things are, and then you define a future state (state B), how things should be. Finally one defines all that is needed to get from state A to state B: processes, people, policies, things that need to be changed, etc.
Leviste, the author, repeatedly emphasizes LKY's "strong, competent, disciplined, decisive, and principled leadership". Unfortunately, the actions that underlay his leadership, done in the Philippine setting, will get one branded a despot or a dictator, perhaps even a fascist (the correct use of this word is another matter).
At its core, LKY's leadership is simply an iron fist. The equivalent term in the Philippine setting is kamay na bakal, complete with any unpleasant implications. Yet it is also one that is tempered with vision, foresight, attention to detail, and pragmatism – things that are all regarded with disdain by an emo people. It pays to remember that LKY was a staunch critic of two things that Filipinos hold dear but pervert: democracy, and freedom of the press.
It remains an unresolved inconsistency, especially among our "elite", that while they continue romanticizing about and admiring what LKY has done in his own country, they would also demonize and shun anyone who adopts such qualities and adapts them to the local setting. It also remains an issue that potentially beneficial foreign ideas and influences are continuously misapplied here.
A lot of the contributors to the book are from the media, considered to be among the "thought leaders" and "opinion shapers" in the Philippines. As more and more people are starting to realize, however, corporate media has failed the people and are part of the problem. These are the very same people who will always quote what LKY said about the Marcoses, and yet continue to ignore and disregard what he said about the Philippine press.
The issue that the local media faces is merely indicative of one that is found in the overall Filipino society: an inability to reflect on, much less accept, its flaws. Filipino creativity and imagination, while praised by LKY through those who came to Singapore to work, have not been able to find their way into imagining what a future Philippines is supposed to be; Filipinos are stuck at decrying what it never must be again. Perhaps, most crippling of all, is the Filipinos' inability to accept, prepare for, and manage change.
The future, along with its uncertainty, is an uncomfortable topic. Those who thrive are the ones who embrace uncertainty and are flexible and adaptable to changing circumstances. Those who fall behind are the ones who cling to the past to define their future.
It is up to Filipinos to decide which one they want to be. Until then, they can only gawk at their prosperous neighbor with wide-eyed glee, and wait for the guava that may never fall from the tree.
[Photo courtesy: Almighty E-Biz]
А вы, друзья, как ни садитесь, все в музыканты не годитесь. – But you, my friends, however you sit, not all as musicians fit.