Thanks to the Internet, we are not only able to communicate with other people around the world and share our views. We can also see what others share… and we balk and rage at some of the things we see. So here's another thing the Internet affords us; we are now able to fling our sour sentiments to the rest of the world.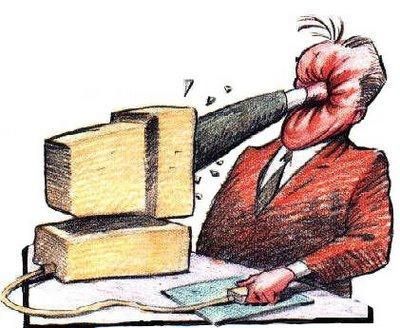 For example, a person hates Spongebob tattoos. He's never seen Spongebob tattoos in his town. When there was no Internet, he never saw them either. But now the Internet brings pictures of them to him. He goes on attack mode and leaves messages on how he hates Spongebob tattoos. He even insults people who posts these pictures. He even calls these people and Spongebob tattoos a threat to his lifestyle and the security it affords. Even if it doesn't really pose a threat at all.
If one assumes this is harmless, wait until he snaps and decides he must eliminate the threat. He gets a gun, goes out and kills the nearest person with a Spongebob tattoo. The Spongebob tattoo things makes it sound farfetched; but substitute that with something else realistic, such as hijabs, other pop culture items and seeing people of other ethnic origins, there you go.
People may have lamented the Internet's seeming violent nature, with so many hate messages and insults being thrown over distances. Some say the Internet itself and technology brings its own brand of violence. I however believe a simpler reason: the Internet magnifies what already exists.
Many things, like hatred and distrust of people unlike oneself, are already a staple part of societies. It is likely a remnant of the survival instinct of prehistoric times that even today, people have failed to rein in. Again mentioning my personal blog, I have explained that humanity's instinct when faced with scarcity, such as a well in the desert, is to eliminate the competitors to this resource. The alternative, when the people involved don't like to share, is to subjugate the other and keep control of the resource. That also means having control over the other person (and if the person resists, kill them).
These days, even things like happiness are treated as objects of vicious competition. "If I must be happy, someone else must be sad." When someone else wins, the sore loser tries to bring down the winner. Another instance is when they see things they hate or are bothered by, they want to attack it or the person posting it. Humanity seems to be a naturally insecure creature and maintains its primitiveness.
The character of Bruce Banner as played by Mark Ruffalo in the 2012 Avengers action flick says, one reason he keeps the Hulk in check is, "I'm always angry." In real life, I believe the same applies to ordinary people in the opposite way. People have a "hulk" or a "troll" in them that gets out of control because they are also always angry.
Angry that they can't always get what they want. Angry that life has difficulties. Angry that things don't always go their way. Angry that things are not always under their control. Angry that life isn't fair. Angry that there are such things as annoyances. But on the other hand people who can't deal with these things may be called brats or spoiled. These things are part of life after all (M. Scott Peck, "life is hard;" although I would say, life is hard because people are hard).
But the institutions of the world have always taught people to be angry, even for things that they should not be angry about. The insecurity described above is partly instilled in them by society. Human beings are so narcissistic, parochial and inward-looking that they seem to see themselves as the only right things in the world. If they see other things, cultures and customs, they may see this as evil and seek to destroy them. They are taught that anything different from them is a threat. Add to this a supposed need to be "proud."
People resort to control of other people, believing it to be the surest way to ensure non-removal of comfort and removal of threats to this comfort. One would be quick to mention mass shooters as an extreme example of this. But don't be fooled. This can apply even to politically correct people, who want to force their ideals onto the world. They not only try to weasel their agenda into policy, they even set out to argue with other people who disagree with them, especially online. They become "accidental trolls."
People have always exhibited this behavior offline as well, and thus, the solutions to changing these attitudes of people should be applied offline. In the real world. This should be done to entities such as hoax-spreaders that some Islamophobia-spreading parties in the west are banking on. Hoaxes had their start offline. The Nigerian Scam that became common in email inboxes and private messages was once mailed to our houses – on paper. My parents received such a letter.
We Filipinos have often heard the line often delivered in jest: "any violent reaction?" This is one of the problem areas. People can have reactions, but they don't need to be violent even if they oppose something. But the idea that violence is necessary in a reaction is one of the cores. People often have the mentality of the "offended queen" – "remove that thing that offends me!"
Perhaps the anger of people is misdirected. There are some things that certainly deserve some anger. There is the practice called female circumcision in parts of Africa. There are the abductions of women and children by Boko Haram and the Lord's Resistance Army in the same continent. There are cultures where infanticide is treated as a normal thing. There are many other things, but often we cannot do much unless we or someone else goes there to do something. We can only sit commenting about it and sharing it with others – which does not amount to much.
There's a reason why "keep calm and carry on" has become popular in today's times. It implies that you should just let something that offends you pass and move on. In other words, that's tolerance. But there's the problem; people don't want to let things pass. Some people seem to feel like it is their duty to destroy something that offends them. Thus, we have violence all over the world.
One thing though about the Internet is that it did bring together some people who want to transcend the parochiality and finally accept each other's difference. They don't rage or whine about someone being different in culture, custom or opinion. What you can share or talk about can reach someone or a group with the capability to act on it. One of the reasons religion has been effective in organizing efforts is that it often requires people to put aside their egos and come together to achieve a common goal. Organized efforts will always be hindered when even just one person lets their ego monster take over.
Of course, there is the lesson usually taught these days: Be willing to make sacrifices (the right kind) and give up some of your desired comforts in life. Yet another thing religion teaches, and perhaps another thing that makes some anti-religionists angry. But even wiser non-religious people accept that you can't have it all. If people stopped being so aggressive against others while chasing their comforts, that would reduce a lot of the world's violence.
I believe, as my cohorts here do, that what Filipinos embrace as their culture is what actually pulls the country down. And those who seem to be anti-dictators, who may also believe themselves to be "heroes," are the real dictators.