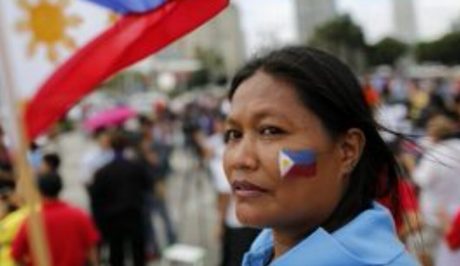 Ah, so here we are ladies and gentlemen. It seems that the UN and majority of its constituents are favoring the Philippines when it comes to the dispute over the islands in the West Philippine Sea. However, while it shows that much of the world is supporting the Philippines in our efforts to secure our territories, one can only wonder how the People's Republic of China will take this. All things considered, there is always the possibility that they will be willing to resort to open hostility in order to maintain their hold on the contested territories of the West Philippine Sea. Worse yet, the ruling wasn't even meant to make the Chinese leave our islands alone. It simply stated that the People's Republic of China wouldn't be allowed to harm our fishermen and industrial workers in the area.
Indeed the issue is both complicated and volatile and I urge everyone reading this to be on the alert in case something does happen in the wake of the UN's ruling. Now, this may surprise you, but I strongly doubt that the situation will degenerate into a war but as a certain Tychus Findley once said: "It pays to be prepared." Those words seem to ring true now more than ever.
Truth be told, unlike some of the other contributors here on GRP, I'm not exactly an expert on anything. Heck, I'm not even a journalist even though there are those who may say otherwise. If one were to ask, I'd say without any hesitation that I am, in fact, a troll. However, I still think that there are things that need to be said and it doesn't really matter who says them even if the person saying them is some kind of strange creature living under a bridge straight out of Nordic folklore.
Now, before I continue, let me make something abundantly clear. I know I've said it before but I'll repeat it to you just in case you weren't paying attention last time. After all, not paying attention is one of the things that brought us to this point in the first place.
Being dumb and being stupid aren't the same thing. Being dumb is not knowing any better. Animals are usually dumb because they don't have the same amount of reasoning capability that humans possess. A dumb person can be forgiven for being dumb especially if they don't have access to information, like those who are uneducated or illiterate. A stupid person, on the other hand, is a different story altogether. Being stupid is about knowing what is right but doing what is wrong anyway. It's like pushing against a door that opens inward. In fact, while I may not be a philosopher (at least not officially anyway), I can argue that at the core of evil is stupidity and that some of the worst atrocities in the world is simply the triumph of stupidity over wisdom.
Now, I can say that most of us probably know what's going on out there. I'm sure there are those of you who are well aware that yes, the Chinese are taking over our territories in the South China Sea. I know that a lot of people have at least some inkling regarding the troubles of Mindanao.
However, what do most of us care about more? Manny Pacquiao's next fight? The AlDub couple's next movie? The obvious plot twists of teleseryes? C'mon, you guys tell me.
Look, let me repeat myself again: There's nothing wrong with having fun and being shallow but we must remember our priorities. There's nothing wrong with fooling around and acting silly as long as we never forget what is important and what is not. Also, there's nothing wrong with admiring a person so long as we take note that said person is every bit as flawed as the rest of us and have their own limitations.
The problem occurs when it's the only thing we pay attention to. That's why I disdain the local media for distracting the common people from the issues that really matter with inane garbage that would otherwise cause foreign nationals to throw up. Foreign powers stealing our territories are certainly more important than some fixed boxing match, isn't it? Internal strife and rebellion should take priority over a celebrity couple and their shenanigans, right? Unfortunately, for the vast majority of Filipinos, that doesn't seem to be the case. For a lot of Pinoys, celebrities and politicians are gods and deserve more attention than pressing concerns like foreign invasion, terrorist activities, rampant poverty and violent crime. Sure, I know that we all need a reprieve or a break from all our troubles but it's a completely different story when you care more about escapist pursuits than issues that should be addressed in real life.
What's worse is that if we had just addressed some of these issues early on, perhaps we wouldn't have reached this point. If we had just focused more on the more important issues at hand instead of the senseless garbage fed to us by the local mainstream media such as the sordid affairs of an aging mediocre movie star, the shenanigans of an even older boxer's mom and the antics of a fake couple sponsored by the oligarchs of the country, perhaps China wouldn't have moved into our islands at all. If we had prioritized boosting our military and clearing away dissent and discontent in our country, the People's Republic of China would've found something better to do other than seizing and building over our territories.
Of course, why am I even surprised? We're talking about Pinoys after all, aren't we? We're talking about the same people who would doom their children to a life of poverty and crime so long as they get what they want regardless of the consequences.
So go on, stay stupid. It fits you real well. In fact, in the next election, you can elect Manny Pacquiao as your president, Vice Ganda as your vice president and the AlDub couple as your cabinet members. I simply don't care anymore. Just remember that you reap what you sow and you deserve whatever you get.
I HAVE RETURNED TO LAY WASTE TO OUR ENEMIES!