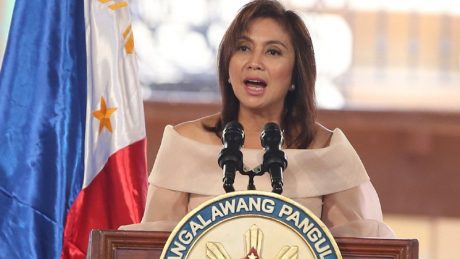 Dear Inquirer,
The title of your article, "Leni slams growing culture of vigilantism", published on July 13, 2016, in your newspaper caught my attention.  I was aghast after reading it.1
YOUR TITLE IS GROSSLY EXAGGERATED.  You used the words, "Leni SLAMS growing culture of violence".  What a word to use, slam means to criticize harshly or to verbally attack.
I read the entire article and did not see any quote that justifies using the word slam.  More appropriate words are asserts, points out, highlights or emphasizes.  However, those words are too weak in grabbing the attention of the readers.  YOU ARE MISLEADING THE READERS ESPECIALLY THOSE WHO READ THE TITLES ONLY, who are the majority of the readers.
In the same article, you wrote "Vice President Leni Robredo BLASTED a "growing culture of vigilantism and violence".  Really?  Are the words SLAM and BLASTED appropriate?
What did she really say?
She just said, "While we are one with the fight against drugs, we are concerned with the growing culture of vigilantism and violence. We hope that the war is not done at the expense of the innocent and defenseless".  She is just concerned.
She also said she supported Mr. Duterte's declaration, "that the fight against drugs and crime must be done with an uncompromising exercise of the rule of law."
Furthermore, she also said, "We encourage authorities concerned to look into these cases.  If there is really culpability, then justice requires that appropriate cases be filed and that those proven to be accountable be punished".  She is just making a suggestion.
Finally, she said, "Since the President is a lawyer and former prosecutor, we trust that he will do what is appropriate, "After using the words SLAM and BLASTED, the writers quoted Vice President Robredo saying, "WE TRUST HE (President Duterte) WILL DO WHAT IS APPROPRIATE".  The writers suddenly shifted gear.  Huh?
Dissecting the Article
Further analysis of the article shows that only 9 paragraphs out of 29 paragraphs relate to the title of the article, the rest were about: unlikely drug lords; De Lima's views on summary executions; the criticisms of Aquino allies in Solicitor General Jose Calida's remarks questioning the basis for a congressional probe; and the lack of moral outcry from the general public as expressed by the CBCP.
More than two-thirds of the article were other news items expressing the same concerns but from different sources.  They were no longer statements that Vice President Robredo made.
Inquirer, please practice responsible journalism.
Citation:
1. Aurelio, J.M., Salaverria, L.B., Dizon, N.. (2016, July 13). Leni slams growing culture of vigilantism. Inquirer.net. Retrieved from http://newsinfo.inquirer.net/795700/leni-slams-growing-culture-of-vigilantism
Photo source:Inquirer.net
I am a marketing consultant, entrepreneur and executive director of an NGO. I have extensive experience in advertising, product management, media, and general management.
I love art, graphic design, philosophy, theology, and history. I continue to study these subjects to enjoy my intellectual and artistic pursuits.