A lot of controversy continues to hound the recent acquisition of weapons for the Philippine military, such as the FA-50 Golden Eagle trainer-light fighters for the Philippine Air Force, Hamilton-Class cutters, Tarlac-class landing platform dock and others for national defense. Of course, some call this a positive legacy of then-president BS Aquino III. If Marcos supporters laud Marcos-era projects, then Aquino supporters laud military acquisitions. And the supporters would say that these are needed because of the tensions with China on the West Philippine Sea.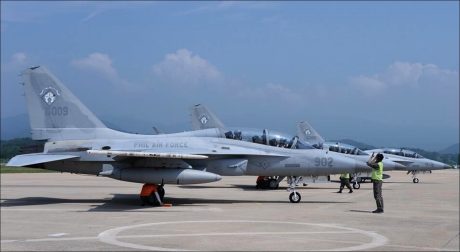 This chapter seems to have ended in the Philippines' favor, with the United Nations Hague Tribunal having ruled that China's claim to the disputed islands does not hold. It remains however to be seen whether such a ruling is enforceable and whether China will really exit ( #ChExit ). It's also argued that the ruling does not require China to exit and it just says no blockades should be done. Well, we'll see how that turns out later on (abangan ang susunod na kabanata).
SUPPORT INDEPENDENT SOCIAL COMMENTARY!
Subscribe to our Substack community GRP Insider to receive by email our in-depth free weekly newsletter. Opt into a paid subscription and you'll get premium insider briefs and insights from us daily.
Subscribe to our Substack newsletter, GRP Insider!
Learn more
Many are riling at President Rodrigo Duterte's comment that the purchase of FA-50s is a waste of money. I don't necessarily agree with this. However, one can look at the bigger picture and see that it still reveals a few other things about Filipino character we need to think about.
The two FA-50s are the first a group of 12 that are supposed to spearhead purchase of more fighters. The idea is, the FA-50s are the stepping stone for our pilots to get used to supersonic jets. So this hints to a plan to get bigger supersonic jets, such as the F/A-18 Hornet or the JAS-39 Gripen. It's not a bad idea to have a sizable military force. Personally, I'd agree with the idea of getting submarines. As we are a water-locked country, our navy needs priority.
The Cons of having more Bark than Bite
Yet I would say the aggressive stance against China has its cons. It's not the buildup, but the attitude toward it that's the problem. Building up our military is not a bad thing; but the eagerness to use it is lunacy.
Critics of Aquino have said, while the issue of contention with China on the West Philippine Sea was up for a long time, the escalation of tensions happened in his term. Aquino, unlike previous presidents, took a more hostile stance against the Chinese government. He brought up the issue to international authorities, so some credit him for that. But one might point out construction by the Chinese on the disputed islands happened one his watch. The moment he took up a more aggressive stance, the Chinese upped their game as well, by building on the islands already. Now why didn't Filipinos do that instead of just leave a lonely shipwreck with a few poor soldiers manning it?
(Feb 2018: I got reminded that the Philippine Constitution "renounces war as a tool of national policy." If we go to war, or even just provoke others to attack us, we're in the wrong.)
Let's say war with China happens. Some Filipinos might be hoping for a defeat of China as the Vietnamese did in the late 1970s. But that's a long shot by today with the way China's built up its forces. Some others would say fighting but losing is still a glorious struggle. Perhaps. But the thing is, if we lose, there's actually no glory in that. I see this as one problem with the Filipino concept of heroes. Back in the Spanish era, our heroes kept fighting the colonizers, but kept on losing. All thanks to our petty Filipino squabbles. We glorify heroes that keep on losing.
So here's one thing I forgot to say in my article about heroes; I prefer that heroes always win. Isn't that how it's supposed to be? If we lose, the "heroism" is for naught, because what we're defending would be taken. Ancient military writer Sun Tzu in his famous work The Art of War says, "choose your battles," don't fight a battle you can't win and that the best victory is won without fighting. Perhaps that is the approach that we should take. Perhaps we've had one such victory with the Tribunal decision, but there's a lot more to the issue than that.
I also want to puncture any notion that China wants to invade and take over the Philippines. I find it silly – they already have problems with their citizens, so why would they trouble themselves with 100 million more headaches? Also, if resources are what they are after, they don't need to seize the nation for this. Reports are around that Chinese parties (not the Chinese-Filipinos you find in Binondo and owning our malls and condos) have already made underground deals with locals in the provinces to allow them to strip mine the place. All the Chinese need do is pay off people. There you go, our resources go to someone else without any invasion.
Make no mistake, if we're attacked, I agree that we should fight. We indeed should be prepared for war, but we should also by any means avoid it. War is of no good to anyone, as our own experience in World War 2 shows. Our country's condition today is a direct result of this war. Manila's former beauty was destroyed by both Japanese occupation and the American reclaiming. In the aftermath, we have overcrowding as a result of unguided rebuilding efforts and "baby-booming" attitudes, squatters having started from displaced people from the war having taken up residence in any space they could see, and warlords having grown in power (some were guerillas in the war who kept their weapons and used them to rule over their local area). And more. I'll also mention our dependence on American aid, which is the real reason we were ahead in Southeast Asia that time. When that went away, we went to the dumps, the condition being aggravated by our defective culture and habits.
As others might have already said, the new weapons and eagerness to fight with China may constitute another placebo that distracts us from the real problems, the internal ones. Already President Duterte has been addressing drug dealers in the country. But there's more that concerns our institutions. Our pork barrel has taken up significant money that could have been used for defense. But what's happening is that the ones who are credited with helping buy a few new weapons for defense likely have complicity in the pork barrel plunder. I have said in another article that despite a politician's achievements, they should be held to account for the wrong they've done. Another internal thing is our insurgency and terrorism with the likes of Abu Sayyaf, who have been kidnapping and killing foreign tourists. That our military needs are also shaped by the need to address insurgencies tells a lot about the state of the country.
A Runt Culture?
I am no military expert, but I just see things about Philippine culture revealed here. There is still this fascination with the country as an underdog that is being picked on by bigger countries in the region. But it looks more to me like a little runt trying to force respect from the world. The runt does so by trying to get two known bullies in the street to fight. But the two bullies look at each other and smile, as they have their own agreement. That's how it looks to me. And the little runt just keeps on boasting that he's great, when all he does is make useless noise. As an analogy of us as a people, instead of fixing our own problems, we prefer to show off. That can apply to Filipinos on the individual level too.
The hawkishness some Filipinos have against the world reflects one of the cancers of this society. Some Filipinos still seem to have this tendency to see everything as a contest. So they see as part of being great beating or putting down others; the proverbial compulsion to assert class dominance over others. They tend to apply this to the international level as well as to each other. So some might believe making the Philippines "great" is to become an empire and conquer other countries. I've made clear before that I will never support any initiative for a "Philippine empire." Because simply, if we become the imperialists, we become the bad guys. If this happens, I would likely be part of this country's version of an anti-Imperialist League.
The best thing for any country to do is be an example and be a good neighbor. A few countries, such as the Scandinavian countries and maybe Singapore, have shown this in being good places to live and where tolerance and respect for others are cultural staples. They don't have imperialist or "special people" delusions, and the former colonies among them do not in wholesale manner blame colonizers for their problems. The Philippines has a long way to go because it has not dropped its stone age beliefs in greatness being found in conquest of others. Internally, it is an inherently violent culture (partly because of warlords) and respect for others is considered something to be scrooged. Unless we learn to be a better example, it's more likely that we'll be made an example of.
I believe, as my cohorts here do, that what Filipinos embrace as their culture is what actually pulls the country down. And those who seem to be anti-dictators, who may also believe themselves to be "heroes," are the real dictators.