One of the retorts against us GRP bloggers is, "why don't you run for office?" This is of course based on the assumption that you can only reform Philippine society through the government, and you have to be a part of the system to make it work. It has the sense of, "if you can't beat 'em, join 'em."
That is why some "advocates" and "activists" cling to politicians such as contested vice president-elect Leni Robredo. She was shooed in after the mysterious death of her husband, Jesse Robredo. This was likely because the reputation of Liberal Party standard bearer, Mar Roxas, was deemed unsalvageable. Leni is marketed as the "angel" of the incoming administration. Supporters believe she has "natural" goodness, claiming it will keep her tainted from corruption. The same thing was claimed of the outgoing president and party-mate, Benigno S. C. Aquino III, during his 2010 campaign.
Perhaps the same can be said about Ferdinand Marcos Jr. Some have chosen to support him, despite his connection to Martial Law-era abuses, as he is perceived as the antithesis of the outgoing Aquino administration. So they believe supporting him is a solution. They also tend to focus more on his person and bloodline, rather than what he actually does.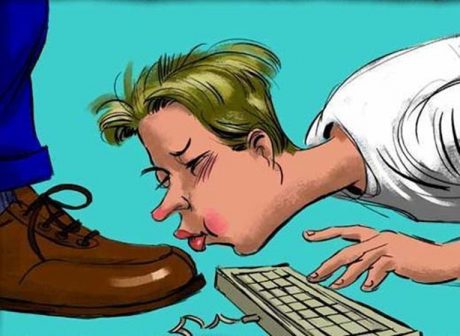 When "advocates" cling to politicians, they are acting like shills in a sense, whether they know it or not. Yes, indeed, I said it: they can do shilly stuff without knowing it. Because when all they do is focus on the person, like, "this candidate is always good," "she knows what are needs are without us telling them," "believe in this candidate, do not doubt them," etc., they demonstrate the starstruck ignoramus dynamic that helps keep Philippine society as backward as it is now. That's kind of shilly. And how they act, as well as the number of them doing it, help propagate this mentality. Of course, some do the clinging with the hope of getting their agendas enacted as policy, and hopefully, it will help makes changes in society. That hope could also be said of the approach of some to president-elect Rodrigo Duterte.
But back to my claim that it likely will not work. Why?
Benign0's words capture it very well: You cannot solve a problem with the thinking that created it.
The "advocates" are actually practicing political patronage. The more they cling to politicians, the more they propagate the culture and system that pulls Philippine society down. They will be engrossed with lip service to certain politicians and with putting down people who bring up legitimate criticisms against them. It is our blind worship of and obedience to celebrities, and now politicians, that make us fail to address the flaws of our society. Worship does not just mean fawning over them emotionally. It also includes the feeling that these people will be solutions on their own. They hope that the officials the support will not be corrupt, or corrupt officials they support will just "change" and "become good." Unfortunately, it will not work because that may not be the idea these politicians have. We should put our faith in ideas, not people.
Oh, and one other thing I've noticed about people who like to cling to government. It's likely many are just in it for themselves and want to partake of the pork barrel. For example, I knew a certain swindling bum who was always saying that the best way to get "fast money" was to think up a project that a politician can fund. I doubt he was able to find such an opportunity, and I doubt even more that he really intended to deliver at all! But apparently, that's what some "supporters" and "advocates" are. Others are starstruck ignoramuses, but these are opportunists.
And even if we run for office or take office, that doesn't guarantee we can achieve success in our reforms. Some people under this past Aquino administration tried, and resigned. I have heard from someone who became a congressman, and he said it was not that easy at all to implement reforms. You get blocked by other people who see your reforms as opposing their plans. Sometimes, even without or with little opposition, you still need support from other congressmen to get things done. Here's where Fallenangel's observation, that the U.S. president is powerless without the agreement of U.S. Congress, applies.
So I may be told, if we can't change the system from within, then we are doomed! No. I consider the above-mentioned premise wrong about changing society through government wrong. The problem is not in government. The problem is in Filipino society itself, in culture. The government merely follows the pattern of society. In ordinary life, people shoo in family into businesses or other organizations; so in politics, we have political dynasties. In ordinary life, people pilfer things from other people, sometimes grabbing office stuff as their own, with the excuse, "paminsan-minsan lang naman" (in rare moments anyway); in government, that paminsan-minsan leads to billions of pesos disappearing. In ordinary life, people jaywalk, ignore signs and treat rules as suggestions. Thus, politicians do the same, often failing to implement rules.
That's where the change should be. In culture, society, and media. And from the outside, we as the constituents of our elected leaders must make demands from them. We must constantly and unceasingly communicate to them what policies we want to see enacted and what effects we want to see resulting from them. As Ilda said, we should stop treating politicians like celebrities, because they are our public servants; we are not their servants.
This Independence Day, we must relearn the value of true independence; that it requires us to stop mooching on our politicians (or them mooching on us!) and we must take responsibility for our own governance.
I believe, as my cohorts here do, that what Filipinos embrace as their culture is what actually pulls the country down. And those who seem to be anti-dictators, who may also believe themselves to be "heroes," are the real dictators.