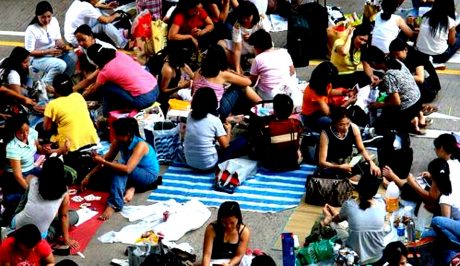 In many countries in the developed world, families get by without any need of domestic helpers (katulong).  A typical family in the US or Japan will not have a stay-in maid doing the dishes, cooking, and laundry. And yet they are far more advanced, efficient and productive than Filipinos.
Only in poverty-infested demographically skewed countries like the Philippines do we have informal hires working for not just the families of the rich and famous, but even for simple middle-class households. Filipinos have in effect created a Hindu-like caste system that defines a strong line dividing the poor from the well off, a social construct we never really culturally & mentally shed off after our liberation from Spanish colonizers. Filipinos still have the master-slave mentality. It pervades our entire society – just look at how the Pinoy elite love to have lowly people addressing them as sir/ma'am (many foreigners are actually culture-shocked and find this Pinoy practice annoying).
The Flourishing Slave Trade
There are many reasons why holding a Philippine passport is not something to be proud of – and one of them is the fact that we are known across the world to be an exporter of "slaves."  Whereas the Chinese fill the world with "Made in China" products, our country's claim to fame is our brown "Maid in the Philippines" product line. From that, you can easily deduce the level of brains and technology the latter possesses.
Wealthy Singapore and Hong Kong families trade Filipina slaves like merchandise. An entire industry is now created just recruiting and fielding these slaves. Even those in Manila ask friends with relatives in Bicol or the Visayas if they can find them a dependable katulong from those regions. (By the way, why don't we hear of Ilocano DH?)
In fact, a rich family can have an assortment of slaves for personal use and disposal in the form of not just a general-purpose helper, but as a specialized nanny, cook, body guard, driver, gardener, laundry washer, or house bhoy (handyman). Now how can Señor/Señora walk around their hot humid house with just one's underwear on with all these gossiping aliens roaming around the hallways?
Slavery has a Bleak Future
Should Filipinos start considering ending their bustling slave trade? This amazing video of Atlas, the next generation humanoid robot developed by Boston Dynamics (a Google Co.) that can replace Filipinos doing menial jobs, should get us to think twice about the future of job opportunities for Filipino "slaves."
Yeah, I know, people may discussing robot rights rather than your year-end bonus and health insurance later on. Filipino slaves might be out of a market sooner or later if we don't shape up. Talk about a drying up of that inflow of juicy remittances. (Henry Sy and his siphoning empire will not be very happy!)
Automation is the future. Rather than Filipinos idly manning sari-sari stores, we should be developing vending machines. Rather than exporting Filipina maids, we should be sending off engineers and IT professionals. Filipinos should be AI and robot designers rather than being content doing low-paying manual repetitive work themselves if they want to move on.
Abolishing Brown Slavery: Regaining International Respect
It will take time for Filipinos to gain respect in the international community. Filipinos would not have to fight for respect if only we chose to be respectable by taking on jobs that required some degree of intelligence and sophistication.
Wasn't Cory protesting to the racist entry of "Filipina" to mean domestic help in an English dictionary (although eventually dismissed for lack of evidence), and were not Filipinos offended when a Hong Kong text book depicted a Filipina as a helper?
Why do we keep on demanding people around the world to admire Pinoy Pride when Filipinos themselves are the very enablers of turning their citizens into lowly slaves?  Wala na bang masmataas na pangarap ang Pilipino?
PS: If you can't let go of your maids now, at least give them a rest day and ensure they get to pursue their studies. Look forward to someday setting your kababayan free.
Zealous revolutionary advocate of bringing back common sense for the common good in a land of dysfunctional and delusional zombies.