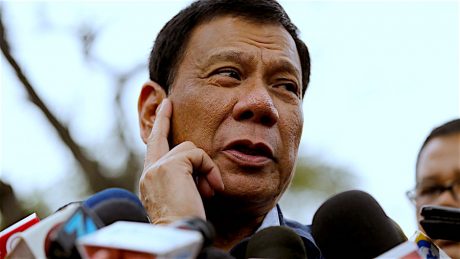 In 2002, Time magazine published an article calling Rodrigo Duterte "The Punisher"(1). He gained popularity with the people of Davao, a huge city in Mindanao at the time beleaguered by two groups of insurgents, diehard communists and Muslim radicals, due to his "zero tolerance" for criminality and corruption. He was very successful in cleaning up the city, making Davao one of the world's safest places(2).
His notoriety did not sit well with some in the church, their flock, and the national citizenry still reeling after almost fifteen years from the unforgettable atrocities under Martial Law. Beneath the surface of the nation's collective consciousness, however, the people admired Mayor Duterte for his ability to get things done, his decisive leadership, his pragmatic desire to establish the rule of law, and to obliterate the deeper roots of social injustice. While critics attacked him vehemently, they silently cheered his efforts on multiple fronts against drug (and human) trafficking, public corruption, lack of peace and order, poor traffic management, inefficient bureaucracy, decrepit transportation and communication infrastructures, and the collapse of key public services.
Ever since becoming the Mayor of Davao, the largest city in the Philippines (in terms of land area), Duterte took his being a public servant seriously. Just a few days ago, he was elected the 16th President of the Philippines.
I think President Duterte will be one of the best Presidents we will ever have, and the reason is his strong sense of "social justice". His methods are pragmatic and full of common-sense. According to the great German writer and statesman, Johann Wolfgang Goethe: "Things that matter most must never be at the mercy of things that matter least"(3) His ways are unorthodox, making the implementation of plans efficient, quick. He doesn't care much about what others think and say, about him and what he's doing, because for him, these are things that matter least. For Duterte, getting things done, quickly, is more important than protecting his image and self-interests. This doesn't mean, however, that he doesn't listen. Perhaps, what makes him a good leader is that he surrounds himself with very smart people who share his deep concern for social justice.
Of course, having a strong sense of social justice does not exempt the person from the frailties of human nature that we all struggle against. We all have our own demons lurking in the inner recesses of our hearts, mind and soul. President Duterte displayed, and continues to display these weaknesses with reckless abandon, adding to his image as a truly sincere public servant. There are no hidden secrets that need digging. What you see is what you get. He is what he is, someone who strongly respects who we are. Having been accepted by his people, he is an advocate of unity by inclusion, which for our fledgling country will be a huge leap in leading us to become, hopefully sooner than later, a true nation.
Having a strong sense of social justice also means ensuring that our justice system is fair to all and the guilty ones are convicted under the rule of law. The legal framework he uses in sanctioning the use of force when social justice is threatened is always present. The fact that there has been no clear evidence of most allegations against him clearly demonstrates his ability to operate within the confines of the law.
A strong sense of justice will help President-elect Duterte to focus on the basic needs of our country: education, healthcare, religious freedom, economic freedom, peace and order, improving the bureaucracy and leveling the playing field, opening business opportunities to everyone. He is driven with the passion of a folk hero, and clearly expresses this passion in his choice of words and tone of voice. Duterte is the father our country needs and, until now, we've never had, the heavy hand linked to a big heart, the hammer of iron wrapped in velvet, the "Punisher" who is after those against social justice and the common good.
Finally, his strong sense of social justice clearly aligns Duterte's way with the teachings of the Church. While he creates the impression of going against Christian teaching, in reality he enforces social justice better than any political servant I've ever known in my life.
As the Roman Catholic Church teaches: "Society ensures social justice when it provides the conditions that allow associations or individuals to obtain what is their due, according to their nature and their vocation. Social justice is linked to the common good and the exercise of authority"(4) Duterte is a champion of social justice, and he does this by punishing relentlessly those who abuse the limits of his mercy.
Duterte values social charity, caring for the people, truly loving them. He has full respect for diversity in religion, beliefs, mores, culture and folkways, as long as these practices are within the rule of law. As St. John Paul II emphasized, the "principle of solidarity, also articulated in terms of 'friendship' or 'social charity', is a direct demand of human and Christian brotherhood."(5)
Earlier, Pope Pius XII wrote: "For two thousand years, this sentiment has lived and endured in the soul of the Church, impelling souls then and now to the heroic charity of monastic farmers, liberators of slaves, healers of the sick, and messengers of faith, civilization, and science to all generations and all peoples for the sake of creating the social conditions capable of offering to everyone possible a life worthy of man and of a Christian".(6)
The Catechism of the Catholic Church, Article 3, on Social Justice, nos. 1943-48, also articulates that "Society ensures social justice by providing the conditions that allow associations and individuals to obtain their due. Respect for the human person considers the other (as) "another self." It presupposes respect for the fundamental rights that flow from the dignity intrinsic of the person. The equality of men concerns their dignity as persons and the rights that flow from it. The differences among persons belong to God's plan, who wills that we should need one another. These differences should encourage charity…".
"…The equal dignity of human persons requires the effort to reduce excessive social and economic inequalities. It gives urgency to the elimination of sinful inequalities. Solidarity is an eminently Christian virtue. It practices the sharing of spiritual goods even more than material ones". The excessive social inequalities being protected by the elite erodes our nation's solidarity and makes the rich all the more selfish and materialistic.
Furthermore, the sense duty of making oneself a neighbor to others and actively serving them becomes even more urgent when it involves the disadvantaged, in whatever area this may be. "As you did it to one of the least of these my brethren, you did it to me."(7) Duterte has a soft spot for the marginalized people, those who have nothing, those who need help that only good governance can provide, those who have been neglected all these years by the people in power, who say good things but end up doing bad (even worse) things.
They are the ones who, with the disgruntled middle classes who have been excessively taxed, whose incomes and businesses have been pillaged and sacked by an indifferent and insensitive government, put Duterte in power.
The analysis of Duterte's phenomenal success shows that such was not only the result of his astute principles of leadership, but rather from his deep, fundamental knowledge and practice of social justice, in accordance with Church teachings. After all, he has among his advisers highly-principled men (and, I guess, women too) who keep him grounded, staying on the right path, because like most great leaders, Duterte knows how to listen.
And just recently, Pope Francis delivered a fiery sermon, on November 11, 2013, against corruption, quoting a passage from the Bible in which Jesus said some sinners deserve to be tied to a rock and thrown into the sea.(8)
On May 9, 2016, Rodrigo Duterte was elected the 16th President of the Republic of the Philippines. I am confident his strong sense of social justice aligned with the teachings of the Church will transform and strengthen our nation's solidarity.
Citations:
1. Phil Zabriskie (19 July 2002). "The Punisher". TIME.com.
2. "The Punisher: 'I am 100 per cent terrorist'". NewsComAu. 30 June 2014. Retrieved 15 April 2016
3. http://www.goodreads.com/quotes/2326-things-which-matter-most-must-never-be-at-the-mercy
4. http://www.vatican.va/archive/ccc_css/archive/catechism/p3s1c2a3.htm
5. Cf. John Paul II, SRS 38-40; CA 10.
6. 48 Pius XII, Discourse, June 1, 1941
7. 38 Mt 25:40.
8. http://www.telegraph.co.uk/news/worldnews/europe/italy/10441960/Pope-Francis-corrupt-should-be-tied-to-a-rock-and-thrown-into-the-sea.html
I am a marketing consultant, entrepreneur and executive director of an NGO. I have extensive experience in advertising, product management, media, and general management.
I love art, graphic design, philosophy, theology, and history. I continue to study these subjects to enjoy my intellectual and artistic pursuits.