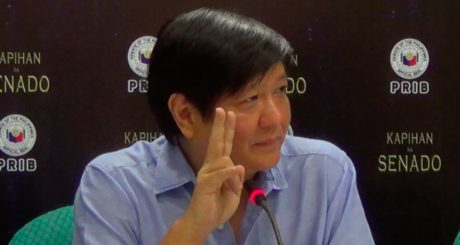 Tension and excitement continues to rise as election day edges ever closer. Already, the LP is playing every hand it can to bring down the opposition but it's quite clear that anything they do now simply amounts to shoveling sand against an oncoming tidal wave. Heck, President Aquino even claims that he'll start another People Power rally should his opponents win.
But unless the LP is really willing to cheat, Mar Roxas' campaign for presidency has already been doomed from the very beginning as I've mentioned a number of times before. The incompetence, apathy and utter idiocy of the Aquino Administration has come back to bite the LP in their proverbial butts. Thanks to the large number of mishaps in the last six years, a win for the LP is about as remote as the survival rate of a rabbit inside an active volcano.
Nothing short of divine intervention can actually save the LP now and no, the kind of divine intervention that will probably help them is of the "dark" kind. Or, all things considered, perhaps the "yellow" kind. Nonetheless, both President Aquino and his anointed replacement Mar Roxas are hell-bent on winning the elections even if it does mean resorting to cheating which, if the rumors are to be believed, is already happening as we speak.
Truth be told though, it's more than a little unnerving how both President Aquino and Mar Roxas has shown their utter lack of professionalism towards Davao Mayor Rodrigo Duterte and Senator Bongbong Marcos. While they may claim that their latest underhanded tactics are for preserving democracy in the Philippines, it's more than a little obvious that they're just grasping at straws to prevent Mayor Duterte and Senator Marcos from winning the upcoming election. Indeed, one must ask just why are President Aquino and Mar Roxas so desperate to make Mayor Duterte and Senator Marcos lose the upcoming elections?
Well, I think I have an answer to that question. As a matter of fact I have three. Here they are:
Mayor Duterte Will Find Romance Again
Apparently, Mayor Duterte has been separated/divorced from his wife for quite some time even before he announced his campaign for presidency. Should he actually win, one can assume that he can easily pursue romance again and perhaps reunite with his wife and rekindle their love together. Truth be told, Mayor Duterte certainly deserves to have a good love life for being a good leader to his people.
And even if Mayor Duterte doesn't manage to win back the heart of his wife, he can just as easily find a new woman who will love him and cherish their relationship together. After all, despite his age, I cannot help but notice how Mayor Duterte is still brimming with virility and manliness. It's not that hard to imagine him finding love again even now that he's well beyond 50 and, more likely than not, beget more children from his new found love whoever she may be.
Whatever the case, whether it's finding love again with his wife or finding a new woman to love and be loved by, it's not that far a stretch of the imagination to see Mayor Duterte rediscovering romance once he becomes president of the Philippines.
Korina Sanchez Will Separate With Mar Roxas
Truth is, few people will deny that Korina Sanchez is a very ambitious woman. She may go to great lengths to disprove her bad attitude but the truth will always reveal itself. From her lack of regard and respect for less fortunate people to her promiscuity, one can surmise that Korina Sanchez isn't a very nice woman at heart. Heck, she only chose to use her husband's surname in the latter part of the presidential campaign as if she only decided to add it at the last minute. If that doesn't show her more utilitarian attitude towards her husband, I don't what does.
Anyway, one reason she probably stays with the poor man even though they don't have any children together is because she's always had her eye on the presidency. Mar Roxas, despite his immaturity and incompetence has at least some chance of making it at being president due to his grandfather being a former president so this is likely the reason Korina Sanchez chooses to stay with him. However, all things considered, should Mar Roxas lose the upcoming election, it's very likely that he'll never have a chance to run for presidency again due to all the flak the LP has recieved over the last six years.
That means, should Mar Roxas lose this election, Korina Sanchez will lose any chance of becoming a first lady unless she leaves the man, which she will more than likely do, all things considered. Heck, if Mayor Duterte doesn't reunite with his wife, it's not that hard to imagine Korina Sanchez trying to seduce the man. All too bad for Mr. Roxas in any case.
President Aquino Will Never Find True Love
Granted, his chances of finding love has always been remote, but should his most hated enemy Senator Marcos win the vice presidency, President Aquino's chances of ever finding true love is going to go down the drain real quick. If Senator Marcos becomes vice president, President Aquino will finally be revealed as the incompetent charlatan he always was. If President Aquino has ever been good at anything, it has always been denying the truth and passing the buck.
If Senator Marcos becomes vice president, this will prove to President Aquino just how incompetent his administration has been in the past six years. Should this happen, President Aquino will finally be forced to confront the harsh reality that he has never been a good man, let alone a good leader. This will also show to any poor woman who might still be deceived by the regularly spewed manure from the LP's media allies that President Aquino is nothing more than an immature failure of a man. This will reveal to the world that President Aquino's performance has been so poor that any attempt he may make at smearing Senator Marcos only makes the latter shine more as a better example of a man and leader than President Aquino ever was.
I HAVE RETURNED TO LAY WASTE TO OUR ENEMIES!