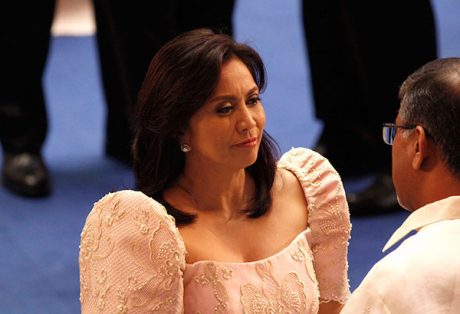 Leni Robredo, the wife of the late Jesse Robredo, is emerging as one of the more seemingly popular choices to be Vice President for the coming National Elections. Whether she is fit for the post is another question entirely.
Several critics, some among them commentators here at GRP, have pointed out that she seems to be the right politician associated with the wrong party. Perhaps she could somehow be given the benefit of the doubt as to the lack of shady entities/cases linked to her, well maybe except this one.
You have got to wonder: what then, is Leni still doing with the Liberal Party (LP), a bunch of unscrupulous people?
I surmise that the reason she still sticks with them could be any or all of the following:
She could have been given an offer she couldn't refuse (I will leave to the readers what that means), or;
There is a chance that she couldn't care less anymore about Jesse Robredo's death, or even possibly;
The LP's "sweet words (panliligaw)" were enough to "sweep her off her feet."
Nevertheless, watching Leni as part of the LP has been nothing but painful. It seemingly reduces her to a caricature that is, as we say in the vernacular, parang pilit (seems forced).
Leni has been reduced to a rehash of old Noynoy and Cory gimmicks
If you believe the "simple/humble Leni" narrative, then you fell for the same trick used with BS Aquino's campaign last 2010. Congratulations!
Common sense, people: a person who has tell you explicitly that he/she is humble is most likely not so. Especially when that person has to make a publicity stunt out of taking a bus to appear "just like normal folk".
Consequently, a person who insists that "he/she had no ambition to run" but does so anyway comes across as off-putting. It gives a perception of him/her as "falsely modest" or unable to stand by his/her principles strongly enough.
I am sure a lot of Filipinos can remember that BS Aquino was dubbed The Reluctant One back in 2010 because he supposedly didn't really want to run for president, yet did so anyway. Now Leni followed the same script on two occasions: when she was being asked to be the LP Vice Presidential candidate, and once again, when the question of replacing the elected president comes up, should anything happen to him/her.
The question that that raises is: how can people expect you to do a good job if you yourself say that you are reluctant to take on it? If you're reluctant, why should you be chosen over other more willing and possibly more competent candidates?
Then again, the Reluctant One spiel plays nicely into the hands of ordinary Filipinos. As a commentator in GRP pointed out, Filipinos punish people who seem overeager or carry their own weight ("nagbubuhat ng sariling bangko"). They prefer those who play "pakyeme (coy)" and people whom they can "force" things onto or "offer" them to. And it is extremely baffling.
Do try to remember how that Reluctant One turned out in office. Do we want another six years of that again?
Pious widow? And especially a Pious Widow who will defeat a Marcos? Oh, please. There is absolutely no correlation, much less causality between piety and the ability to do one's job in government. And why, oh why, do you deserve my vote just because a family relative of yours died?
Do try to remember how that worked out with Cory Aquino, BS Aquino's mom. I don't anymore.
Leni has been reduced to just another attack/guard dog of the Liberal Party against its opponents
Filipinos generally praised Leni's supposed performance during the last Vice Presidential debates. But upon closer scrutiny, all she could really do was attack fellow candidate Bongbong Marcos on Martial Law, a topic that should be considered hardly relevant to these elections. What is more relevant is the more recent atrocities that happened under BS Aquino's term. I share fellow GRP writer Ilda's sentiments: only when she openly criticizes BS Aquino's presidency, will I admit she has balls.
Leni supported the Bangsamoro Basic Law (BBL), a treaty considered unconstitutional, and which would have favored the Moro Islamic Liberation Front (MILF), an insurgent group. She also allegedly initially favored the increase in SSS pensions but was forced to defend BS Aquino after his veto of it early this year.
Leni has been reduced to Mar Roxas's alalay
Mar Roxas is the kind of candidate who does not really need to be bashed by opponents in order for people to get put off to him. All he has to do is open his mouth, and he will put himself in harm's way.
Enter Leni Robredo, his running mate, who will supposedly be a "gentler touch" to help attract votes."
Unfortunately, it didn't work. While Leni's ratings and popularity went up, Mar's stayed the same (he is still in fourth place, virtually dead last, kulelat). It became more and more common for people to say that "they will vote for Leni but not for Mar." The original plan and intention of the Mar's supporters and the LP has become nothing but rubbish!
Now Mar's supporters are insisting that, "if you vote for Leni, vote for Mar too." It supposedly "makes no sense to vote only for Leni. Only Mar will give Leni the responsibilities to be a great VP. They are a tandem."
The implication, unintended or not, of that statement is simple: she can't stand on her own merits, and is nothing without Mar.
Because Mar essentially has an anti-Midas touch (whatever he associates with turns to crap), the net effect of such a plea, to vote for them as a tandem, is not that his rating or perceived value is raised, but that Leni's value is diminished. Besides, such a plea is futile, because people cannot and will not be stopped from voting the way they want, not while the President and Vice-President are elected separately.
I will go further and boldly say that if anyone other than Mar were to win the presidency, if she wins, the LP would find a way to use her to block and oppose the elected one to the absolute limit, and to quite possibly impeach him/her.
***
Is the reduction of Leni Robredo to what she has become, as stated above, a reflection of her or the LP?
Actually, it is both. It tells us that the LP is desperate to hold on to power and will do anything, even bend supposedly "immaculate" public servants just to get their way. It also tells us that Leni was unable to hold on to her original principles of "not being interested" in the face of whatever was thrown her way. This casts doubt on the quality of her character, and consequently, is something to consider when we're thinking about whether we should vote her or not.
Either way, it tells us that nothing is bound to change in the coming elections regardless of who is elected.
А вы, друзья, как ни садитесь, все в музыканты не годитесь. – But you, my friends, however you sit, not all as musicians fit.