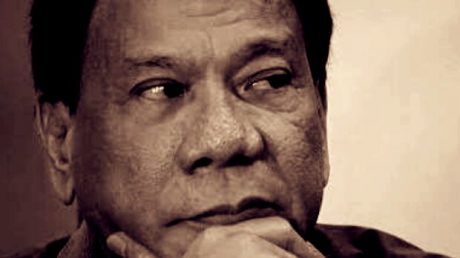 Indeed, everybody is shocked — just shocked! — by where this year's presidential elections are headed. Rodrigo Duterte the crass, irreverent, and possibly murderous candidate who came out of left field from the Philippines' deep south is leading the polls, handily beating the elegant Grace Poe, the debonaire Jejomar Binay, the prayerful Mar Roxas, and the wise and intelligent Miriam Defensor-Santiago.
Despite being called out for outrageous misogynist remarks by the US and Australian governments (two of the biggest sources of government cash doled out to Filipinos), Duterte's lead over his rivals remains as strong as ever. He is, as was observed a while back, truly an anti-fragile presidential candidate. Bad publicity does not weaken his bid. It, instead, strengthens his winnability. This is because everything that used to be associated with "good publicity" has now been woefully associated to failed governance.
Indeed, the regime of incumbent President Benigno Simeon 'BS' Aquino III ticked all the boxes as far as being the "good" candidate and the "righteous" leader is concerned. Voters back in 2010 and those who continue to apply the same thinking applied back then to today's situation, work on the basis that a candidate who prays, goes to Church every Sunday, believes in gender equality, and is a big fan of "sacrifice" will make an absolutely brilliant national leader.
Perhaps then we had grossly underestimated the collective intellect of the Philippine electorate. It turns out that some of the truisms we in Get Real Post have been harping about for years have finally sunk in across a broad swathe of Philippine society; that,
(1) It is utter folly to expect different results whilst doing the same thing over and over again; and,
(2) That one cannot solve a problem using the same thinking that created it to begin with.
Duterte is the antithesis of everything that the Aquino regime represents. His legions of supporters are thinking in ways vastly different from the thinking applied back in 2010 when being politically-correct and being civil and polite were regarded as virtues to be admired. This explains why mainstream media keeps issuing megabucks-funded messages of bafflement to their vast audience base. Being an industry owned and operated by the very taipans that paved the road upon which Aquino marched to power, it is seeing the rise of Duterte through the once mainstream lens of civility that has now degenerated to abject obsolescence.
Unfortunately, it seems voters no longer see things through that 30-year-old emo lens engineered by the Philippines' mainstream media moguls. Their voices are no longer propagated through traditional channels like Kris TV, Eat Bulaga, the Probe Team, or priests' homilies and bishops' "pastoral letters". They are channeled via Facebook posts and comments and "viral" memes. Their messages are delivered not by creamy-skinned high-heeled news presenters but by anonymous social media trolls roaming the Net behind fearsome-looking avatars.
The Duterte vote is a vote against the naive emotionalism that imprisoned the minds of an entire generation of Filipinos over the last 30 years since the 1986 people power "revolution".
The buckets of promise that the Yellow horde exhibited back in 1986 turned out to be its biggest liability — for when you promise a lot, even an 80 percent delivery success rate will be seen to be a colossal failure. The Aquinos should have promised less. That way, even small success would have been perceived to be a big win. Unfortunately, the grand loftiness of "straight paths" and "honest governance" held Cory's "democracy" to a high standard. And so whatever semblance of achievement that was accrued over the last 30 years consistently failed, in the eyes of today's voters to measure up in relative stature to those promises.
This, perhaps, is the genius behind Duterte's campaign. He promises very little — which pretty much likely sets his administration up for outstanding perceptions of success over the next six years. Perception, after all, is the currency of a democracy. Leaders' performances are monitored through the lens of voters' perceptions — which is why those Pulse and SWS "consultants" make megabucks conducting polls and surveys — because politicians in this democracy live off analyses of voters' perceptions and plot strategy on the basis of forecasts on these perceptions.
And so, here, we get to the awful truth about what it means to be a democracy. All of what we are seeing — and lamenting — today is just simply how democracy works — it entailed delegation of the important task of selecting leaders to a popular vote. The underlying assumption there is that what is popular determines what is right.
As such, the means to acquire political power is to appeal to popular sentiment. The people leading in this race, therefore, are those who had successfully applied that strategy.
The point is, whatever Mar Roxas (the "good" emo voters' candidate) did or to whatever level he performed was evidently irrelevant to the criteria of popularity applied towards determining whether or not he will ascend power.
Unfortunately for him, the behaviours he exhibited and the perceptions he propagated as a result of the many incidents and situations where he failed to connect with his constituents contributed to that failure to achieve the popularity required to win this election.
It's simple, really.
We chose democracy, therefore we should live with the outcomes it delivers us. That is the fundamental reality at work here.
Social media took away the power to influence the vote from mainstream media. In the process, it provided us a more real and more confronting picture of the true collective character of the Filipino voter. And on that reality, we may be on the money preparing to salute a Rodrigo Duterte presidency come July 2016.
benign0 is the Webmaster of GetRealPhilippines.com.